Antique Shop: Lost Gems Egypt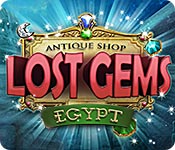 Antique Shop: Lost Gems Egypt
System requirements:
* OS: Windows 7 / Vista / XP
* CPU: Pentium 3 1.0 GHz or Higher
* Memory: 256 MB


A totally new spin on Match-3! Solve fun and challenging Match-3 puzzles in completely new ways. Special tools let you change the game board itself, giving you new ways to find matches and solve board puzzles in ways not seen before. While traveling around the ancient Mediterranean, you discover artefacts and lost gems that uncover power ups, enabling you to face even greater and more interesting challenges. Four different game modes take advantage of the stunningly rendered 3D game board to give you a variety of experiences ranging from relaxed to frantic to thoughtful!
Antique Shop: Lost Gems Egypt Features:
Gorgeous Graphics
Switch Window/FullScreen Mode
For Any Aged Player
Statement: Antique Shop: Lost Gems Egypt is distributed as a trial version. Antique Shop: Lost Gems Egypt may be downloaded free of charge, however, games may not be Resold.