Brownies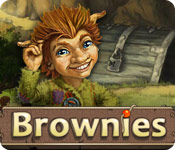 Brownies
System requirements:
* OS: Windows 7 / Vista / XP
* CPU: Pentium 3 1.0 GHz or Higher
* Memory: 256 MB
Brownies
: Imagine your living room overgrown with firs and pines, the bathroom has overflowing banks, the bedroom is a bog, and the office is taken over by castle ruins... Sounds incredible? Not for the land of the brownies, it isn't! Here, familiar things are deeply intertwined with a fairytale landscape, creating breath-taking scenery. Dive into a fascinating story, in which the mundane contains fantastic and magical undertones! Befriend the brownies and challenge the evil Boggart!
Brownies Walkthrough
.
Brownies Features:
Gorgeous Graphics
Switch Window/FullScreen Mode
For Any Aged Player
Statement: Brownies is distributed as a trial version. Brownies may be downloaded free of charge, however, games may not be Resold.