Deadly Association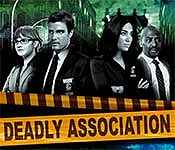 Deadly Association
System requirements:
* OS: Windows 7 / Vista / XP
* CPU: Pentium 3 1.0 GHz or Higher
* Memory: 256 MB


When a young woman is found dead near her home in Brooklyn, forensic investigators Chloe and Paul take the case. Although they are accustomed to dealing with disturbing crimes, this case will be anything but ordinary. Fortunately, their skills and knack for attention to detail will serve them well, as will the equipment they use for shedding light on what will become a series of killings. Scour every room for clues, snap together the pieces of a provocative puzzle and track down your target to learn the truth. The twists and turns in Deadly Association will keep you on the edge of your seat!
Deadly Association Features:
Gorgeous Graphics
Switch Window/FullScreen Mode
For Any Aged Player
Statement: Deadly Association is distributed as a trial version. Deadly Association may be downloaded free of charge, however, games may not be Resold.