Download Dark Tales: Edgar Allan Poe's The Gold Bug Collector's Edition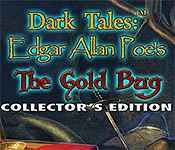 Download Dark Tales: Edgar Allan Poe's The Gold Bug Collector's Edition
* OS: Windows 7 / Vista / XP
* CPU: Pentium 3 1.0 GHz or Higher
Download Dark Tales: Edgar Allan Poe's The Gold Bug Collector's Edition Screenshots, Videos:

My partner, Detective Dupin, has been summoned to an obscure island by an old friend of his, a man by the name of LeGrand.

Legrand refused to share any details in writing, but Dupin believes my detective skill will be indispensable.

So I've joined him on the trip.

The salt air will do me good.

You may also like: