Elias the Mighty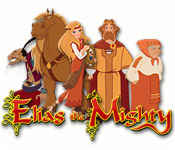 Elias the Mighty
System requirements:
* OS: Windows XP/Vista
* CPU: 800 Mhz
* Memory: 256 MB
Elias the Mighty
: Based on the legendary Russian folk hero, Elias the Mighty is a thrilling Arcade-Puzzle game based on shape recognition. Match the objects with their corresponding shapes to keep Elias and fellow characters strong. Use food to increase the power of your character. Their health will fade fast without your Puzzle expertise. Collect gems and spend your riches on more items. Fight alongside Elias the Mighty in a storyline steeped with tradition.
Elias the Mighty Walkthrough
.
Elias the Mighty Features:
Fun shape recognition
Variety of locations to visit
Help Elias save his horse!
Statement: Elias the Mighty is distributed as a trial version. Elias the Mighty may be downloaded free of charge, however, games may not be Resold.