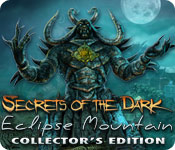 Secrets of the Dark: Eclipse Mountain Review
Rating:
5.0/5
Pros: Appealing graphics, interesting storyline, strong voice acting
Cons: Almost none
Secrets of the Dark: Eclipse Mountain is a so attractive hidden object adventure game i have ever played that i could not stop to play it. I highly recommend you download it right now and start an interesting adventure.
The game's story is simple, solve all of the puzzles and find special items to save the village from the Demon of Darkness and stop the coming of everlasting night. But firstly, you should find and help your friend who come with you escape from the Demon's hand.
In Secrets of the Dark: Eclipse Mountain, You will find useful items in some rooms, these items will help you continue the adventure. Items you collect will be stored in your inventory. There is also a journal, it will update with information as you progress through the game. The hint button is a flower which can be used in hidden object scenes or any other rooms and places you explored.
The graphics are beautiful and appealing, some hidden object scenes are spectacular, the soundtrack and voice acting are impressive, definitely add some score to the game. I almost can not find any flaws in the Secrets of the Dark: Eclipse Mountain, i give it a five star.
This is the collector's edition, include bonus adventure that you need to visiting the village after freeing it from the demon and save the sacrificed city residents, the mini-games, wallpapers and a strategy guide to help you if you are stuck.
Download Secrets of the Dark: Eclipse Mountain from our site and starting play it, i promise you will buy the full version after the one hour trial.
Read more:
Secrets of the Dark
hidden object
Collectors edition
bd studio games