Hello Venice 2: New York Adventure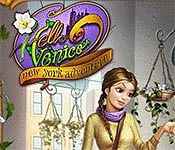 Hello Venice 2: New York Adventure
* OS: Windows 7 / Vista / XP
* CPU: Pentium 3 1.0 GHz or Higher
Hello Venice 2: New York Adventure Screenshots, Videos:

After reviving the lost garden of Ravenna, our heroes were blinded by a strange sphere of light that instantly transported them to New York.

Is this the beginning of a new adventure? Join Adda and Ciro on their Big Apple adventure and help them find the seeds of the Golden Tree!

Play through 80 action-packed levels, relax with refreshing mini-games and revive the two gardens in this colorful match-3 adventure!

You may also like: