Heroes Of Solitairea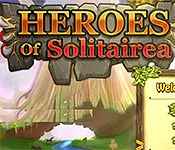 Heroes Of Solitairea
System requirements:
* OS: Windows 7 / Vista / XP
* CPU: Pentium 3 1.0 GHz or Higher
* Memory: 256 MB


Heroes Of Solitairea
: In a time when chaos and dark magic plagued a once peaceful kingdom, the last hope, a secret weapon, was found. An evil sorceress has the kingdom in her thrall and there's only one hero that can save it. Take on the role of Alice, accompanied by her trusty dragon and head for a journey across Solitairea. You and your dragon must rise up and save the Kingdom from evil witch!
Heroes Of Solitairea Walkthrough
.
Heroes Of Solitairea Features:
Gorgeous Graphics
Switch Window/FullScreen Mode
For Any Aged Player
Statement: Heroes Of Solitairea is distributed as a trial version. Heroes Of Solitairea may be downloaded free of charge, however, games may not be Resold.