Kingdom's Heyday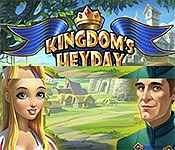 Kingdom's Heyday
System requirements:
* OS: Windows 7 / Vista / XP
* CPU: Pentium 3 1.0 GHz or Higher
* Memory: 256 MB
Kingdom's Heyday
: Have you ever wanted to rule a Kingdom? Now you have a chance to do so! Help the Princess to make her lieges happy! A Very young princess wants her kingdom to be prosperous, and its inhabitants were happy. The Razz constantly engaged in battles with the orcs and he did not have enough time for the improvement of their lands. Life taking its course: crumbling shacks, residents suffer from malnutrition, the whole country is in decline. Princess really wants to help Razz's subjects, but she is very young and inexperienced. You'll have to help her in this difficult matter. Take care of the welfare of the kingdom, help the young person of advice of an experienced builder and wise treasurer, bring all spheres of life in order and Bring prosperity!
Kingdom's Heyday Walkthrough
.
Kingdom's Heyday Features:
Gorgeous Graphics
Switch Window/FullScreen Mode
For Any Aged Player
Statement: Kingdom's Heyday is distributed as a trial version. Kingdom's Heyday may be downloaded free of charge, however, games may not be Resold.