Nancy Drew: Ghost Dogs Of Moon Lake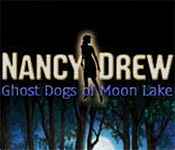 Nancy Drew: Ghost Dogs Of Moon Lake
* OS: Windows 7 / Vista / XP
* CPU: Pentium 3 1.0 GHz or Higher
Nancy Drew: Ghost Dogs Of Moon Lake Screenshots, Videos:

Hunt for Clues on the Trail of a Pack of Phantom Hounds!

You, as Nancy Drew, must pick up the cold trail left by a notorious gangster who once lived in the lakeside cabin recently purchased by Nancy's friend.

Are the ghostly legends true, or is there a flesh and blood answer to the dogs' haunting howls? Decipher cryptic puzzles, search through shadowy woods, creepy old houses, interview suspicious characters, and dodge danger to sniff out the truth behind local legends to solve the mystery in Nancy Drew: Ghost Dogs of Moon Lake.

You may also like: