Neighbours From Hell 3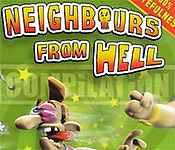 Neighbours From Hell 3
System requirements:
* OS: Windows 7 / Vista / XP
* CPU: Pentium 3 1.0 GHz or Higher
* Memory: 256 MB


Living next door to you is a real Neighbour From Hell and it's now time to have your revenge! Creep around your neighbour's house performing ever more elaborate tricks upon the unsuspecting resident. As the star of a fantastic new TV show, cameras will track your every move as you set your fiendish traps. Your objectives are to create more and more disarray, increase ratings and maybe even win prestigious awards. But beware of watchful neighbours and alert guard dogs; if they catch you then the show will be taken off air.
Neighbours From Hell 3 Features:
Gorgeous Graphics
Switch Window/FullScreen Mode
For Any Aged Player
Statement: Neighbours From Hell 3 is distributed as a trial version. Neighbours From Hell 3 may be downloaded free of charge, however, games may not be Resold.