Roads of Rome: New Generation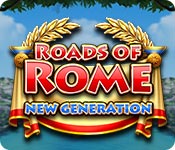 Roads of Rome: New Generation
System requirements:
* OS: Windows 7 / Vista / XP
* CPU: Pentium 3 1.0 GHz or Higher
* Memory: 256 MB


The Roman Empire was wealthy and powerful. It seemed nothing could threaten its peace and prosperity. Until, one day, a sudden misfortune came upon the land, and the Romans had to face earthquakes of unseen power with drastic consequences. Young Marcus Victorious now must save its citizens and bring back life to its previous glory. Build new settlements, new roads and a new future for the people. Help Marcus prove himself to his epic Father, gain respects of the citizens and maybe even win the love of a gorgeous girl!
Roads of Rome: New Generation Features:
Gorgeous Graphics
Switch Window/FullScreen Mode
For Any Aged Player
Statement: Roads of Rome: New Generation is distributed as a trial version. Roads of Rome: New Generation may be downloaded free of charge, however, games may not be Resold.