Secrets Of The Dark: Mystery Of The Ancestral Estate Walkthrough 5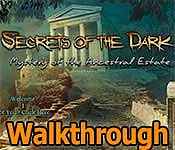 Secrets Of The Dark: Mystery Of The Ancestral Estate Walkthrough 5
* OS: Windows 7 / Vista / XP
* CPU: Pentium 3 1.0 GHz or Higher
Follow our crystal clear walkthrough and helpful tricks to get you through the rough spots!
Click the button to download full walkthrough.
Select the illuminator to change the lighting (N).
Examine the door and place the SHIP on it to trigger a puzzle (O).
Move the ball to the bottom socket.
To solve the puzzle, select the following arrows: down, right, right, left, left, right, up, right, down, and down (P).
Go left through the newly-opened door.
Examine the bottom shelf; take the HANDLE (Q).
Examine the telescope and use the SCREWDRIVER on the screw; take the GORGON (R).
Examine the desk drawers and open the drawer; read the note and take the GEAR (S).
Back out twice.
You may also like: