Seven Seas Solitaire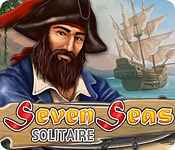 Seven Seas Solitaire
System requirements:
* OS: Windows 7 / Vista / XP
* CPU: Pentium 3 1.0 GHz or Higher
* Memory: 256 MB
Seven Seas Solitaire
: Your bride-to-be has gone missing, and you've been framed for her kidnapping! As a retired naval officer, you now must scour the seven seas to solve the mystery and bring her home. Match cards and fire cannonballs to clear the levels and gather the clues and tools you need to find your darling Elaine. Do you have the skills and the courage to conquer the ocean's dangers and become a captain of legend?
Seven Seas Solitaire Walkthrough
.
Seven Seas Solitaire Features:
Gorgeous Graphics
Switch Window/FullScreen Mode
For Any Aged Player
Statement: Seven Seas Solitaire is distributed as a trial version. Seven Seas Solitaire may be downloaded free of charge, however, games may not be Resold.