Smash Cat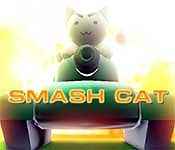 Smash Cat
System requirements:
* OS: Windows 7 / Vista / XP
* CPU: Pentium 3 1.0 GHz or Higher
* Memory: 256 MB


Save the planet from being conquered by the evil kuroneko (black cat) organization! Play as Shintaro, a white cat with a bad-ass toy tank, fight against arsenal of weapon of the cat's world and destroy the ultimate cat superweapon: the "Metal Cat Cannon". This casual shooting game with its simple gameplay mechanic can be enjoy by everyone.
Smash Cat Features:
Gorgeous Graphics
Switch Window/FullScreen Mode
For Any Aged Player
Statement: Smash Cat is distributed as a trial version. Smash Cat may be downloaded free of charge, however, games may not be Resold.