When In Rome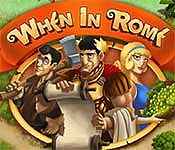 When In Rome
System requirements:
* OS: Windows 7 / Vista / XP
* CPU: Pentium 3 1.0 GHz or Higher
* Memory: 256 MB
When In Rome
: Introducing a brand new strategy game where players can put themselves in the shoes of Flavius, experienced Roman warrior who had to retire and needs to build a new life for himself. After he got injured, Flavius is sad and lonely, he can't be a warrior anymore and he is not wealthy. Meanwhile, the Roman Empire prospers and the Emperor decides to expand territories. He assigns Flavius a position of instructor for those who will build new settlements and towns, and take care of farming lands. Make Flavius' dreams come true! Travel across 41 challenging levels, help locals along the way, and organize production and delivery of various goods. When in Rome, do as Flavius does.
When In Rome Walkthrough
.
When In Rome Features:
Gorgeous Graphics
Switch Window/FullScreen Mode
For Any Aged Player
Statement: When In Rome is distributed as a trial version. When In Rome may be downloaded free of charge, however, games may not be Resold.