Amulet of Dreams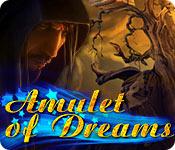 Amulet of Dreams
System requirements:
* OS: Windows 7 / Vista / XP
* CPU: Pentium 3 1.0 GHz or Higher
* Memory: 256 MB
Amulet of Dreams
: Alison's sudden illness was a shock to everyone. The doctors were dismayed by the girl's condition as she withered with each passing day. Nobody knew that Alison held a secret that could help save her. There was only one person, her childhood friend Aiden, that she chanced sharing her secret with - that she was the Queen of Magical Realm in need of help. It's now up to the brave boy to defeat the evil and save Alison's life.
Amulet of Dreams Walkthrough
.
Amulet of Dreams Features:
Gorgeous Graphics
Switch Window/FullScreen Mode
For Any Aged Player
Statement: Amulet of Dreams is distributed as a trial version. Amulet of Dreams may be downloaded free of charge, however, games may not be Resold.