Dance of Death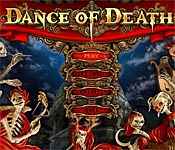 Dance of Death
System requirements:
* OS: Windows 7 / Vista / XP
* CPU: Pentium 3 1.0 GHz or Higher
* Memory: 256 MB
Dance of Death
: You will have to become a detective and help the chief of shelter find one of missing boys. That young man disappeared under the mysterious circumstances and you need to figure out what happened and bring him back. This is going to be a complicated investigation, so get ready to solve all kinds of puzzles, look for clues and explore the town by yourself.
Dance of Death Walkthrough
.
Dance of Death Features:
Gorgeous Graphics
Switch Window/FullScreen Mode
For Any Aged Player
Statement: Dance of Death is distributed as a trial version. Dance of Death may be downloaded free of charge, however, games may not be Resold.