Dreamscapes: The Sandman Walkthrough 2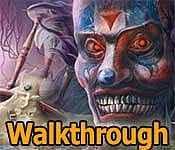 Dreamscapes: The Sandman Walkthrough 2
* OS: Windows 7 / Vista / XP
* CPU: Pentium 3 1.0 GHz or Higher
Follow our crystal clear walkthrough and helpful tricks to get you through the rough spots!
Click the button to download full walkthrough.
This is the official guide for Dreamscapes: The Sandman.
Access the diary (A) to review the current state of your investigation.
Select the menu (B) to leave the game and to adjust the volume and the display mode.
Collected items will be stored in the inventory (C).
Press the hint button (D) whenever you need help.
Select the Dreamcatcher (E) to see how many pieces you have already collected and to restore the Dreamcatcher in the end.
There are two grades of difficulty you can choose from in the beginning: Regular and Expert mode.
Talk to the doctor (F).
Zoom into the table; take the diary (G) and the YELLOW FUSE (H).
Turn left.
Zoom into the blackboard; take HAMMER (I).
Zoom into the desk, remove the nails (purple) with the HAMMER, and open the drawer; take the SCREWDRIVER (J), the SPONGE (K), the KEY (L), and read the newspaper (blue).
Zoom into the hourglass and break it with the HAMMER; take the BLUE FUSE (M).
You may also like: