Escape the Museum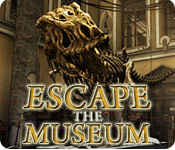 Escape the Museum
System requirements:
* OS: Windows 2000/XP/Vista
* CPU: 800 Mhz
* Memory: 128 MB
Escape the Museum
: Help Susan work her way through the rubble of the National Museum of History after an earthquake rocks the city and separates her from her daughter. Escape the Museum is a unique game pulling on the familiar Hidden Object mechanic while building on the casual-friendly Adventure game play. Can you help Susan get back to Caitlin, her daughter, and escape the museum together?
Escape the Museum Walkthrough
.
Escape the Museum Features:
Solve fun puzzles.
Play unique mini-games.
Cool unlockable content.

Statement: Escape the Museum is distributed as a trial version. Escape the Museum may be downloaded free of charge, however, games may not be Resold.