Fort Meow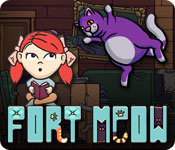 Fort Meow
System requirements:
* OS: Windows 7 / Vista / XP
* CPU: Pentium 3 1.0 GHz or Higher
* Memory: 256 MB
Fort Meow
: In Fort Meow, use physics-based puzzle mechanics to construct a pillow fort and protect yourself from a barrage of feline assailants! Upon finding her grandfather's journal in the attic, Nia is attacked by a barrage of feline assailants. It appears that her grandmother has become a crazy cat lady since the last time she visited. Defend Nia by building a protective fort out of furniture to keep the cats at bay, while deciphering the mysterious tales hidden within the journal.
Fort Meow Walkthrough
.
Fort Meow Features:
Gorgeous Graphics
Switch Window/FullScreen Mode
For Any Aged Player
Statement: Fort Meow is distributed as a trial version. Fort Meow may be downloaded free of charge, however, games may not be Resold.