Otherworld: Omens of Summer Walkthrough 5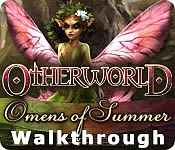 Otherworld: Omens of Summer Walkthrough 5
* OS: Windows 7 / Vista / XP
* CPU: Pentium 3 1.0 GHz or Higher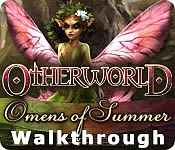 Otherworld: Omens of Summer Walkthrough 5
* OS: Windows 7 / Vista / XP
* CPU: Pentium 3 1.0 GHz or Higher

Zoom into the car and open the right door; take the map (R).
Zoom into the gate (S).
Play the HOS.
Rotate the 3 circles into the correct position and find the 15 crows marked in yellow (T).
Talk to the crow (U).
Play the mini-game.
To complete this mini-game, match pairs of similar crows.
Selecting two crows will reveal their pattern (V).
<![if gt IE 9]>
<![endif]>
<![if gt IE 9]>
<![endif]>