PuppetShow: Destiny Undone Walkthrough 2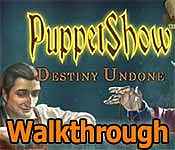 PuppetShow: Destiny Undone Walkthrough 2
* OS: Windows 7 / Vista / XP
* CPU: Pentium 3 1.0 GHz or Higher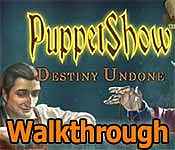 PuppetShow: Destiny Undone Walkthrough 2
* OS: Windows 7 / Vista / XP
* CPU: Pentium 3 1.0 GHz or Higher

PuppetShow: Destiny Undone Walkthrough 2 Screenshots, Videos: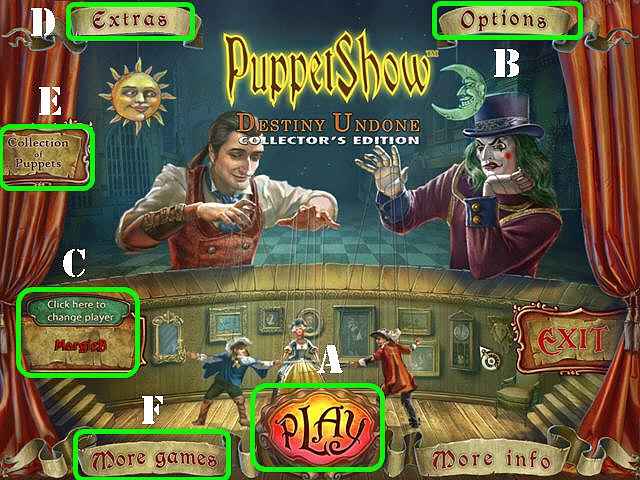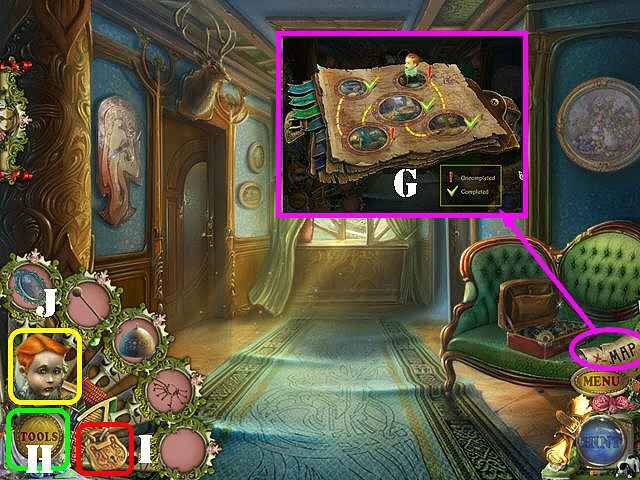 <![if gt IE 9]>
<![endif]>
<![if gt IE 9]>
<![endif]>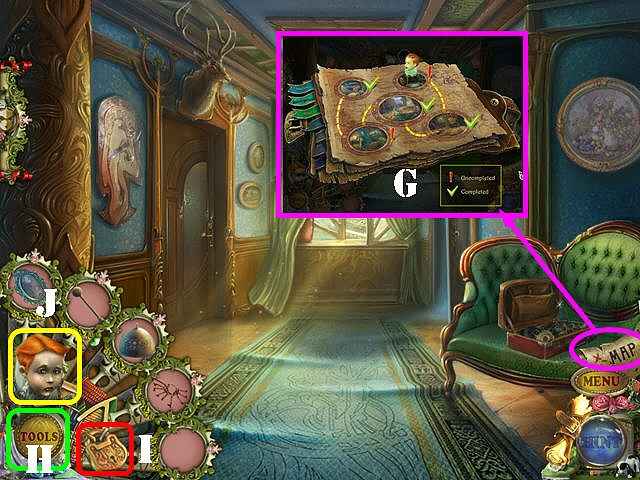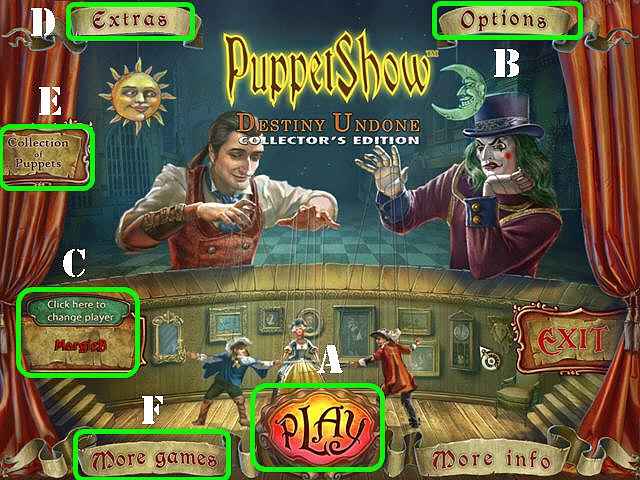 <![if gt IE 9]>
<![endif]>
<![if gt IE 9]>
<![endif]>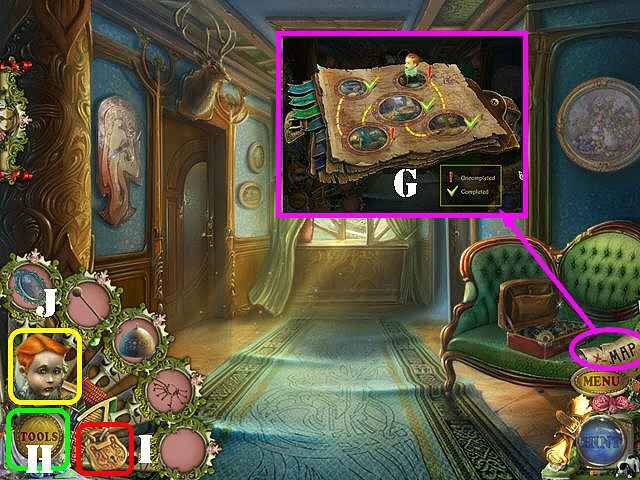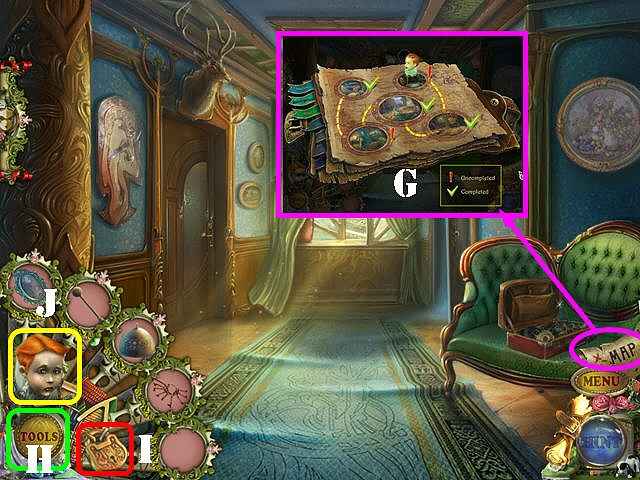 <![if gt IE 9]>
<![endif]>
<![if gt IE 9]>
<![endif]>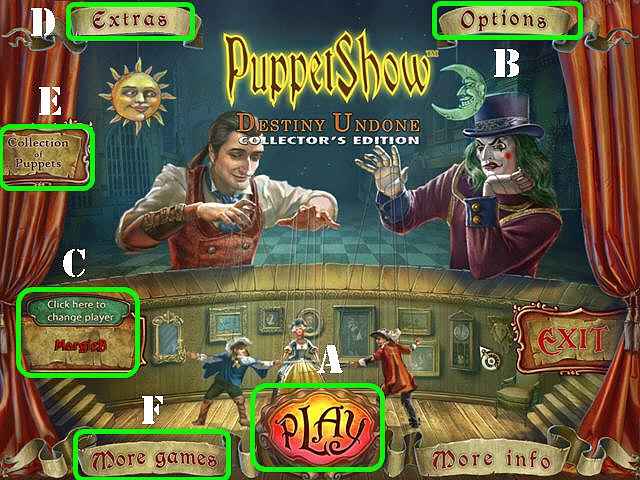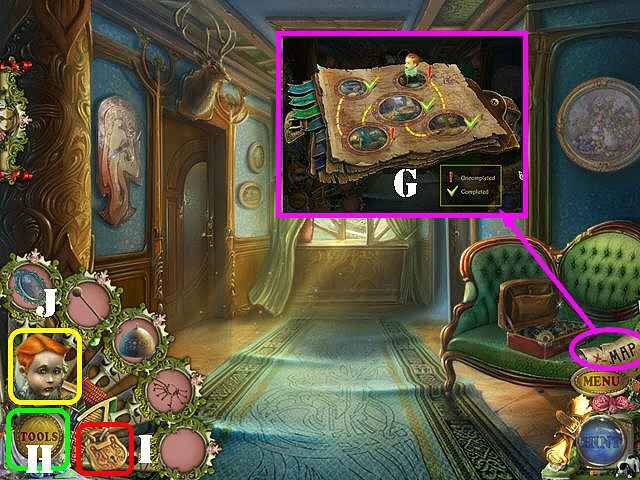 <![if gt IE 9]>
<![endif]>
<![if gt IE 9]>
<![endif]>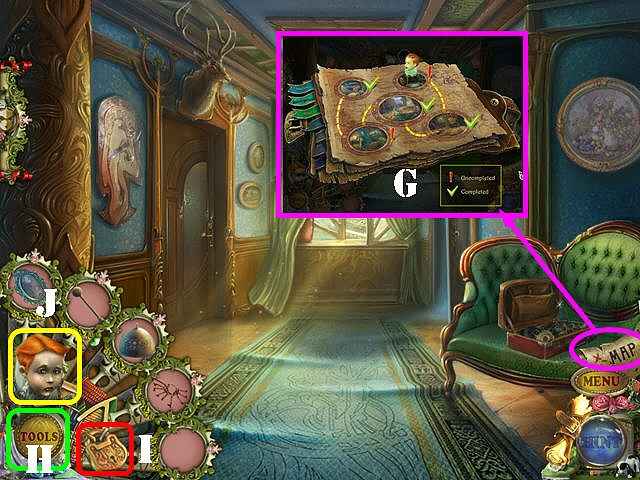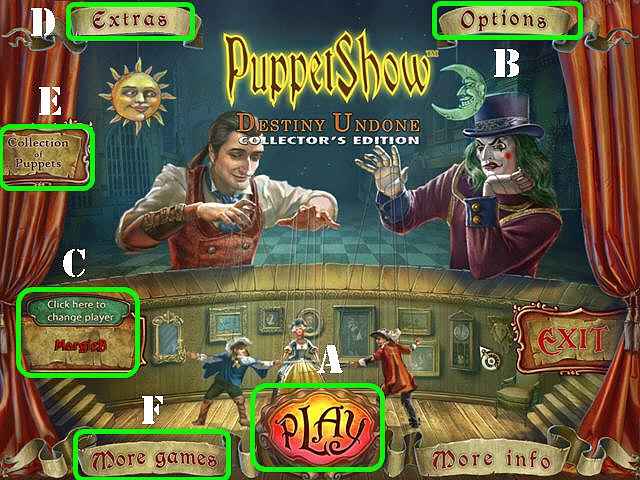 <![if gt IE 9]>
<![endif]>
<![if gt IE 9]>
<![endif]>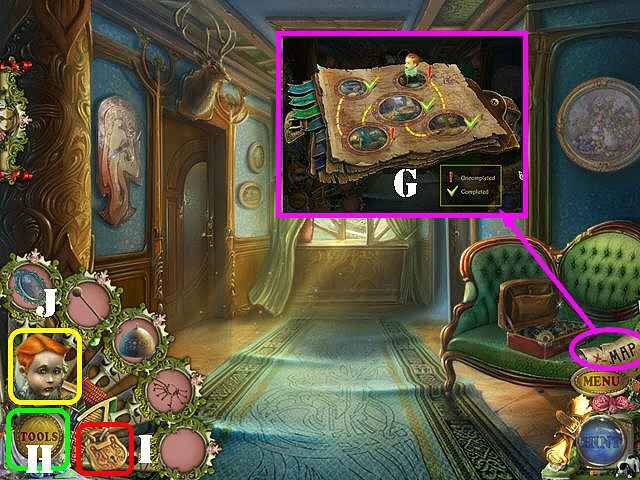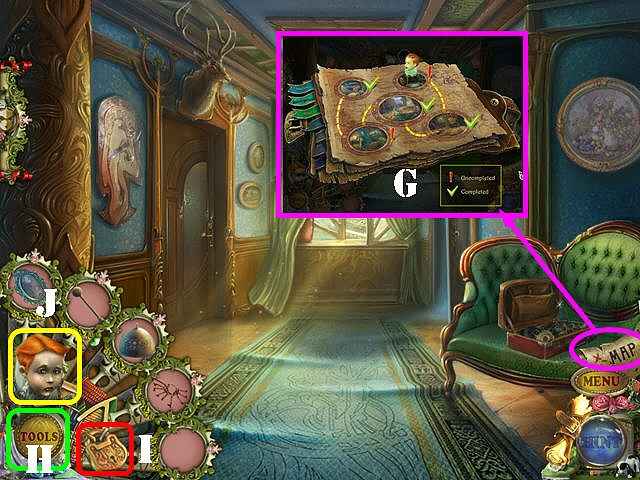 Follow our crystal clear walkthrough and helpful tricks to get you through the rough spots!
Click the button to download full walkthrough.
* This is the Official Guide for PuppetShow: Destiny Undone Collector's Edition.
* Select 'Play' (A) to begin the main quest.
* The 'Options' (B) button allows you to adjust the screen, music, cursor, game mode, and sound.
* You can manage your player profiles here (C).
* Select 'Extras' (D) to access all the bonus features.
* View your puppet collection here (E).
* Select 'More Games' (F) to view other titles from this developer.
* Use the Map (G) to travel directly to a location.
* This guide will refer to Hidden-object Puzzles as 'HOP'. Items listed in orange in HOPs require an extra step. Some of the find lists may be random; our lists may vary from yours.
* Inventory items will go into the Tools tab (H). If it's full, use the arrows on each end of the Tools section to scroll through your items. You can lock the tools by pressing on the lock (I).
* Use your puppet helper (J) to help you with hard to reach areas. Your puppet helper will become animated when you're in a location that it can be used in. You can dress up your puppet helper in different hats as they become available.
Receive Emails When PuppetShow Series Has New Game Released
Sign-up to get informed when the PuppetShow series has new game released with BD Studio Games' FREE bi-weekly newsletter.
<![if gt IE 9]>
<![endif]>
<![if gt IE 9]>
<![endif]>