Game of Stones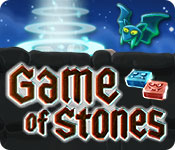 Game of Stones
System requirements:
* OS: Windows 7 / Vista / XP
* CPU: Pentium 3 1.0 GHz or Higher
* Memory: 256 MB
Game of Stones
: It all started as a simple magic exam for a first year sorcerer's apprentice. However right before his exam, Anton managed to get caught on the teleporter's lever and changes the course of his destination. He must now face a difficult and perilous test that will challenge his budding magical skills. Thankfully there is still hope for young Anton. At the very last moment, his master managed to throw a handful of magical scrolls to aide him on his journey. Venture through a beautiful world filled with 80 exciting and challenging match-3 levels with bubble shooter elements. Will Anton be able to return to his master? More importantly, will he survive the ordeal?
Game of Stones Walkthrough
.
Game of Stones Features:
Gorgeous Graphics
Switch Window/FullScreen Mode
For Any Aged Player
Statement: Game of Stones is distributed as a trial version. Game of Stones may be downloaded free of charge, however, games may not be Resold.