Incredible Dracula: Chasing Love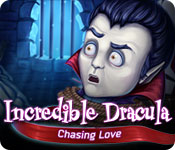 Incredible Dracula: Chasing Love
System requirements:
* OS: Windows 7 / Vista / XP
* CPU: Pentium 3 1.0 GHz or Higher
* Memory: 256 MB


It turns out even Dracula has an online dating profile, but when his princess turns out a bit different than her picture, Dracula is having second thoughts. He's not ready for that kind of commitment, but she certainly is! Help Dracula escape the bonds of holy matrimony in 45 unique levels featuring Dracula's monster friends and the humans trying to capture him. Order your servants to clear obstacles, construct buildings, and negotiate with heroes to make a break for freedom in this hilarious resource time management game! Will Dracula find true love, or will it find him first?
Incredible Dracula: Chasing Love Features:
Gorgeous Graphics
Switch Window/FullScreen Mode
For Any Aged Player
Statement: Incredible Dracula: Chasing Love is distributed as a trial version. Incredible Dracula: Chasing Love may be downloaded free of charge, however, games may not be Resold.