Nancy Drew 12: Secret Of The Old Clock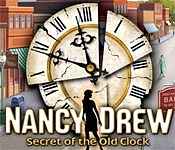 Nancy Drew 12: Secret Of The Old Clock
* OS: Windows 7 / Vista / XP
* CPU: Pentium 3 1.0 GHz or Higher
Nancy Drew 12: Secret Of The Old Clock Screenshots, Videos:

It's 1930 and Nancy Drew is asked to visit Emily Crandall in Titusville, a girl whom Nancy knows only through a mutual friend.

She and her mother had been counting on the generosity of their kindly but strange neighbour, Josiah Crowley, to leave them part of his estate to support the inn they own.

But in his will, everything was left to Richard Topham, his ESP teacher.

A contested will, a suffering girl, suspicious psychics — can Nancy solve the mystery before time runs out in Nancy Drew: Secret of the Old Clock?

You may also like: