Rotate Mania Deluxe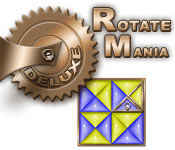 Rotate Mania Deluxe
* OS: 10.4, 10.5 (recommended)
* CPU: 1.83GHz
Rotate Mania Deluxe Screenshots, Videos:

Rotate Mania Deluxe is the latest take on the much-loved Tetris-style genre.

This addictive and mind-bending puzzler is based on a mix of games. It stands out for its unique interface and unbelievable physics of the clockwork motion.

Are you prepared to remove figures from the playing field by matching several triangles of the same color?