Secrets Of The Dark: Mystery Of The Ancestral Estate Full Version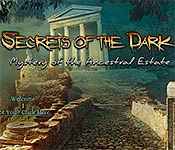 Secrets Of The Dark: Mystery Of The Ancestral Estate Full Version
* OS: Windows 7 / Vista / XP
* CPU: Pentium 3 1.0 GHz or Higher
Secrets Of The Dark: Mystery Of The Ancestral Estate Full Version Screenshots, Videos:

Thank goodness you're here!

I'm Dayona.

Please, follow me.

I inherited this estate.

It's beautiful...

but I see scary things after dark.

I think the problem starts in the crypt.

A relative of mine is bured there - someone with a really mean reputation.

I don't like going down there...

But come on.

I'll show you.