The Hunt for Red Panda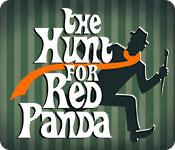 The Hunt for Red Panda
System requirements:
* OS: Windows 7 / Vista / XP
* CPU: Pentium 3 1.0 GHz or Higher
* Memory: 256 MB
The Hunt for Red Panda
: A mysterious malefactor has vandalized well known paintings in museums all over the world. The art detective has to restore the defaced masterpieces and help the police catch the criminal. Travel from one museum to another trying to bring back to life the spoiled paintings and find clues to the Red Panda personality. Do your best to restore paintings quickly and help museums indemnify their collections!
The Hunt for Red Panda Walkthrough
.
The Hunt for Red Panda Features:
Gorgeous Graphics
Switch Window/FullScreen Mode
For Any Aged Player
Statement: The Hunt for Red Panda is distributed as a trial version. The Hunt for Red Panda may be downloaded free of charge, however, games may not be Resold.