Hermes Rescue Mission Walkthrough, Strategy Guide and Tips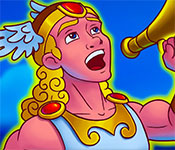 Hermes Rescue Mission Walkthrough, Strategy Guide and Tips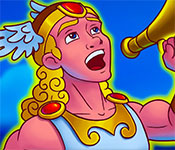 Hermes Rescue Mission Walkthrough, Strategy Guide and Tips

General Tips:
This game includes 3 game modes, casual mode has more time for thinking, hard mode for experienced players, the relax mode is not time limits.
In this game, you need to collect foods, golds, stones and weapons.
Remove the crack on the road need to spend food.
Workers can collect olives from the olives tree.
Quarry can produce stones, collect stones constantly.
You need 2 workers to repair the stone bridge.
Plant the olive tree on the olive grove to produce more foods.
Buy a torch from the merchant and light the fires to chase away the wolves.
The bank can produce golds for you, don't forget to build a bank.
Complete all the level tasks for the stated time to earn 3 stars.
You can buy a torch from the trader tent.
The forge can produce weapons for you.
Upgrade all building to produce more resources.
Achievements:
First-class restorer: Restore the temple.
Master of exile: Exile the servants of Hades.
Saving lives: Save the people.
Flame keeper: Light the Olympus fires.
No escape: Exile the Moirai.
Tide of freshness: Clear the river.
SuperDoc: Cure the people.
Veni, vidi, emendari: Repair the statue.
Master of duel: Exile the Cerberus.
Master of the wind: Dispel the darkness.
Let it rain!: Eliminate the drought.
Half done: Pass half-way.
Local celebrity: Exile the satyrs.
Water Lord: Eliminate the flood.
Only forward: Discover secret paths.
Never look back: Remove the underworld passage.
Pack leader: Exile the wolves.
Bat tamer: Exile the bats.
Helping hand: Help the starving people.
Illusionist: Revive the nymph.
Witch hunter: Exile Gello.
Master of commerce: Exchange 4 items from the merchant.
Olympic favorite: Bring gifts to the altar of Zeus.
Skill test: Repair the bridges.
Controlled chaos: Remove all obstacles from the beginning.
Armed and dangerous: Craft the weapons.
Decisive victory: Exile Hades.
<![if gt IE 9]>
<![endif]>
Detailed Levels:
Level 1: Your task is grow the olive grove, restore the Temple of Hera and save 5 citizens. See below screenshots: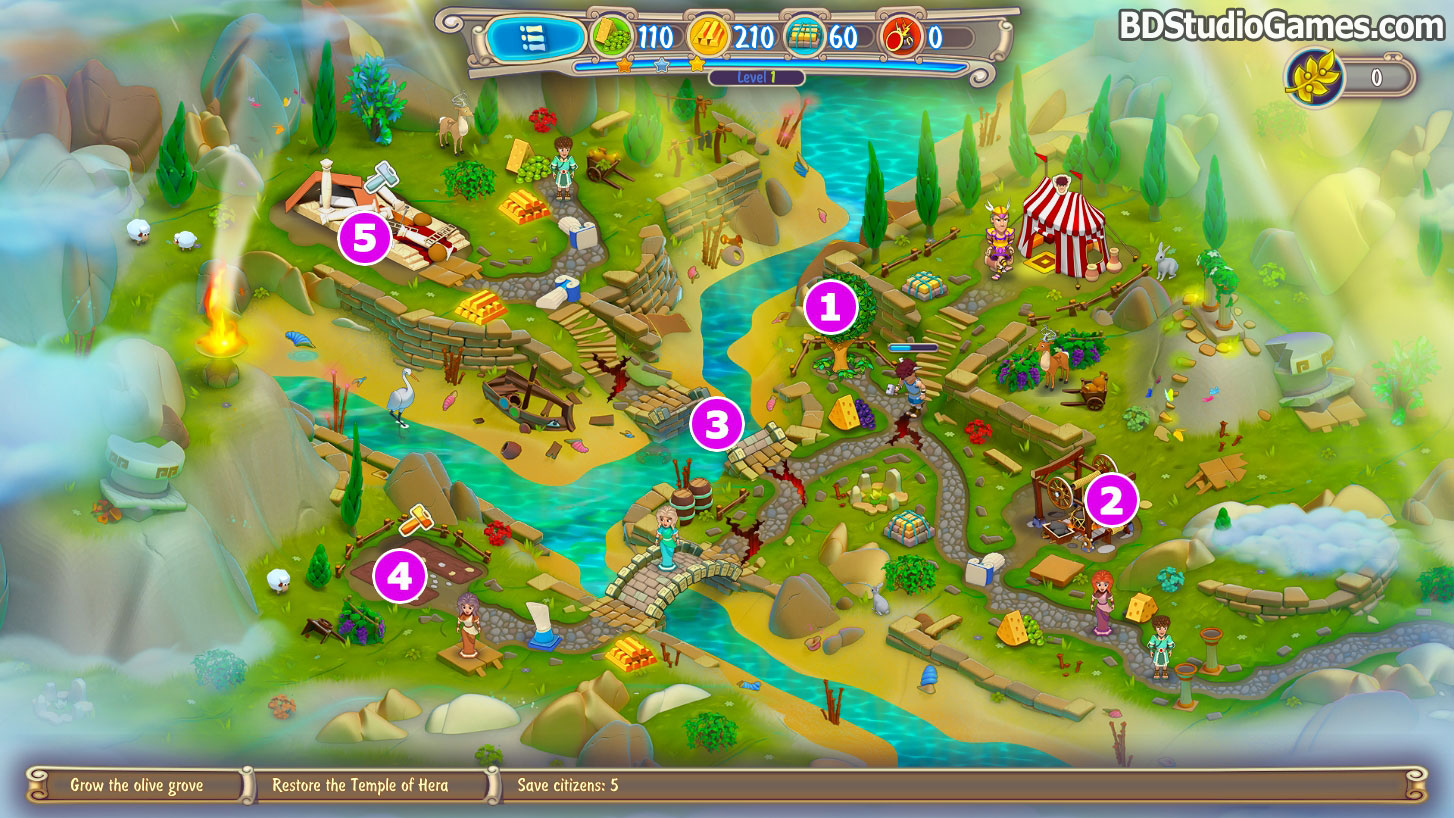 Level 2: Your task is light the Olympus fires, drive away wolves and save 6 citizens. See below screenshots: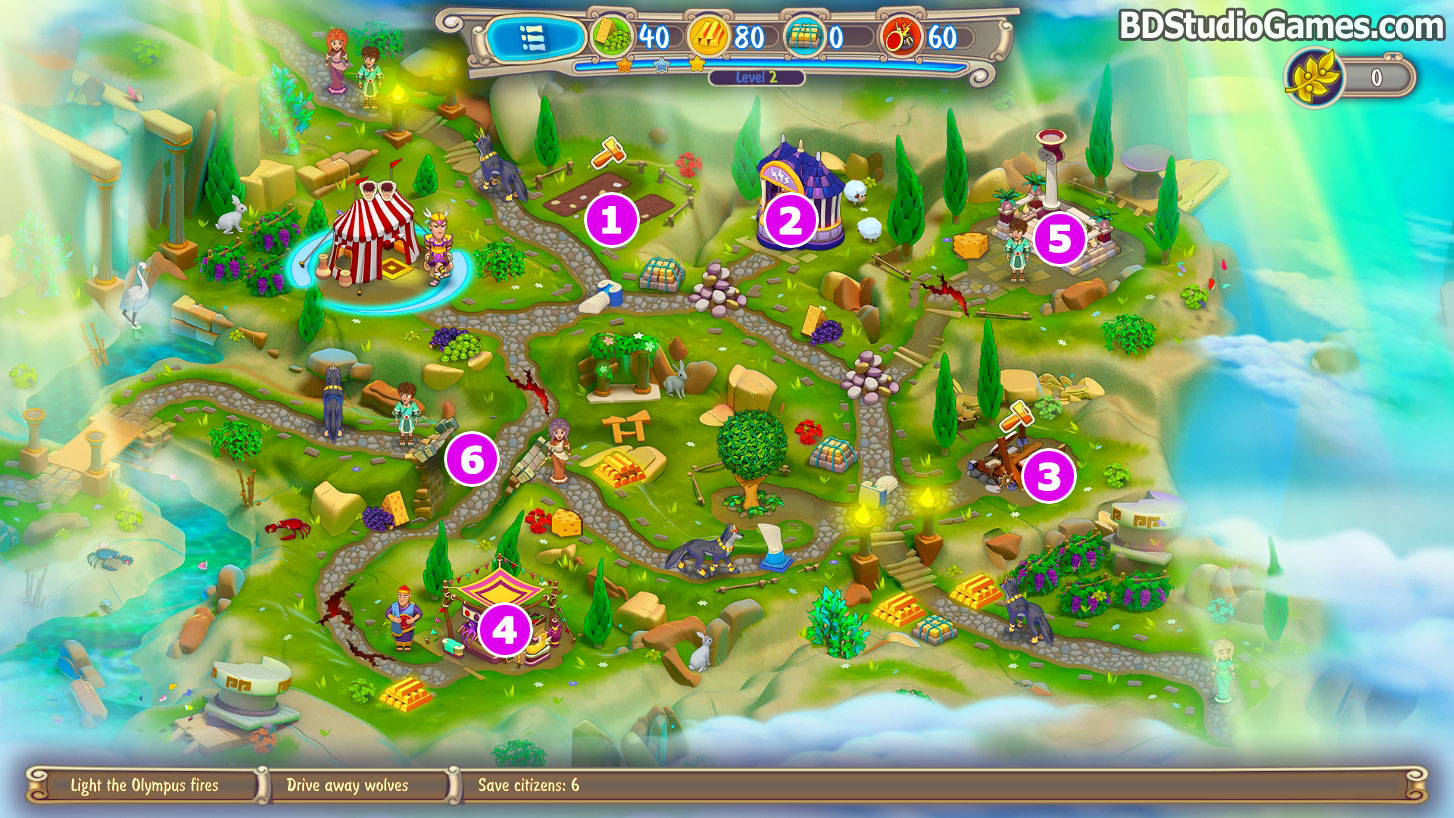 <![if gt IE 9]>
<![endif]>
Level 3: Your task is repair the forge of Hephaestus, repair 2 bridges and drive away 3 Hades' servants. See below screenshots: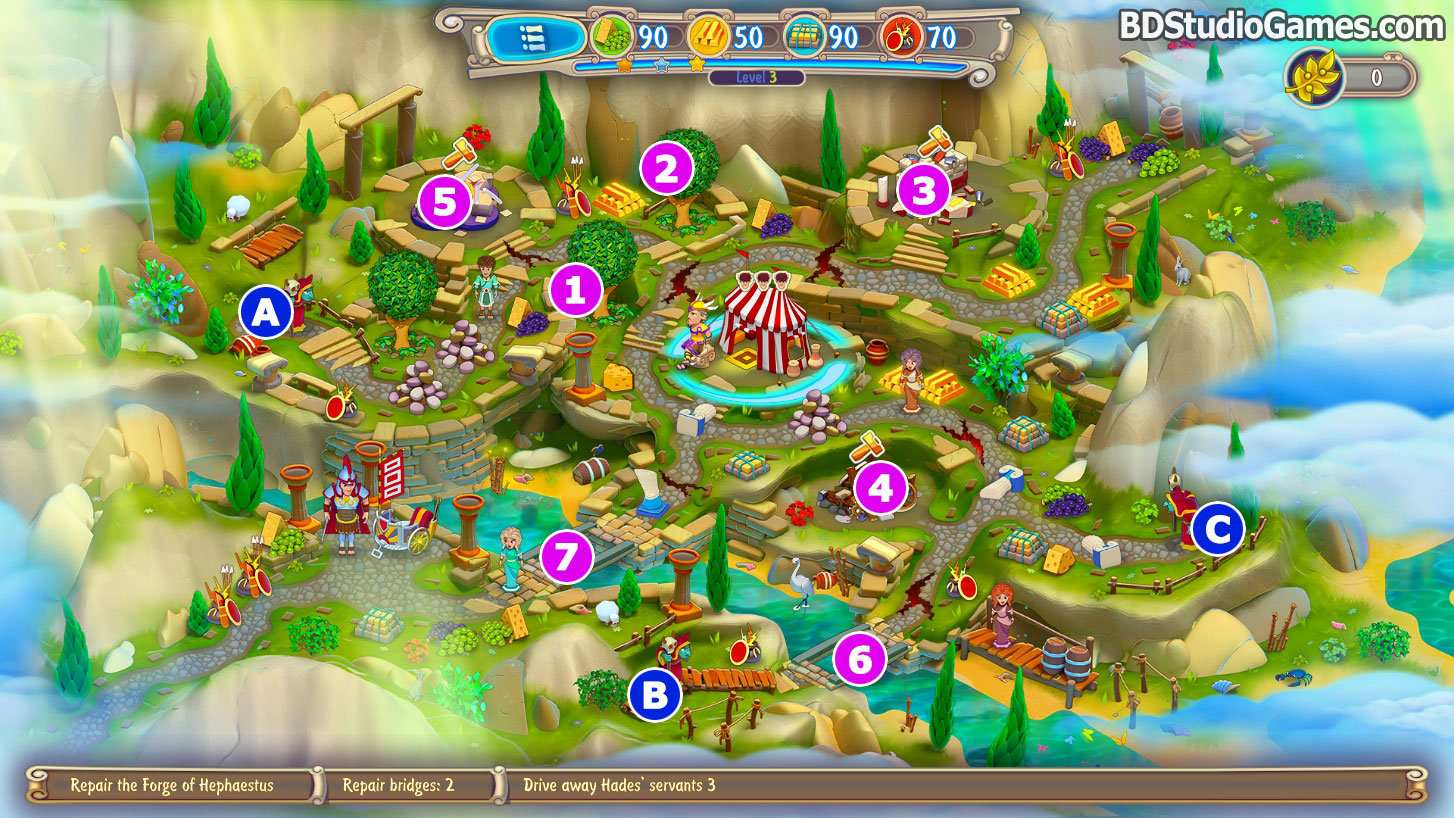 Level 4: Your task is fight 3 poisonous vines, save the city form the wolf pack and restore the temple of athena. See below screenshots: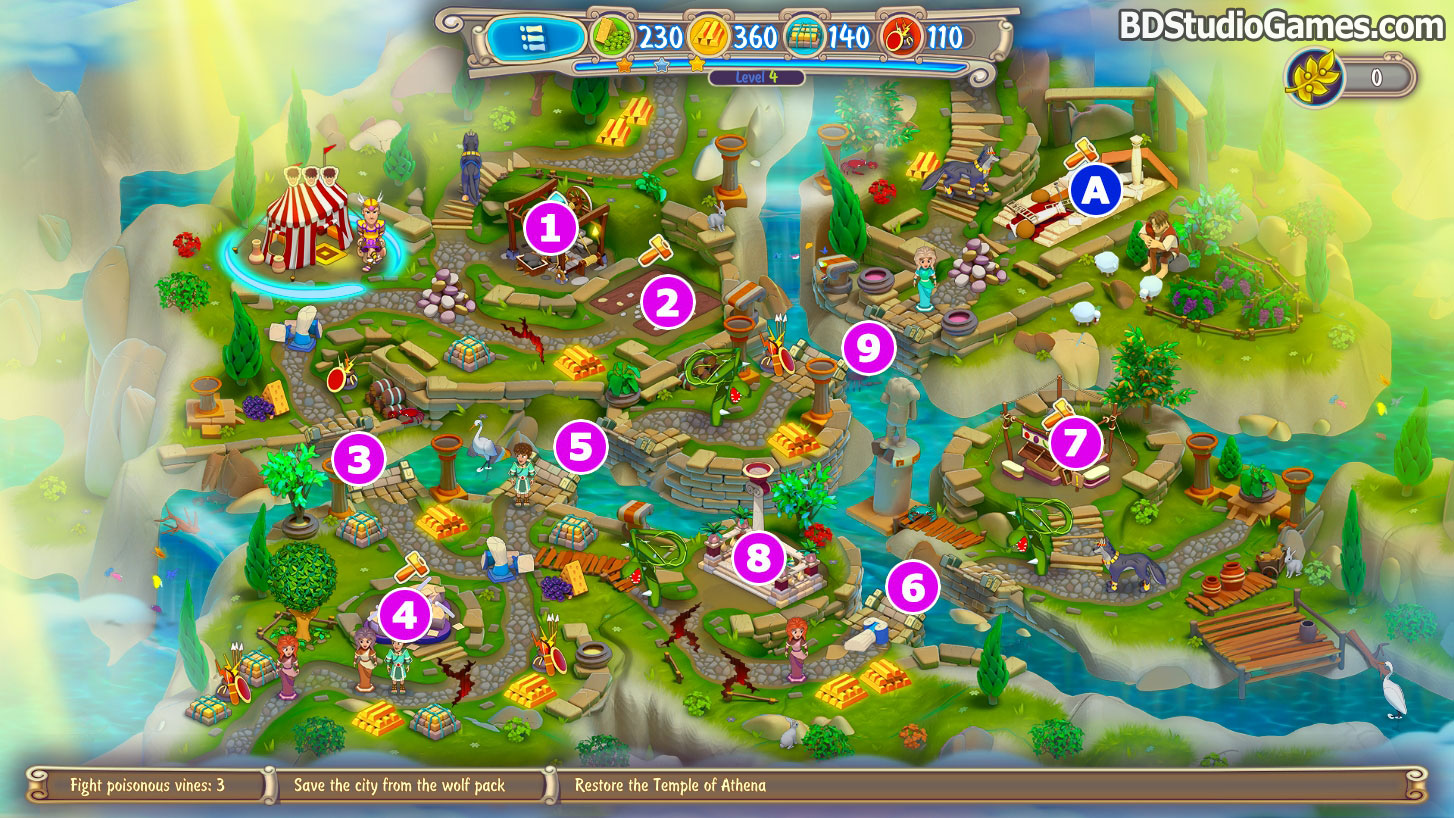 <![if gt IE 9]>
<![endif]>
Level 5: Your task is repair city roads, repair the statue of Hercules and save 8 citezens. In this level, you need to demolish some buildings and build a forge to collect weapons. See below screenshots: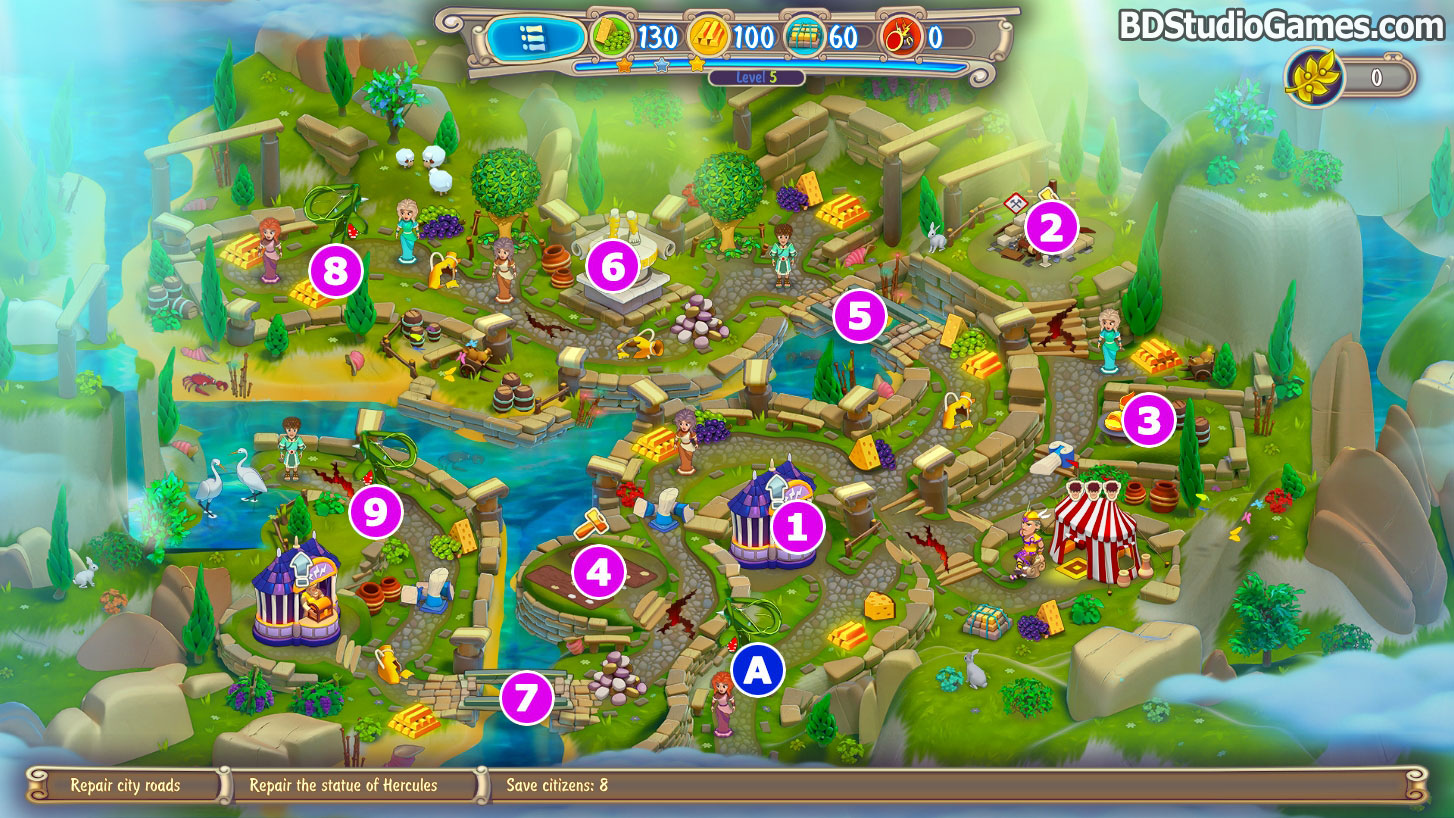 Level 6: Your task is eliminate 2 waterspouts, free the city from 3 bats, repair 2 roads across the river and drive away Hades' 4 servants. See below screenshots: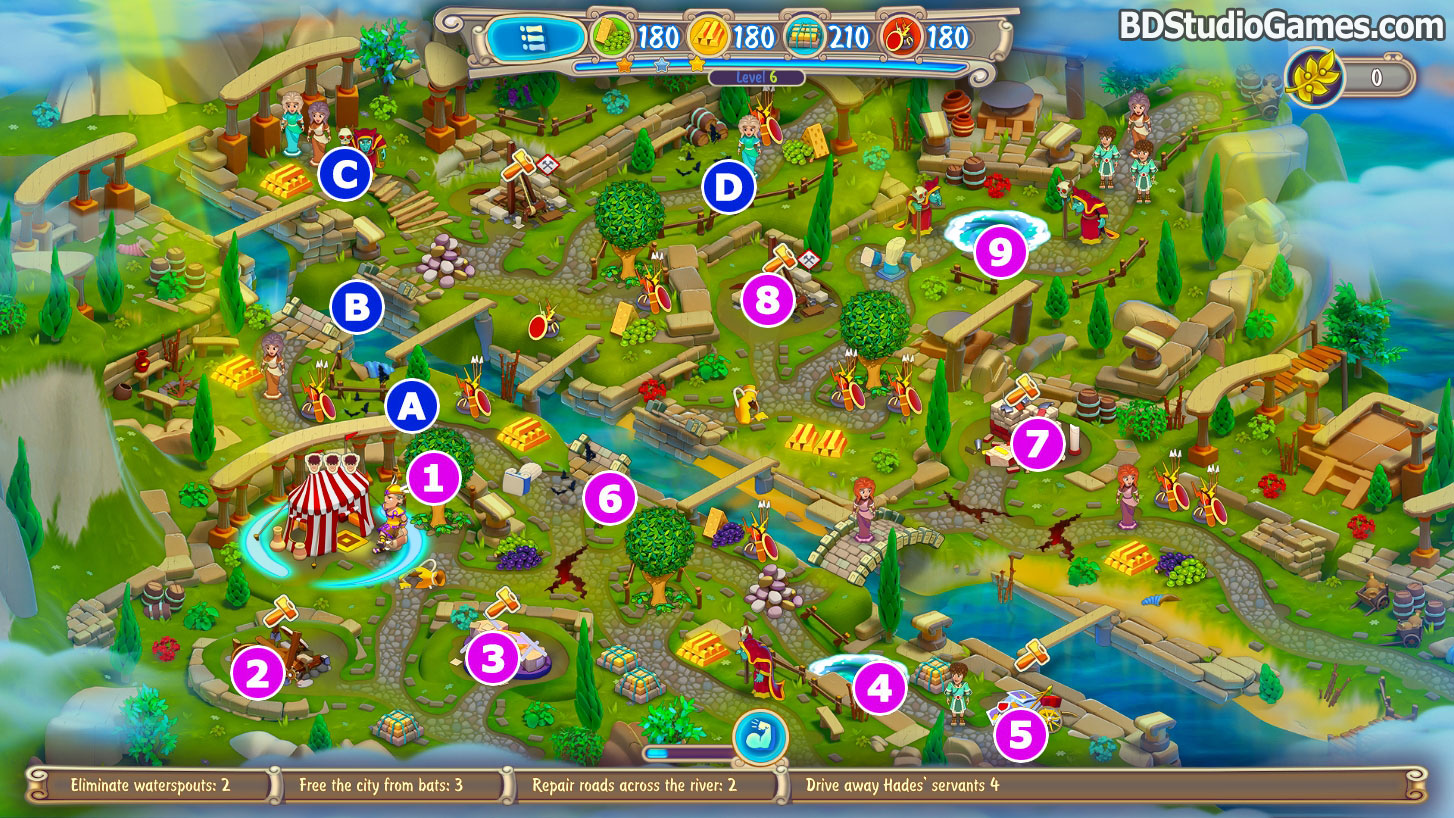 <![if gt IE 9]>
<![endif]>
Level 7: Your task is deal with giant crabs, save 10 citizens and clear the way to the upper city. See below screenshots: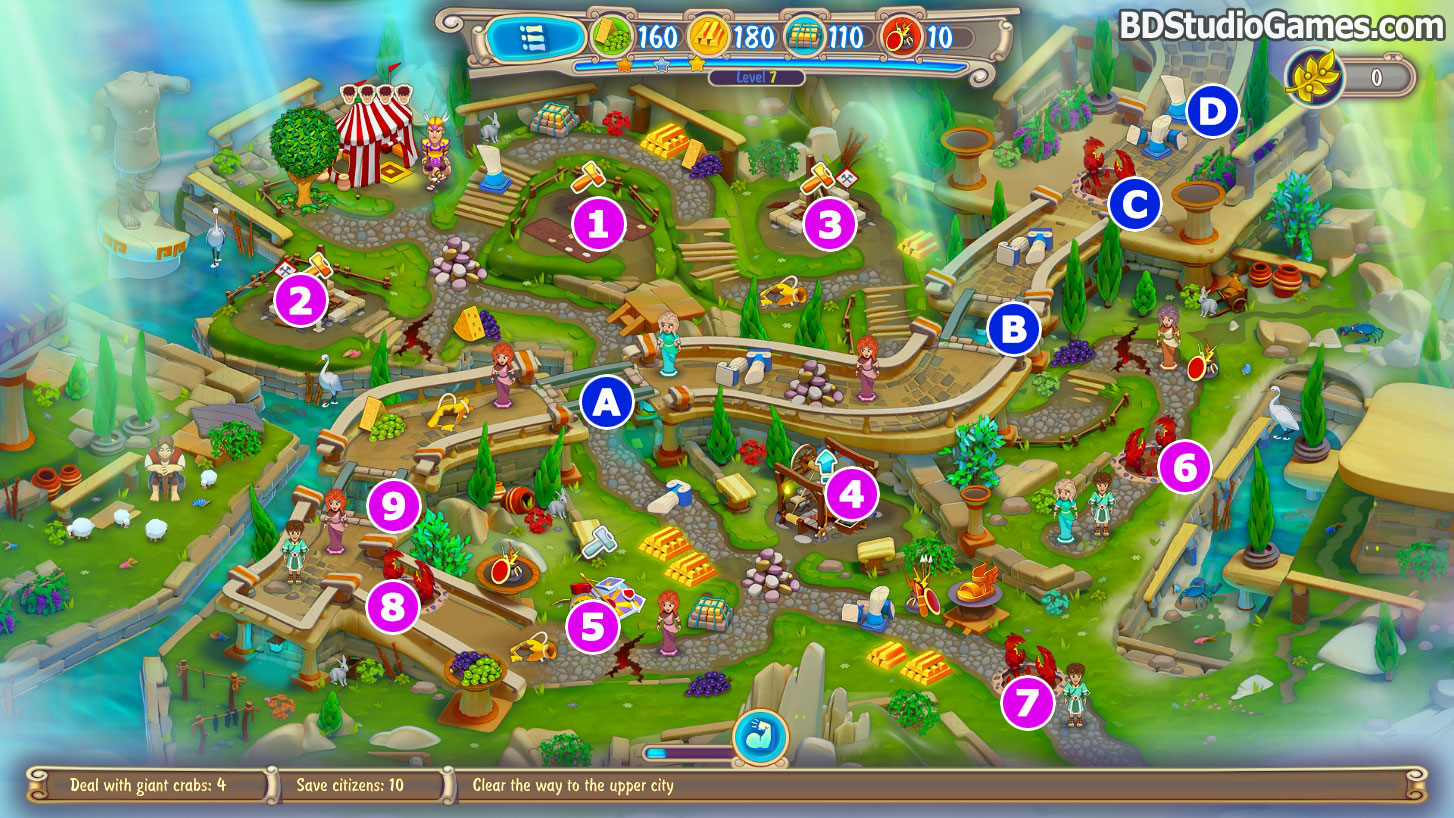 Level 8: Your task is restore the altar of demeter, feed 5 citezens, eliminate drought and restore the temple of Proteus. See below screenshots: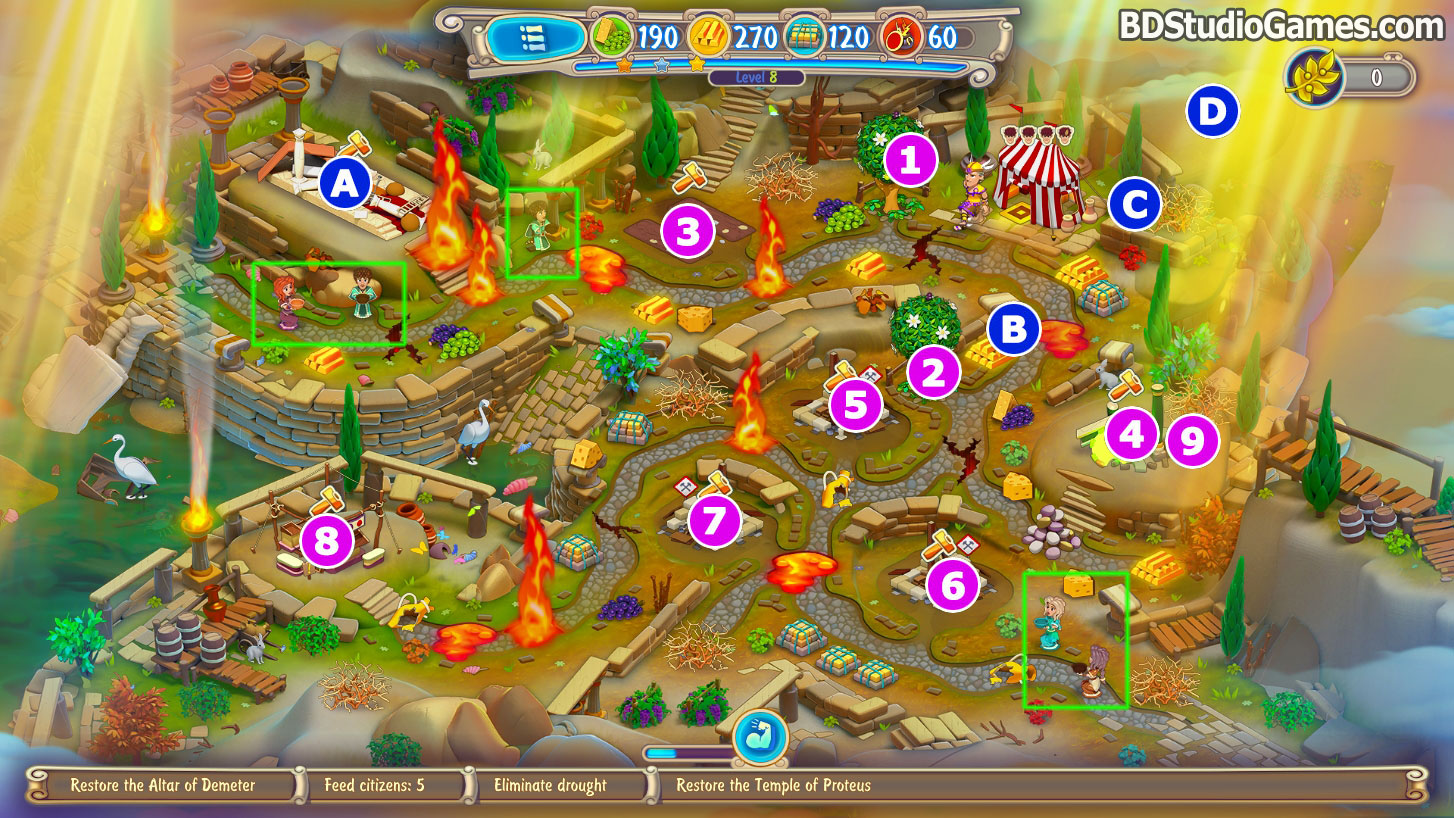 <![if gt IE 9]>
<![endif]>
Level 9: Your task is build the school of Apollo, light the Olympus fires, heal 6 citizens and accumulate 450 foods for citizens. See below screenshots: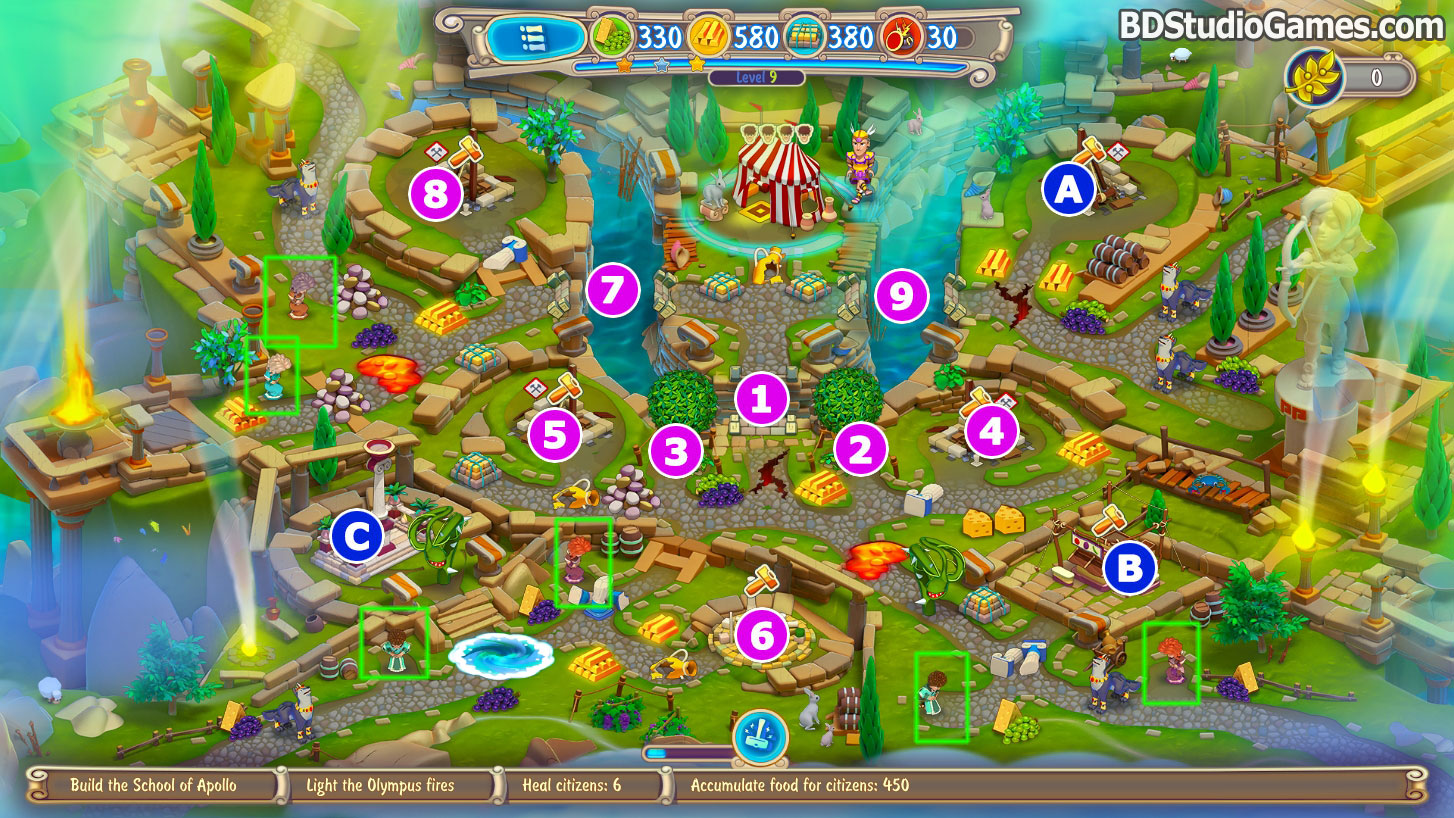 Level 10: Your task is Save 6 citizens, restore the altar of Zeus, drive away the Moirai and block the underworld passage. See below screenshots: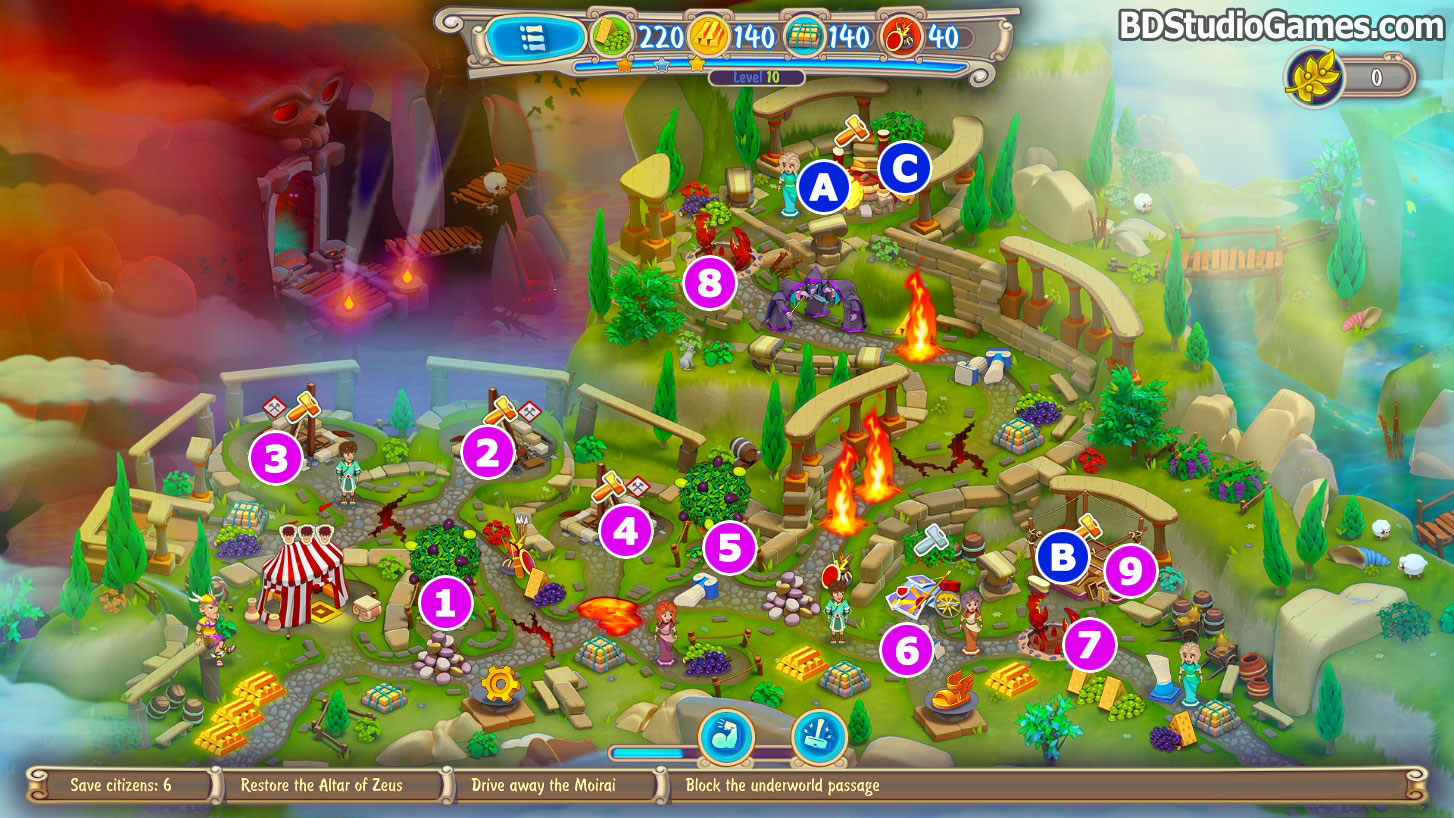 <![if gt IE 9]>
<![endif]>
<![if gt IE 9]>
<![endif]>
<![if gt IE 9]> <![endif]>