Dark Tales: Edgar Allan Poe's The Gold Bug Walkthrough 17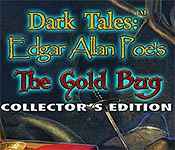 Dark Tales: Edgar Allan Poe's The Gold Bug Walkthrough 17
* OS: Windows 7 / Vista / XP
* CPU: Pentium 3 1.0 GHz or Higher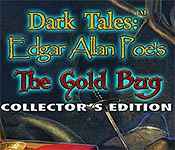 Dark Tales: Edgar Allan Poe's The Gold Bug Walkthrough 17
* OS: Windows 7 / Vista / XP
* CPU: Pentium 3 1.0 GHz or Higher

* examine the floor and remove the floor board: take the LAMP VALVE (L), and note the poison bottle.
* Zoom into the desk lamp twice and place the LAMP VALVE in the hole: turn the valve (M).
* Move the lampshade: take the NOTE (N).
* After the cutseene take the RINGER BIRD'S HEAD (O).
* Back out three times.
* examine the junk shop door: use the VASE WITH WATER and the RINGER BIRD'S HEAD on the top of the ringer (p).
* Use the MATCHES on the burner (Q).
* Enter the junk shop.
<![if gt IE 9]>
<![endif]>
<![if gt IE 9]>
<![endif]>