Modern Tales: Age of Invention Review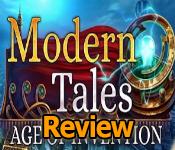 Modern Tales: Age of Invention Review
* OS: Windows 7 / Vista / XP
* CPU: Pentium 3 1.0 GHz or Higher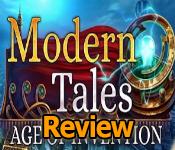 Modern Tales: Age of Invention Review
* OS: Windows 7 / Vista / XP
* CPU: Pentium 3 1.0 GHz or Higher

Modern Tales: Age of Invention Review Screenshots, Videos:
<![if gt IE 9]>
<![endif]>
<![if gt IE 9]>
<![endif]>
<![if gt IE 9]>
<![endif]>
<![if gt IE 9]>
<![endif]>
<![if gt IE 9]>
<![endif]>
<![if gt IE 9]>
<![endif]>
<![if gt IE 9]>
<![endif]>
<![if gt IE 9]>
<![endif]>
<![if gt IE 9]>
<![endif]>
<![if gt IE 9]>
<![endif]>
As always, I review mostly on the game play and leave the story to others to review, read on to find out in my Modern Tales: Age of Invention review how I felt playing the game and what's my opinion on it.
Game development team did a brilliant job getting the player to feel involved with the story and connected to the protagonist, the storyline does a nice job.
Puzzles are simple and don't take any brain power to complete, but done well, the Mini Games are easy to medium in difficulty.
The graphics are sharp, the cutscenes are top-notch, and the fancy visual effects are sophisticated, some of the cutscenes were clear and the colors crisp.
Most of the time, the game is pretty predictable, the Hidden Object Scenes are mostly Interactive List finds, the scenes are beautifully drawn and there are a ton of interactive items.
We played Modern Tales: Age of Invention on the easiest difficulty mode, rarely skipped any puzzles, and completed the game in around four hours, there is usually a puzzle, sometimes two, to solve.
The Mini Games are in abundance.
Music is soothing until something is either happening or about to happen, then it cuts loose, voices are age and character appropriate, with emotion for a change.
If you want an easy, funny game then this game is perfect for you, it's just nice to have a fun and relaxing game to play, this is one of them.
All in all, in terms of entertainment and relaxation, this game delivers just what you need!
Receive Emails When Modern Tales Series Has New Game Released
Sign-up to get informed when the Modern Tales series has new game released with BD Studio Games' FREE bi-weekly newsletter.
<![if gt IE 9]>
<![endif]>
<![if gt IE 9]>
<![endif]>