Big City Adventure: Barcelona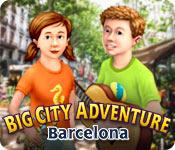 Big City Adventure: Barcelona
System requirements:
* OS: Windows 7 / Vista / XP
* CPU: Pentium 3 1.0 GHz or Higher
* Memory: 256 MB
Big City Adventure: Barcelona
: The latest chapter in the hit hidden object series is here! Nestled between the mountains and sun-soaked beaches, the vibrant and stylish city of Barcelona awaits you. Take in its many architectural marvels, surround yourself with art or just laze around on the beach. Barcelona has it all. Search for thousands of cleverly hidden items around the historic sites and medieval streets, plus play a bunch of fun mini-games along the way. Collect 60 postcards containing fascinating and obscure facts about Barcelona and its history, plus, earn 60 cool mementos from the amazing scenes you'll visit. 120 rounds of hidden object and mini-game fun! Start your trip of a lifetime today.
Big City Adventure: Barcelona Walkthrough
.
Big City Adventure: Barcelona Features:
Gorgeous Graphics
Switch Window/FullScreen Mode
For Any Aged Player
Statement: Big City Adventure: Barcelona is distributed as a trial version. Big City Adventure: Barcelona may be downloaded free of charge, however, games may not be Resold.