Sable Maze: Soul Catcher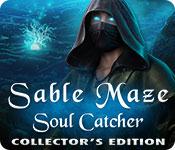 Sable Maze: Soul Catcher
System requirements:
* OS: Windows 7 / Vista / XP
* CPU: Pentium 3 1.0 GHz or Higher
* Memory: 256 MB


From Daily Magic Productions, creators of Dark Dimensions and Ominous Objects, comes a thrilling new installment of the Sable Maze series! After 20 years, you've finally come to terms with the fact that your brother is gone for good. But when you return to the place where he went missing to pay your final respects, you find yourself pulled into a strange maze filled with spirits and shadows. Evidence of your brother litters your path, and you begin to wonder... Could he still be alive, somewhere in the maze? Track down the truth as you fight for your freedom in this exciting Hidden Object Puzzle Adventure game!
Sable Maze: Soul Catcher Features:
Gorgeous Graphics
Switch Window/FullScreen Mode
For Any Aged Player
Statement: Sable Maze: Soul Catcher is distributed as a trial version. Sable Maze: Soul Catcher may be downloaded free of charge, however, games may not be Resold.