Katy and Bob: Cake Cafe Walkthrough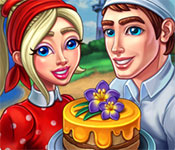 Katy and Bob: Cake Cafe Walkthrough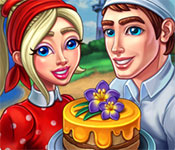 Katy and Bob: Cake Cafe Walkthrough

General Tips:
If you make a mistake, you can throw unnecessary items into the basket.
You can upgrade your table that customer wait time will be increased.
From the level 3, you have customers who want to some drink.
Upgrade the furniture can increase the customer wait time.
From the level 4, you have icecreams to serve the customer.
Upgrade the baking can let you make more money every sell.
Take the ice cream and use topping machine to pour topping on it.
Upgrade the floor can increase the customer wait time.
Upgrade the border and dining hall floor can increase the customer wait time.
You can earn extra coins in the bonus level.
You can buy several artifact to help you get through the level.
Buy server speed artifact to upgrade the server's speed +10%.
You can earn gold coins by play the minigame.
<![if gt IE 9]>
<![endif]>
Detailed Levels:
Level 1 - Level 2: Just follow the tutorials to get through these levels. The cake need bake and sometimes need add cream to it.
Level 3: Some customers need drink, you should take the drink and serve it to the customers.
Level 4: This level has icecreams, you should take them to the customers when they order the icecream.
Upgrade the baking and you can make more money every time.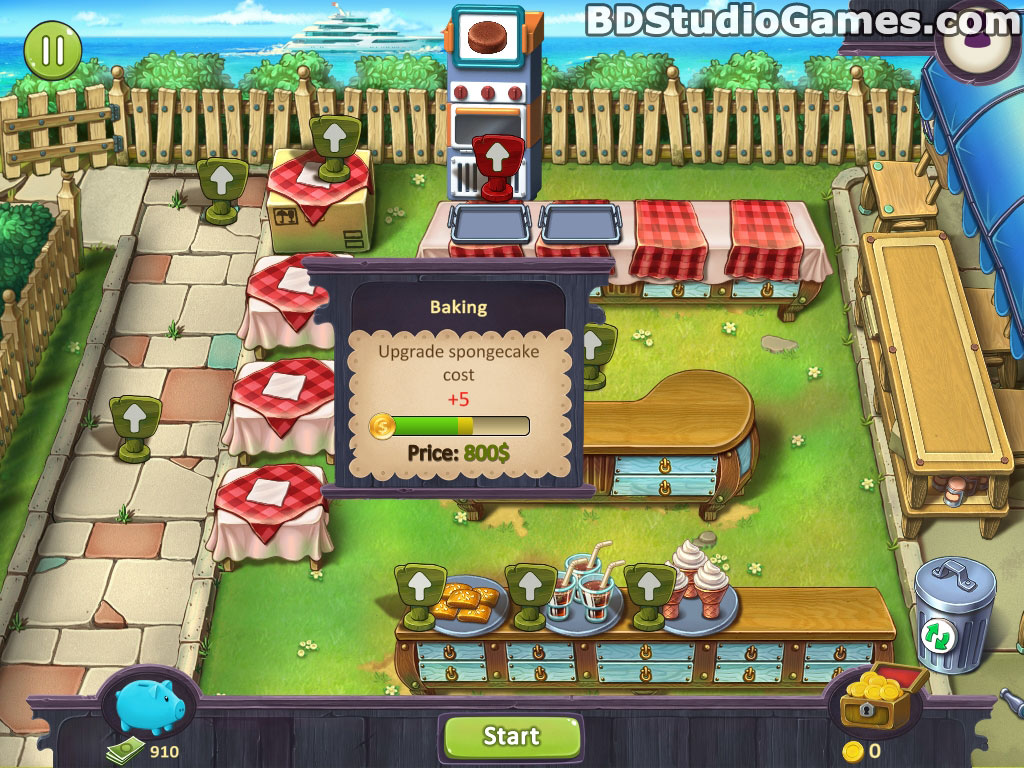 Level 5: In this level, some customers need ice cream with topping, you should first take the ice cream then pour topping on it.
Level 6: You need to make the square cake in this level.
Level 7: This is the bonus level, after you fulfill the level's bonus conditions, you earn gold coins, you can use them to buy artifacts to make it easier to complete levels.
Level 8: This level has more customers, remember if you make a mistake, you can throw unnecessary items into the basket.
Level 9: Sometimes you need to decor the cake base in this level.
Level 13: To complete the goals in this level, you need keep the cake base always has some circle cake and square cake, so you can serve the customers right now.
Level 21: In this level, you have only two trays now and start in new place, so be careful, do not make a mistake.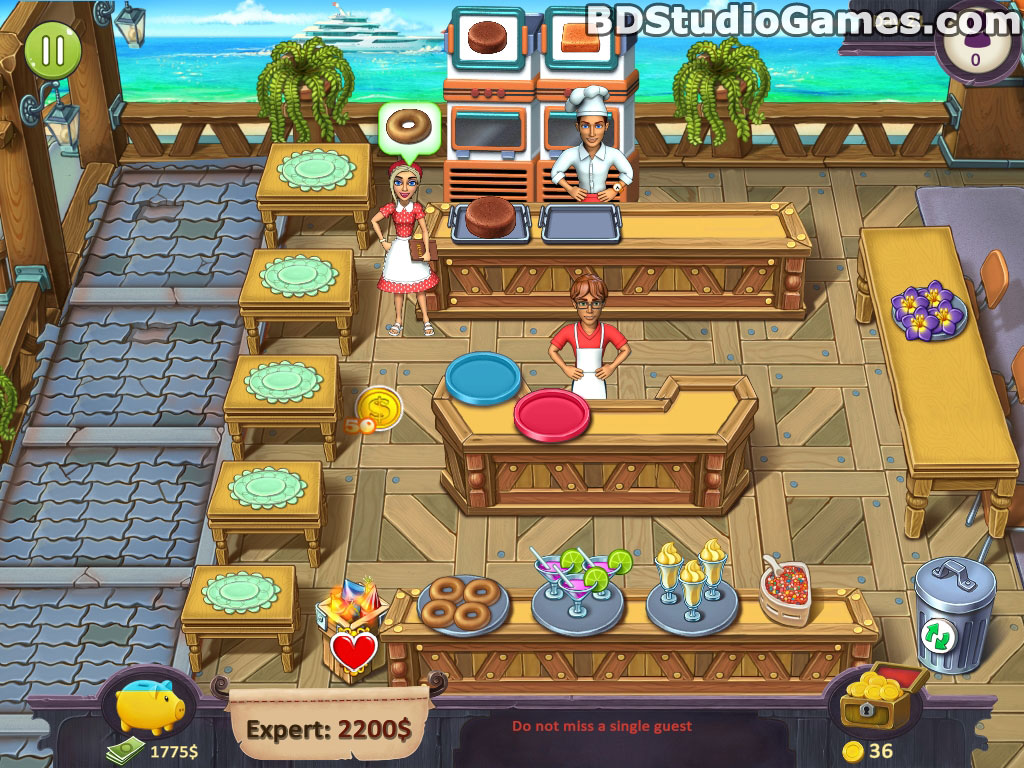 <![if gt IE 9]>
<![endif]>
Level 22: You should first upgrade the trays, so you can have more cakes one time to serve more customers in one time.
Level 23: You need to upgrade as many as you can to help you finish the level, because the customers are not very patient at this level.
Level 26: You should earn as many as gold coins as you can in the last minigame, then upgrade mood for incoming guests, upgrade server speed, this will help you complete the level.
Level 28: To finish this level, you should fire fireworks when you see the customer's happyness downgrade, this can help you and give you more time to finish your job.
Level 31: Do not forget to upgrade all of your artifacts, otherwise you will not complete these later levels, these levels are very hard.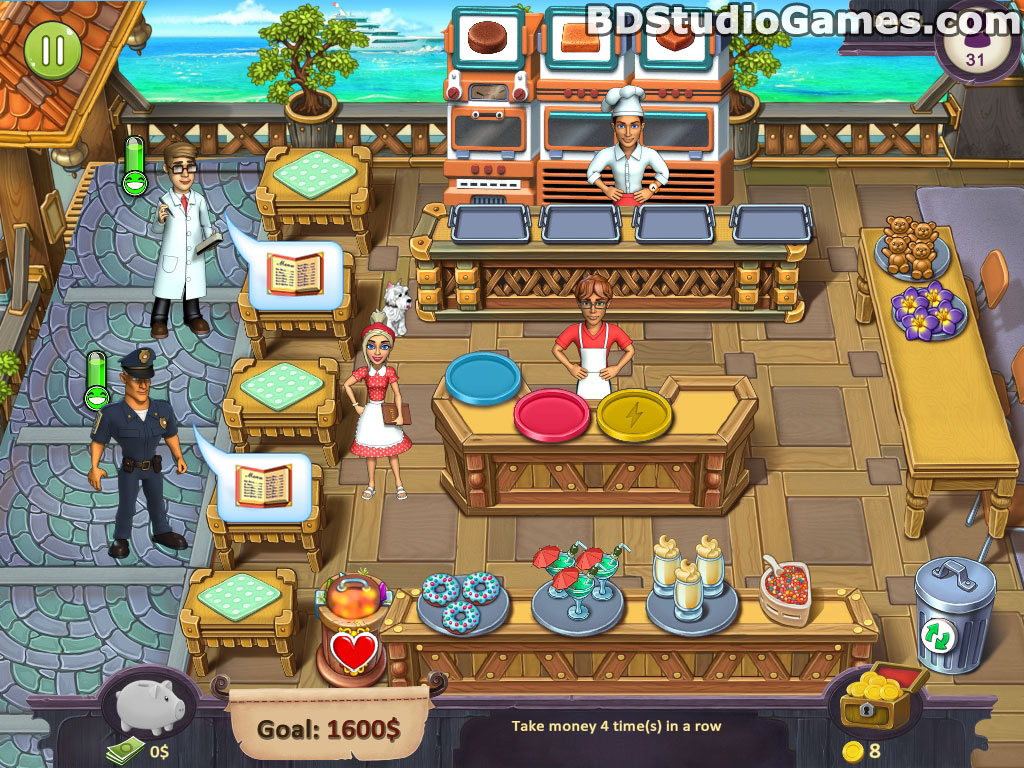 Receive Emails When Katy and Bob Series Has New Game Released
Sign-up to get informed when the Katy and Bob series has new game released with BD Studio Games' FREE bi-weekly newsletter.
<![if gt IE 9]>
<![endif]>
<![if gt IE 9]>
<![endif]>
<![if gt IE 9]> <![endif]>