New Yankee 7: Deer Hunters Walkthrough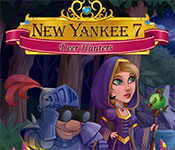 New Yankee 7: Deer Hunters Walkthrough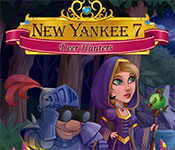 New Yankee 7: Deer Hunters Walkthrough

General Tips:
New Yankee 7: Deer Hunters has 3 game mode, you can change the game mode at any time, your progress in each mode will be saved separately. Expert Mode is for expert players only, you'll have less time to complete each level. Normal Mode is for experienced players who have played similar games. The Relaxed Mode is an easy mode with no time limits.
This game includes 50 levels.
Workers need food, you can click on the wheat to harvest it. A new crop will quickly grow in ins place.
Your task list is located in the top-right corner of the screen.
Chop down the tree to obtain woods.
Complete the level within the allotted time to earn a gold medal.
Chop down more tree and then use the wood to build a house. You should build more houses to hire more workers.
Remove the wood debris to clear the road and acquire wood.
Send a worker to chop up the rotten log.
Gather the gold, you'll need it in order to remove the piles of rocks blocking your way.
Every level has a puzzle piece, pick up every piece you find to make a picture in the "Puzzle" menu.
Open the chest in the road to acquire its randomly contents.
You need man to cast a spell, scoop mana form magic wells.
The mill produces additional food, but requires a worker, click the hat icon to assign a worker to it, click on the hat again to remove the worker.
You can mine gold from the rich veins.
Valuables are sometimes hidden within the hollow of an old stump.
There are sometimes bottles of manas, you can pick it up.
Special Spell Altars:
Restore Tree: restore every tree you've chopped down.
Speed Up: speed up your workers.
Restore Gold: This spell will restore your reserves of gold.
Fast Crops: Crops will grow faster while the spell is active.
Ice Age: temporarily freeze the lake.
Cryofreeze: temporarily stop the goblin in its tracks.
Sharp Sword: improve the fighting abilities of your warriors.
Cannons Are Nothing: protect workers from the Dark Tower.
Beat the Enemy: John and the workers won't fight succubi. Mary can get rid of them.
Stone Crusher: destroy all the stone debris.
Grim Reaping: every worker will lose his vitality.
Magic Bomb: every watchtower will collapse.
Global Warming: break the ice.
Bonus:
Mary walks and casts spells faster.
John walks and fights faster.
Max runs faster.
Casting magic bridges costs less.
Skeletons move slower.
Watchtowers are more efficient.
The mill works faster.
The temple druids work faster.
The sawmill works faster.
Mushrooms move slower.
The gold smelter works faster.
Freeing workers from cages costs less.
The armored gremlin moves faster.
Workers move faster.
Succubi move slower.
Workers succumb to succubi charms more slowly.
Scorpions move slower.
Increases the range of tents
Dark altar rituals take longer to complete.
The magic watch stops time for five additional seconds.
Putting out fires requires less mana.
Spells are cheaper.
Locked chests open twice as fast.
Crops ripen faster.
Spells last longer.
The player has 10 additional seconds to earn a gold medal.
Ice witches fly slower.
<![if gt IE 9]>
<![endif]>
Achivements:
In hot pursuit: for starting your first game.
Knight's best friend: for building Max a doghouse.
Golden helmet: for earning a gold trophy on every level.
Curse lifted: for completing every level.
Chiropractor: for using Joha to destroy 50 skeletons.
No romance: for using Mary to chase off 25 succubi.
Warm welcome: for destroying 50 ice witches.
Calydon hunting: For driving away 25 boars
Mushroom genocide: For destroying 50 mushrooms
Knight's best friend: For building Max a doghouse
Curious: For opening 50 chests
Blossoms and smells: For healing the Great Oak
Dinner is served: For acquiring 1,200 units of food on level 41
Serving master: For serving the Round Table
Greedy man: For acquiring 1,500 units of gold on any level
Breadwinner: For acquiring 1,500 units of food on any level
**Can never have too much mana!: For acquiring 1,500 units of mana on any level
Tin Woodman: For acquiring 1,500 units of wood on any level
Fire brigade: For extinguishing 25 fires
Leprechaun's gold: For finding a pot of gold
Logging: For chopping down 15 trees on level 9
Restorer: For restoring the Stone Circle
Five-star tent: For making camp
Higher and higher: For building a stepladder
Time Lord: For using 10 hourglasses
Silver helmet: For earning a silver trophy on every level
**Career man (or woman!): For completing the same level three times and improving your results each time.
Dueling knight: For winning every tournament
**No kisses!: For hitting 100 winged toads
**Elementary, my dear John!: For solving every druid puzzle
Rich as Croesus: For acquiring 1,000 units of gold on level 32
<![if gt IE 9]>
<![endif]>
Detailed Levels:
Level 1: Your task is gather 4 workers, remove the rotten log and chop down the 8 trees along the path. This is the first level, just follow the tutorials to get through it. See below screenshot: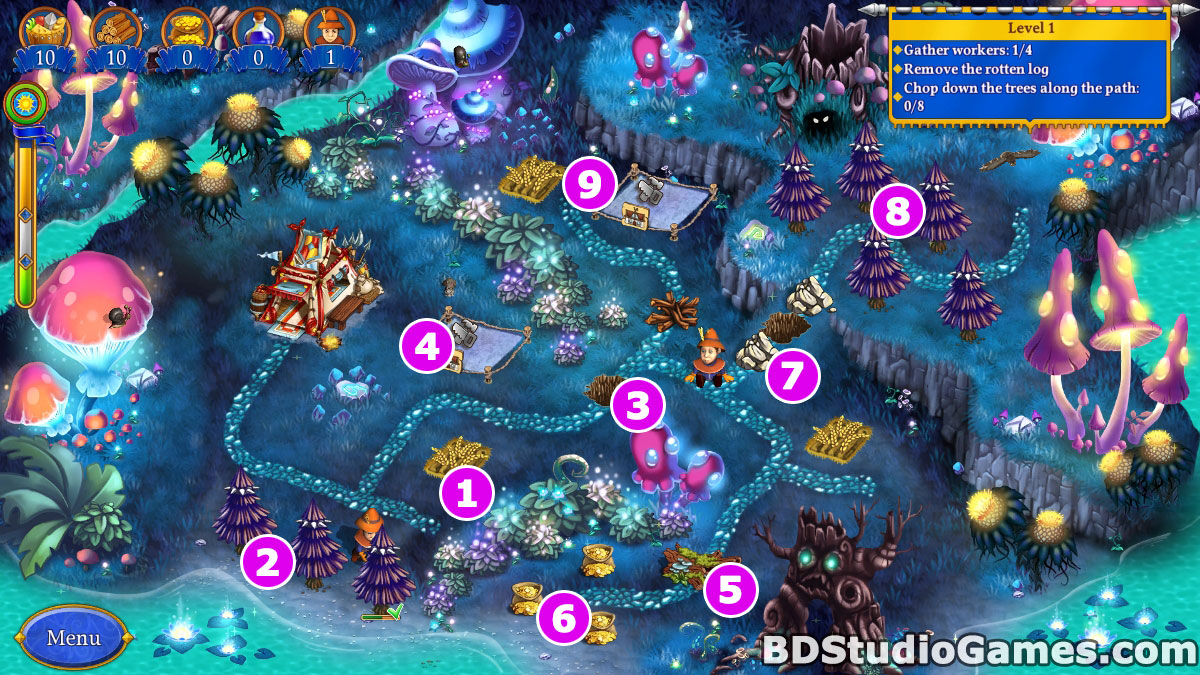 Level 2: Your task is build 2 houses, grab the 3 supplies that are in the chests and chase the magic deer. See below screenshot: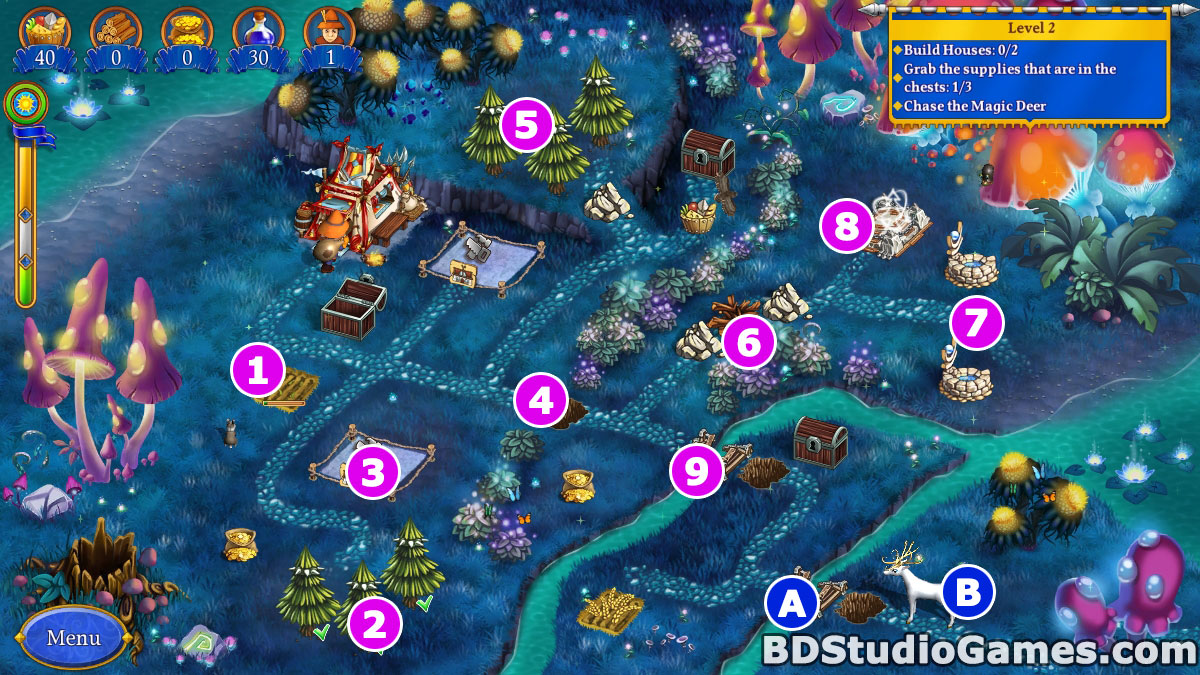 <![if gt IE 9]>
<![endif]>
Level 3: Your task is search every 3 stumps, conjure 2 bridges and pick up the scent. See below screenshot: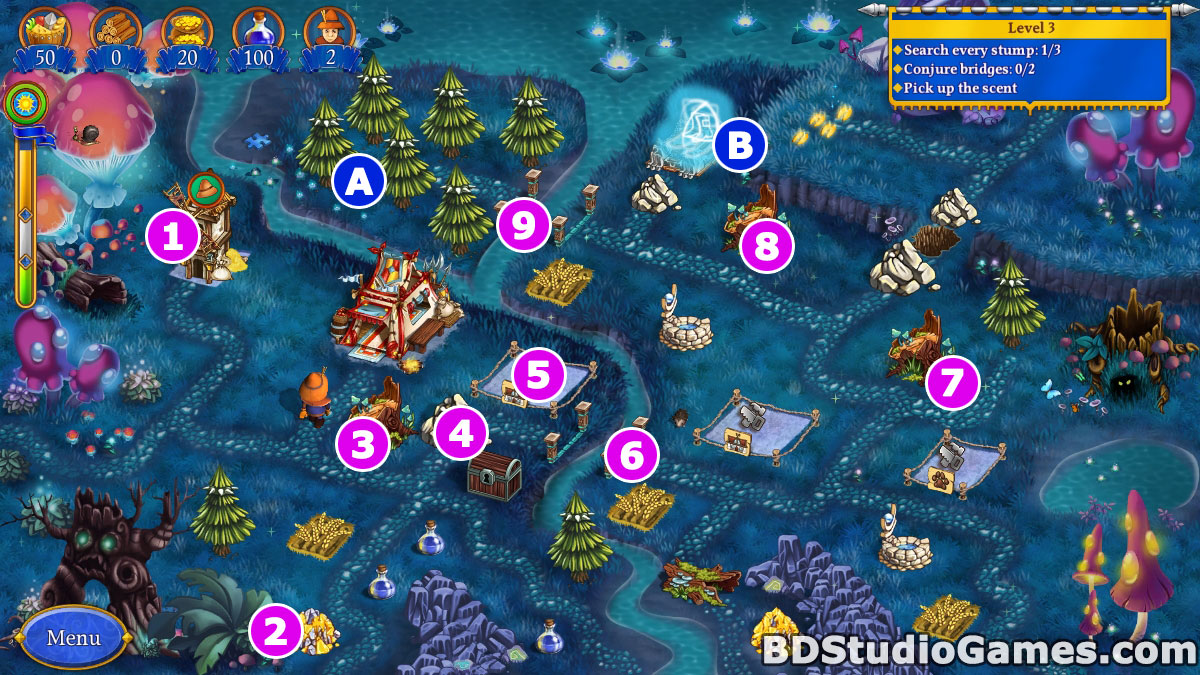 Level 4: Your task is chase the Magic Deer, remove 5 flowers and collect 200 gold. See below screenshot: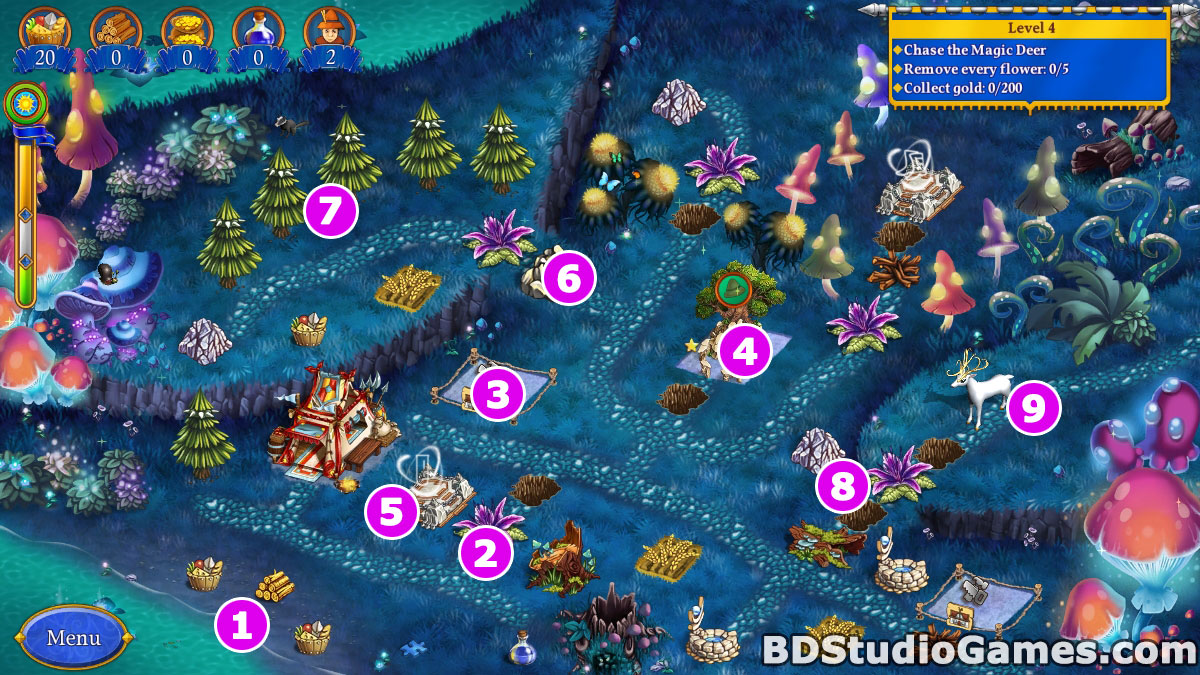 <![if gt IE 9]>
<![endif]>
Level 5: Your task is repair every bridge, defeat the mushrooms and lift the spell off the chest. See below screenshot: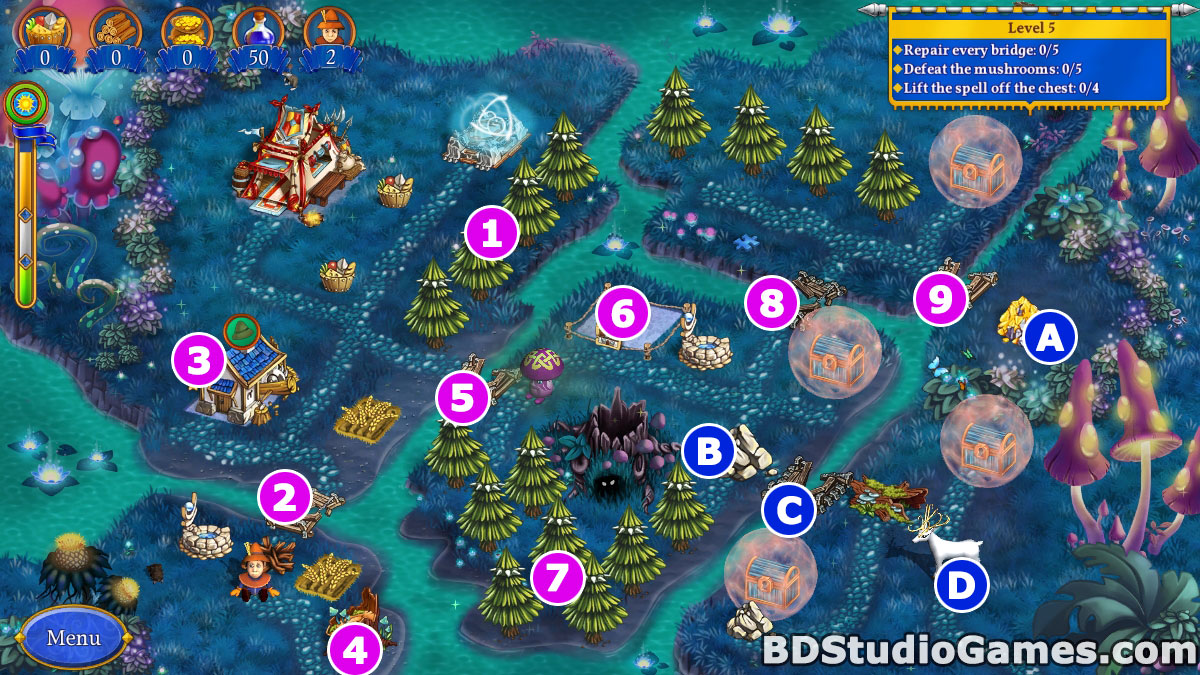 Level 6: Your task is defeat the 10 mushrooms, break open the 10 barrels and pay the troll. See below screenshot: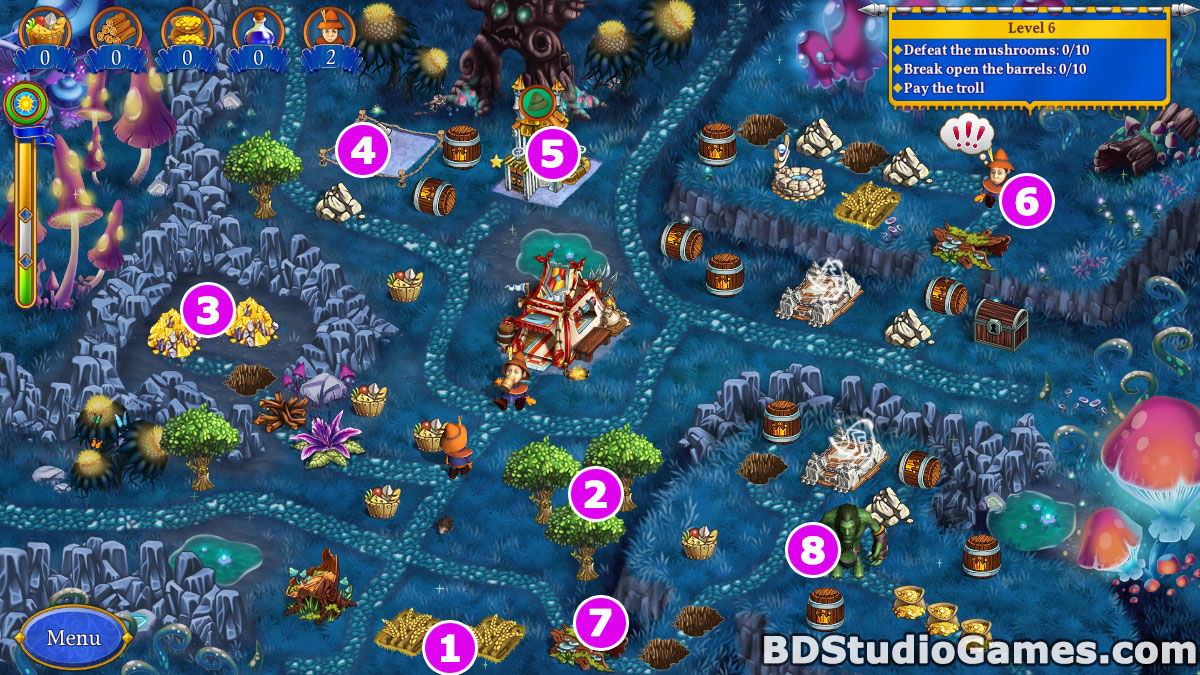 Receive Emails When New Yankee Series Has New Game Released
Sign-up to get informed when the New Yankee series has new game released with BD Studio Games' FREE bi-weekly newsletter.
<![if gt IE 9]>
<![endif]>
<![if gt IE 9]>
<![endif]>
<![if gt IE 9]> <![endif]>