Kingdom Chronicles 2 Walkthrough Part 2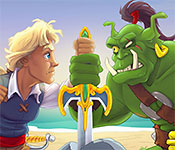 Kingdom Chronicles 2 Walkthrough Part 2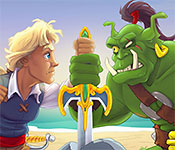 Kingdom Chronicles 2 Walkthrough Part 2

Episode 10: Your task is clear the 9 roads, destroy 4 enemy barricades. Collect foods from the orange trees and build the gold mine, clear the roads and build the barracks, then fight against the enemies, break up the 3 large stones and exchange woods with trader, then upgrade the barracks and use the helping skill to get another worker to destroy the enemy barricades.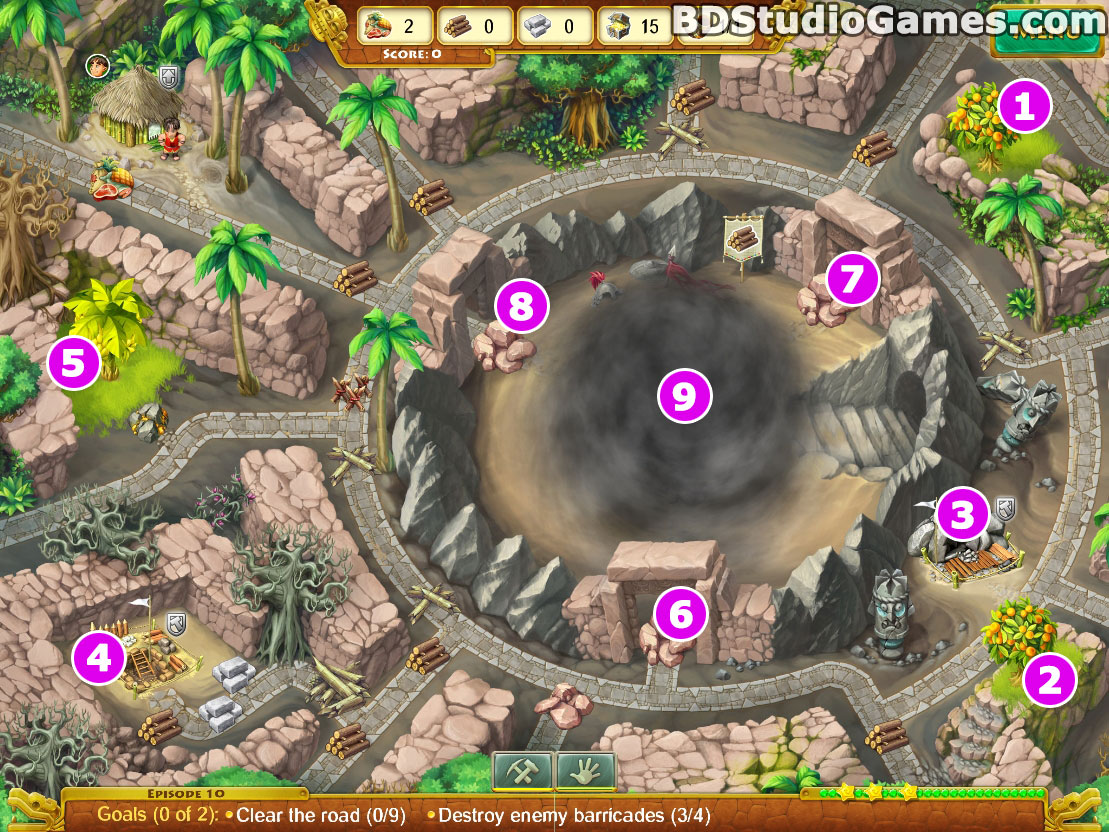 Some Very Hard Episodes:
Episode 13: You should repair all of the 3 eyes of the dragon to active the dragon, then you can go to another side.
Episode 15: Look for enemy barricades carefully, you need to destroy all 3 barricades.
Episode 17: Do not forget to build the totem of light, then you will get extra 3 berry trees to collect foods.
Episode 18: The enemy will destroy your gold mine, do not repair it, you should first build the towers to defend the enemies, then repair the gold mine. To stop the stone arm, you should repair the lever first.
Episode 19: Collect foods from berry tree(1), then collect other resources, do not build any buildings, you should first build the gold mine(2), build the quarry(3), build the workshop(4), then exchange woods with gold(5), build the town hall(6), and build other cottages, see below screenshots: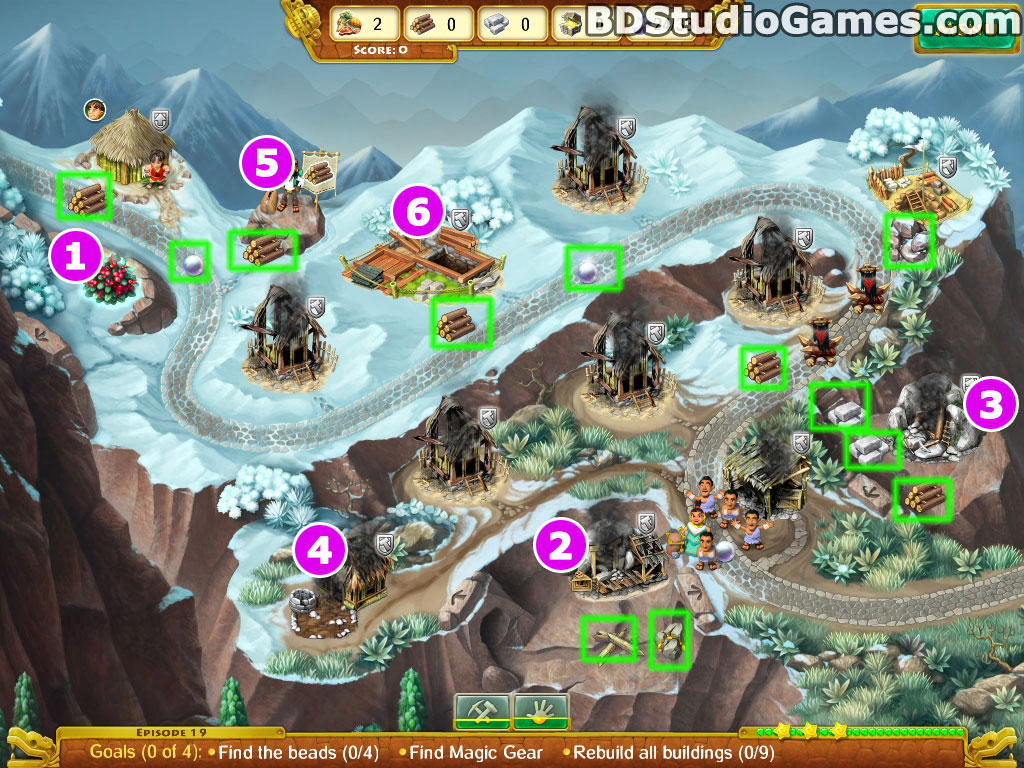 Episode 20: To see the elder man, you should first break up the large stone.
Episode 23: First find the orange tree in the left, you can get foods from it. Explore the strange place, you can build watchtower in that place.
Episode 28: Talk with the elder to get rid of the fish.
Episode 35: The last enemy shortcut is near by your home, see below screenshot: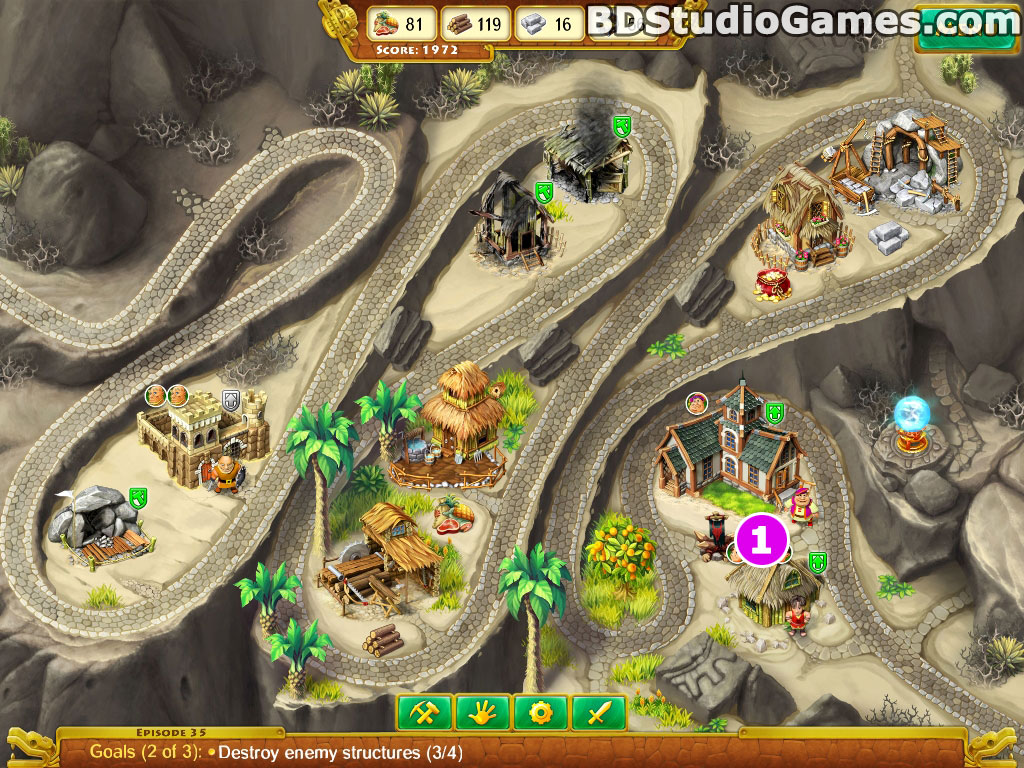 Episode 36: There is a stone pile behind the barract, you need to repair it.
Episode 37: To stop the smoke, you should send your workers to the grey button in a order, see below screenshot: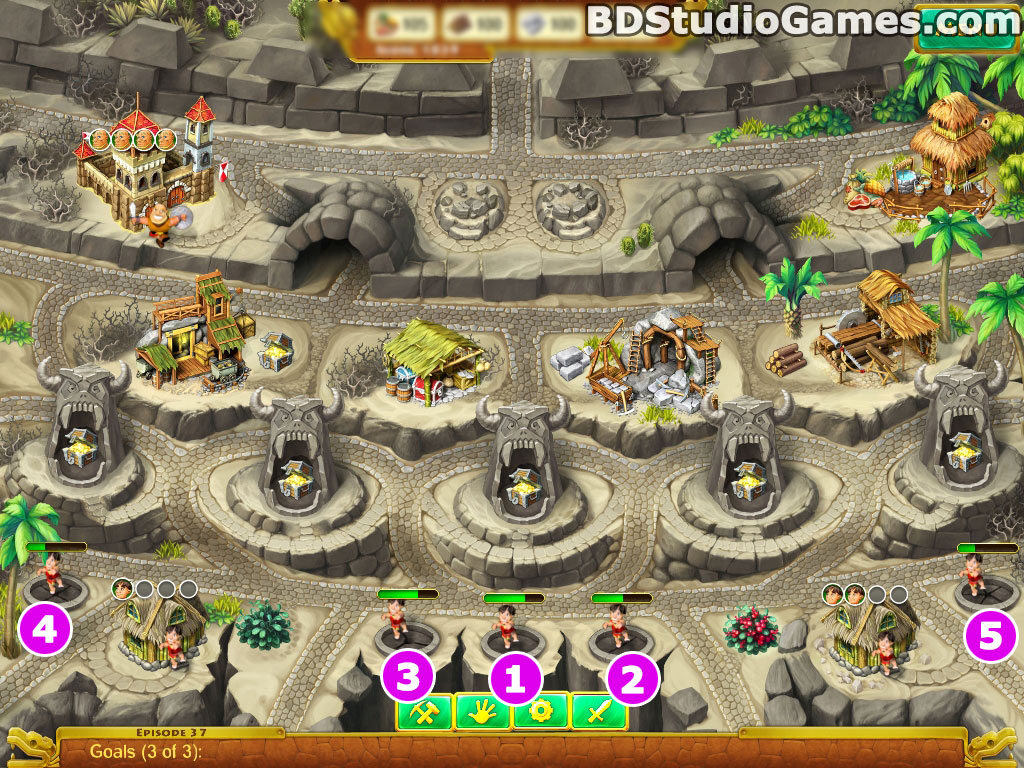 Episode 39: To finishe this level, you need to assign your workers push the 2 buttons at the same time, then you can destroy the enemy's barricades, see below screenshot: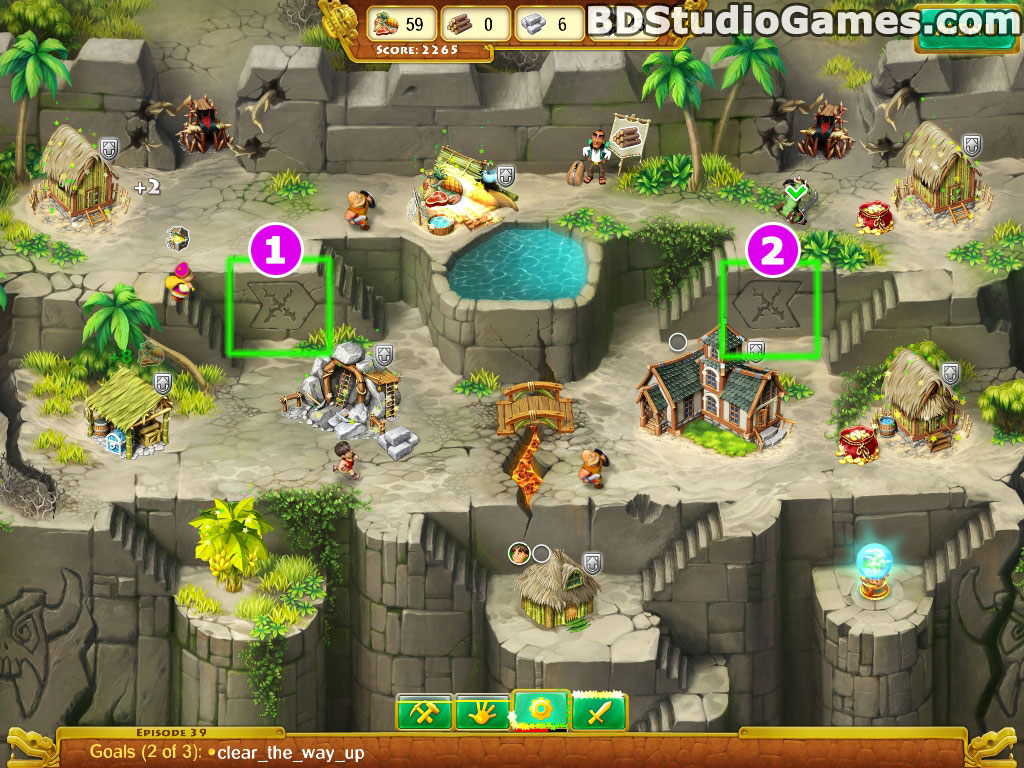 Episode 40: To get through this level, you need to first clear all enemy's barricades, then repair all stone bridges, after this, the 2 elder man will disappeared, then talk with them and upgrade you 2 barracks to get 8 warriors, and you can destroy the enemy's castle now. See below screenshot: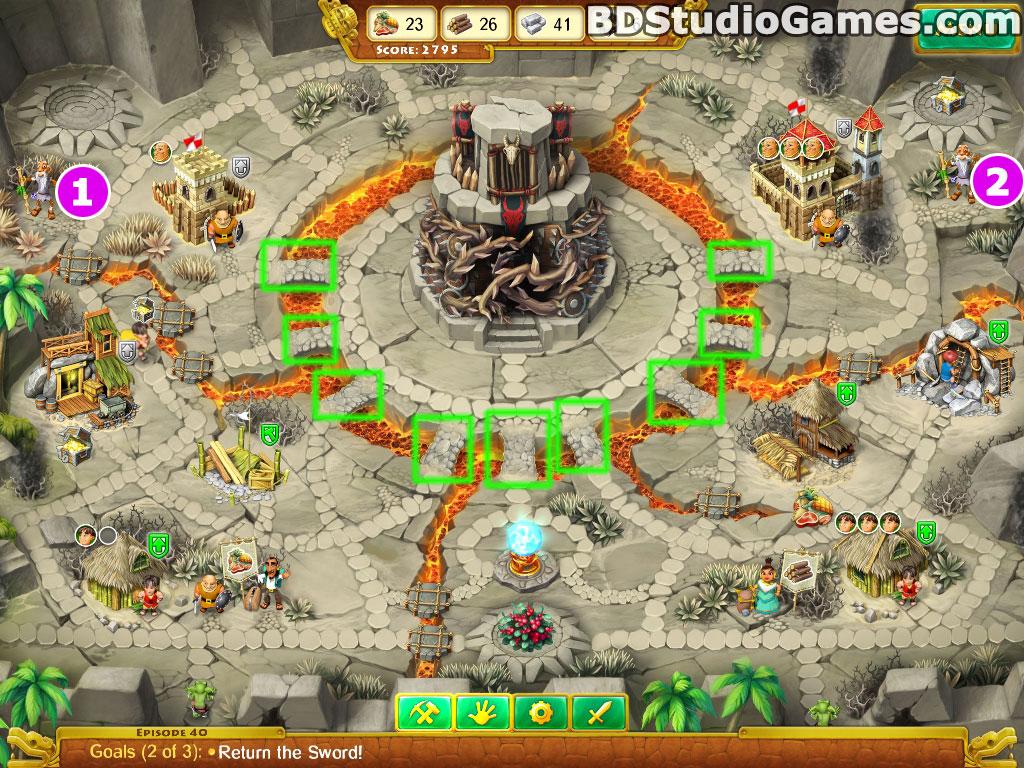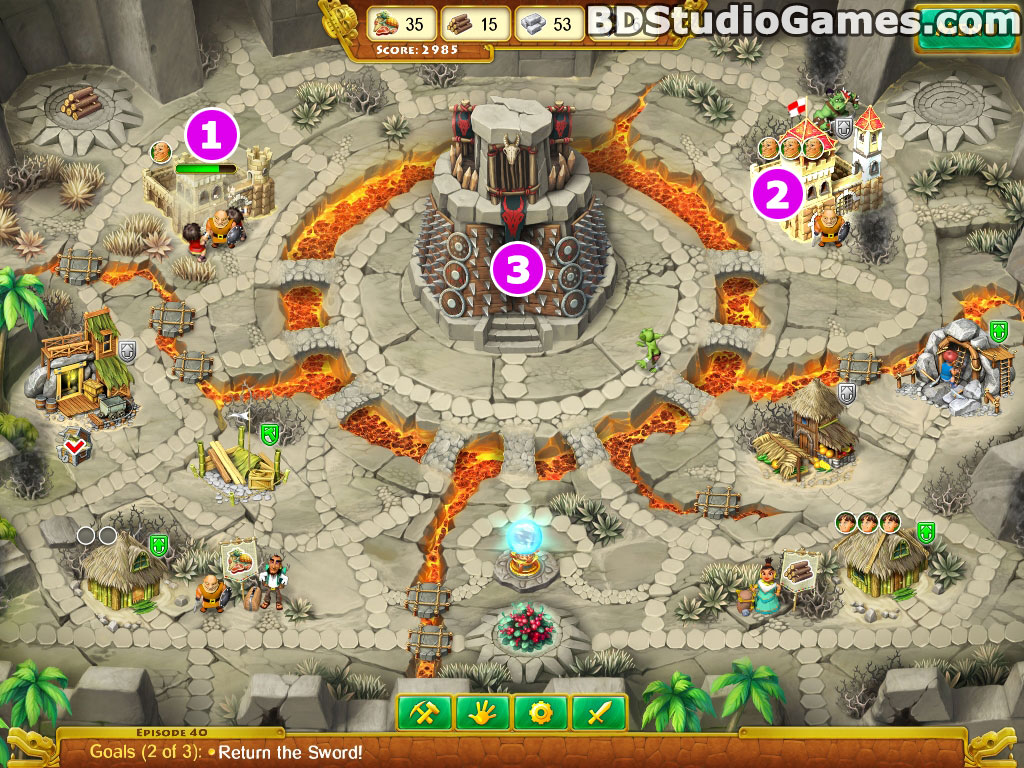 Congratulations, you have finished the game Kingdom Chronicles 2.
Receive Emails When Kingdom Chronicles 2 Part Series Has New Game Released
Sign-up to get informed when the Kingdom Chronicles 2 Part series has new game released with BD Studio Games' FREE bi-weekly newsletter.
<![if gt IE 9]>
<![endif]>
<![if gt IE 9]>
<![endif]>
<![if gt IE 9]> <![endif]>