Reality Show: Fatal Shot Collector's Edition Walkthrough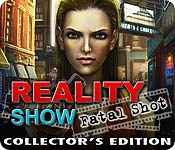 Reality Show: Fatal Shot Collector's Edition Walkthrough
* OS: Windows 7 / Vista / XP
* CPU: Pentium 3 1.0 GHz or Higher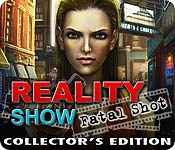 Reality Show: Fatal Shot Collector's Edition Walkthrough
* OS: Windows 7 / Vista / XP
* CPU: Pentium 3 1.0 GHz or Higher

* Listen to what Sarah has to say and then take the ENVELOPE (A).
* Zoom into the newspaper; take the BLADE in between the pages (B).
* Zoom into the desk; remove a folder, take the BADGE (C), and remove the second folder.
* Connect the BLADE to the handle (D) and take the KNIFE.
* Put down the ENVELOPE on the table and cut it open with the KNIFE (E).
* Take the INVITATION from inside the envelope (F).
<![if gt IE 9]>
<![endif]>
<![if gt IE 9]>
<![endif]>