Kids of Hellas: Back to Olympus Walkthrough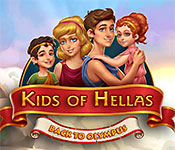 Kids of Hellas: Back to Olympus Walkthrough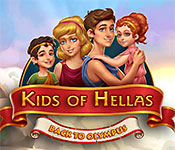 Kids of Hellas: Back to Olympus Walkthrough

General Tips:
This game has 3 modes: easy mode has no time limit, choose it for a relaxed game, normal mode is designed for experienced players, difficult mode is for real champions.
The food is a very important resource, you need food to remove obstacles, such as trash pile.
You will receive some materials after remove some obstacles.
The berry will be regenerated after a while.
Kitchen can produce 1 food every turn, build it as soon as possible.
Upgrade the kitchen to level 2, then it will produce 2 foods every turn.
Golden fleece can produce 2 golds every turn.
Mine can produce 2 stones every turn.
Berry bush can produce 2 foods every turn.
Workshop can produce 1 stone every turn.
Gold mine can produce 1 gold every turn, you can upgrade it to level 2, then it will produce 2 golds every turn.
You can upgrade your main building to refill the bonus bar.
Collect stars can speed up the bonus bar refill.
Use well to refill the bonus bar quickly.
You can assign tasks to blocked resources, when you do that, the child will first clear the path and then pick up the resource.
Pick up puzzle pieces on each level to get access to the bonus levels.
Pass the levels with 3 stars to rebuild the old hall.
Sometimes you cannot get 3 stars without using bonuses.
If the gameplay seems to easy or too dificult, you can always change the difficulty level.
Zeus would like yo to go through all the levels with 3 stars.
Keep your eye on the regenerating resources, the sooner you get to them, the greater your chances of success are.
Rescue the kids, maybe they will help you in the future.
<![if gt IE 9]>
<![endif]>
Detailed Bonus Description:
"Bonus for accumulating resources", the kids can fit more resources in the bag.
"Speed up character bonus", lets the kids move faster.
"Extra kid bonus", give you an extra kid to help you working.
"Speed up building functions bonus", can make the buildings produce resources more quickly.
"Plant grow up bonus", use this bonus to regenerate renewable resources on trees and bushes immediately.
"Freezing time bonus", use it to get additional game time.
Chapter One, Detailed Levels:
Level 1: Your task is repair the bridge, just follow the tutorial, first clear the road leading to the berry tree, then repair the bridge and get the puzzle piece.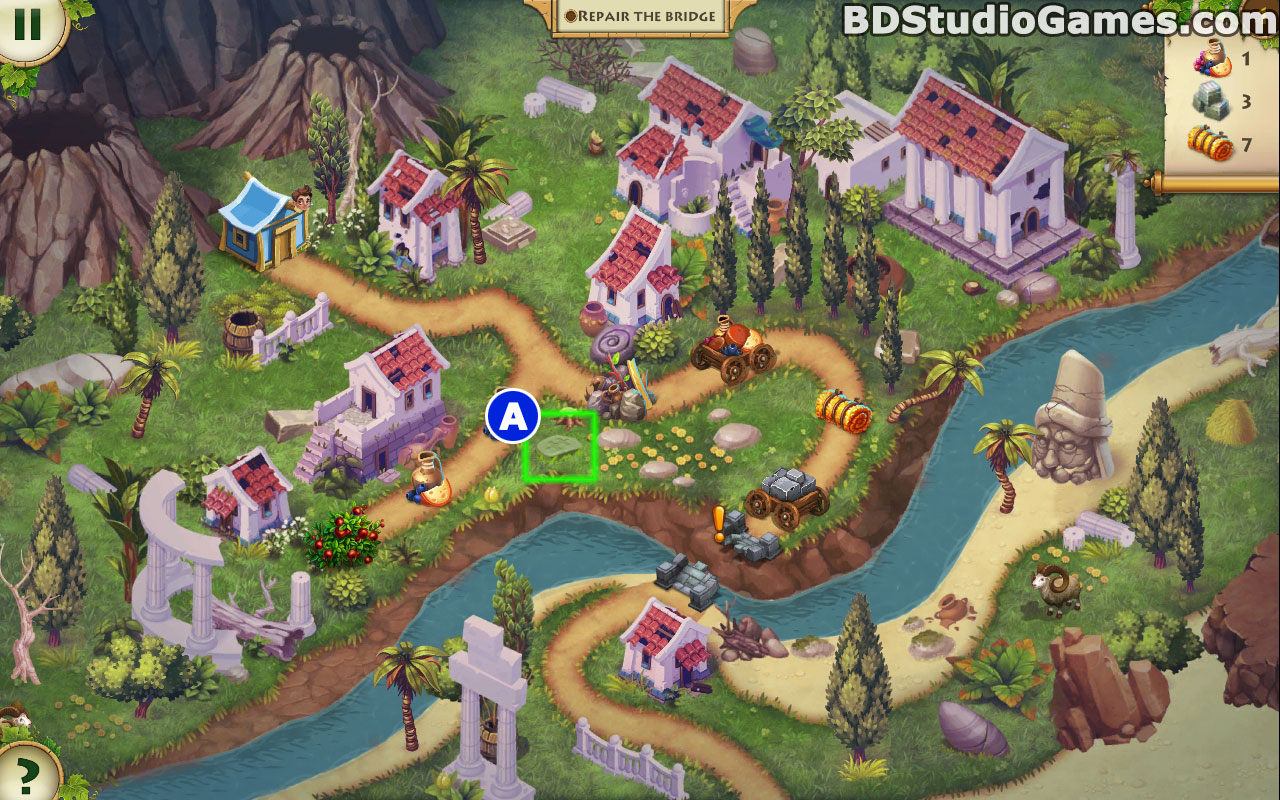 Level 2: Your task is repair the kitchen and repair the bridge. First free the kid, clear the path to the golden fleece, go to the kitchen, repair the kitchen. clear the path to the mine, go to the kitchen and repair the kitchen, clear the path to the berry bush, collect resources and clear the path to the bridge and repair the bridge, see below screenshots for puzzle piece: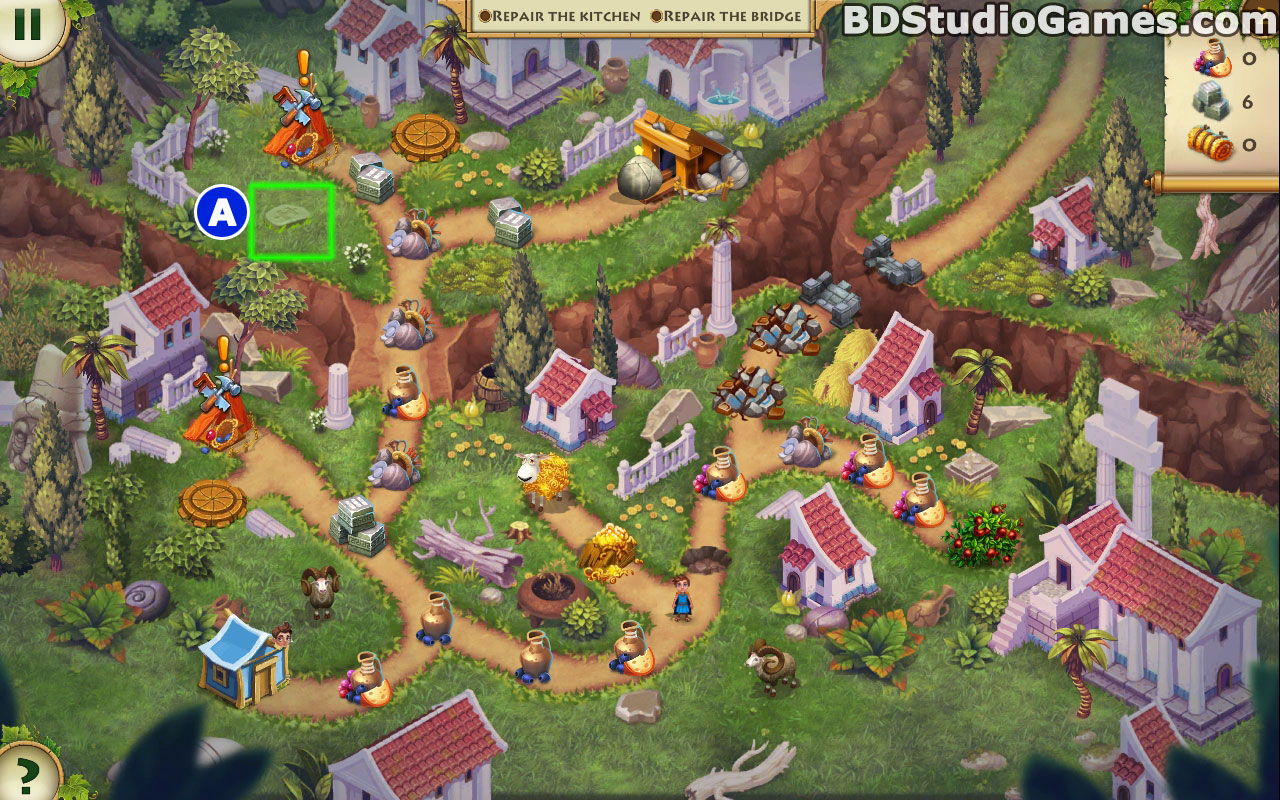 <![if gt IE 9]>
<![endif]>
Level 3: Your task is repair the workshops and help Atlas. Clear the path to the workshop and repair workshops, then get stones and repair the bottom bridge, collect the golds and repair another bridge, collect all of the resources and help Atlas, see below screenshots for puzzle piece: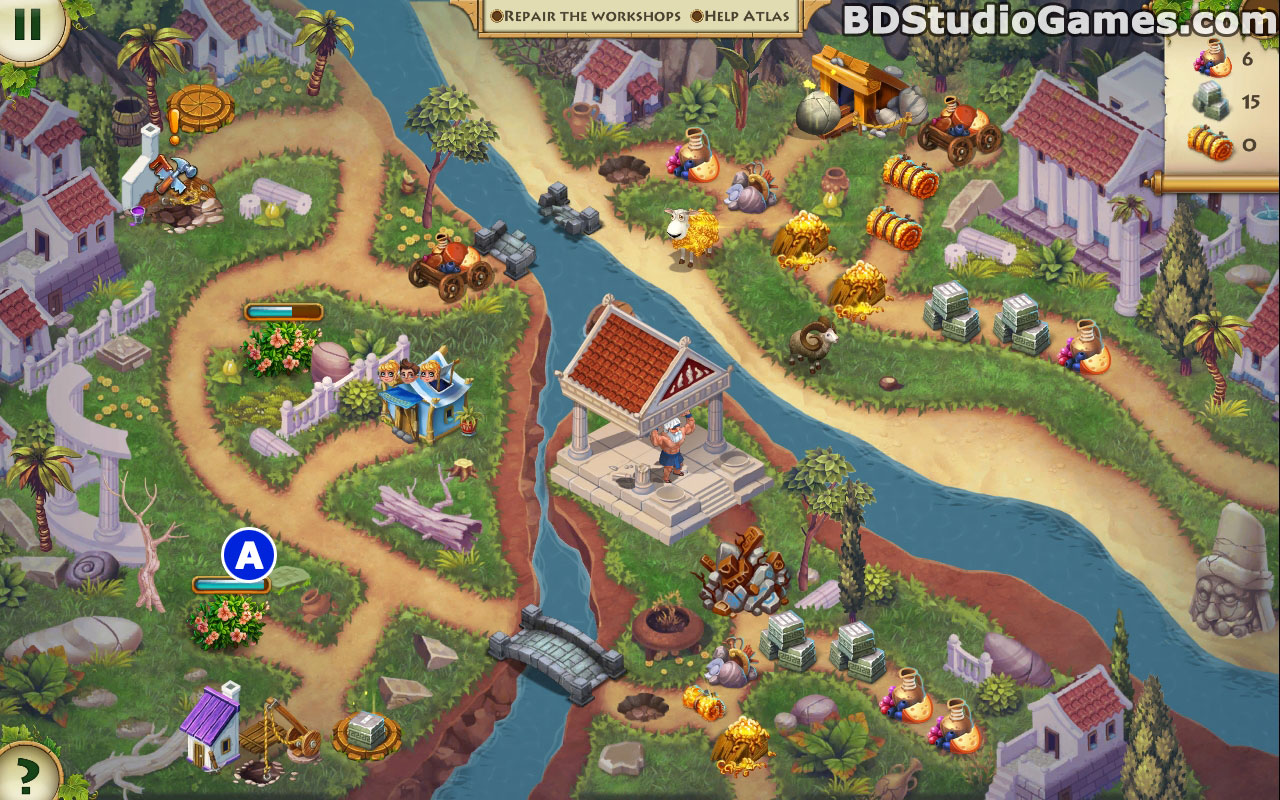 Level 4: Your task is take the tools and clear a path through the forest. Clear the path to the kitchen, golden fleece, workshop and mine, then collect enough resources and repair the bridge, chop the large trees to get through this level, see below screenshots for puzzle piece: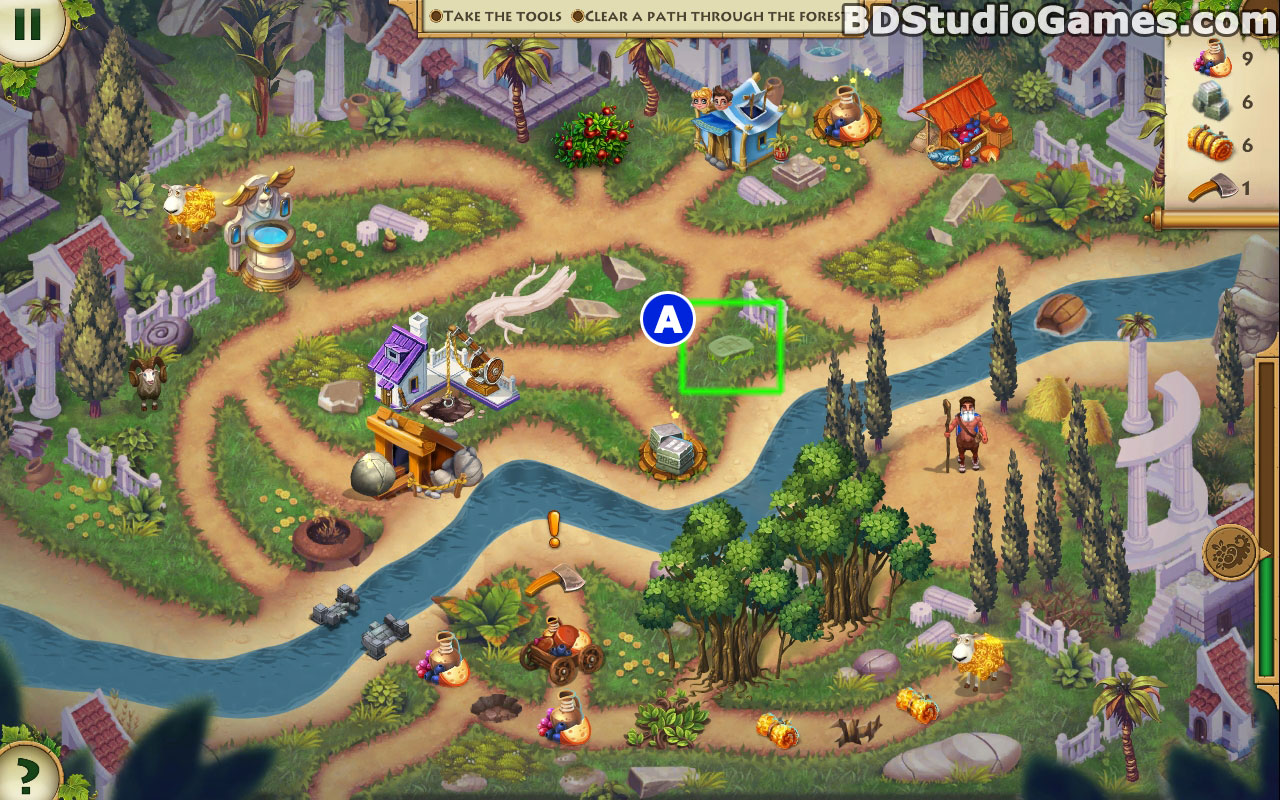 Level 5: Your task is repair the well and examine the scrolls. Collect resources and repair the bridge leading to the gold mine, build the gold mining and collect golds, then repair other bridges, and find all 3 scrolls, see below screenshots for puzzle piece: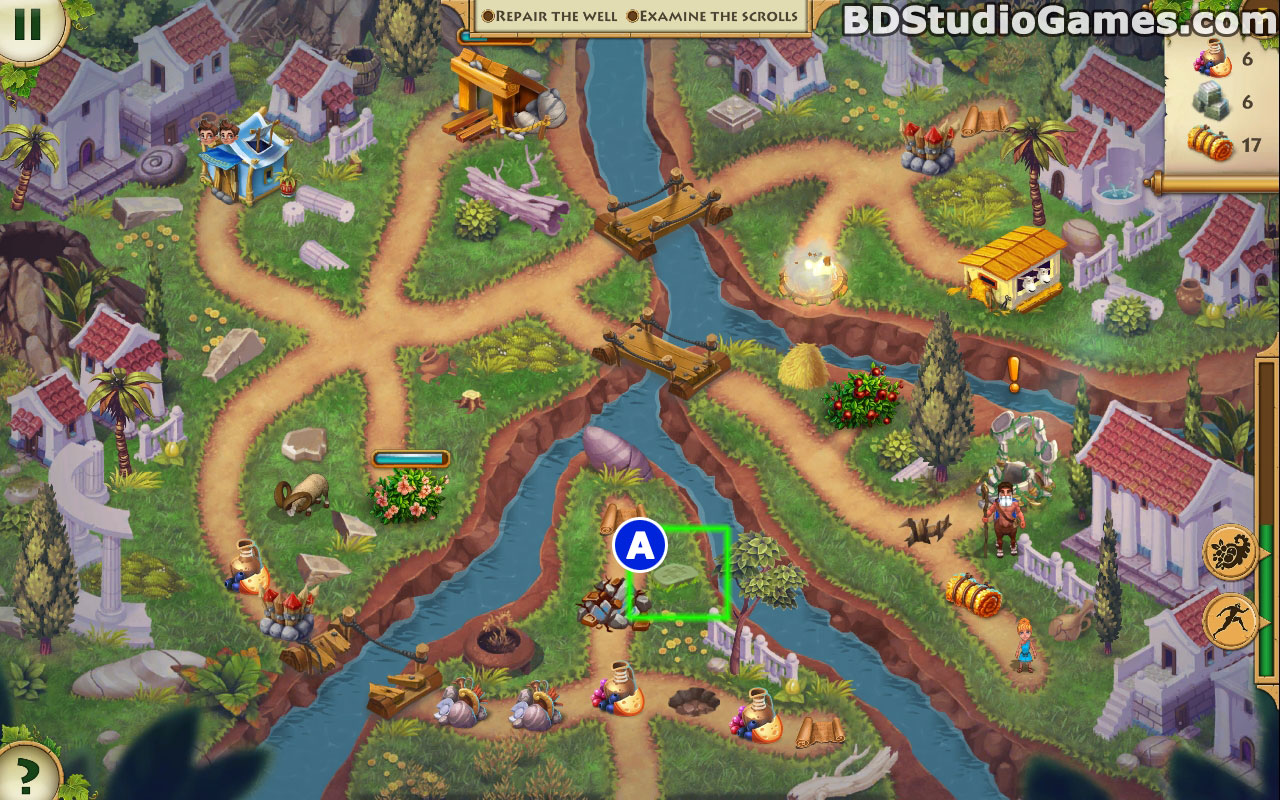 Level 6: Your task is save the kids, repair the buildings and fill the pit. Clear the path to the berry bush and stone mine, clear the path to the golden fleece, repair the bridge and collect enough resources, then repair the buildings and fill the pit. see below screenshots for puzzle piece: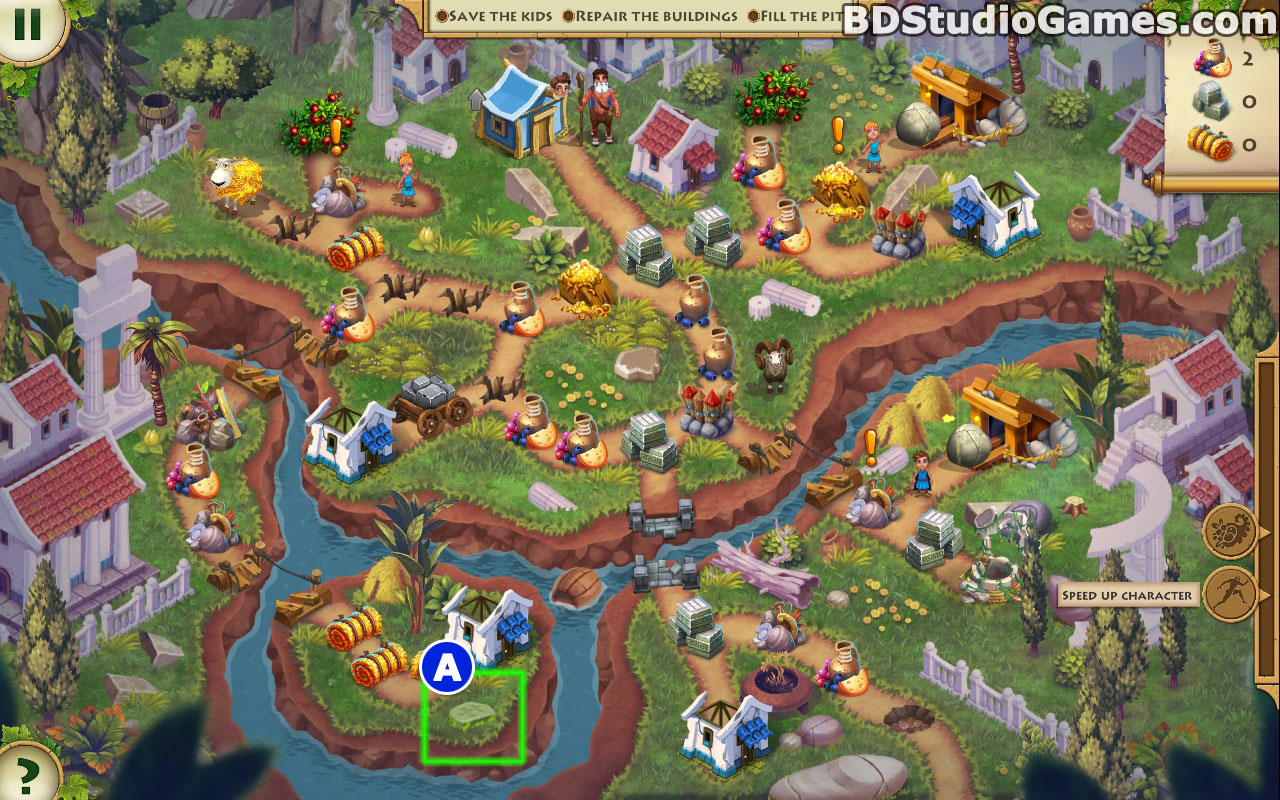 <![if gt IE 9]>
<![endif]>
Level 7: Your task is go in the cave, defeat the minotaur and save the girl. Clear the path to the berry bush, and to the golden fleece, repair the workshop and clear the path to the kitchen, then repair the kitchen, clear the barricade and go to the cave, clear the path and push the button, see below screenshots for puzzle piece: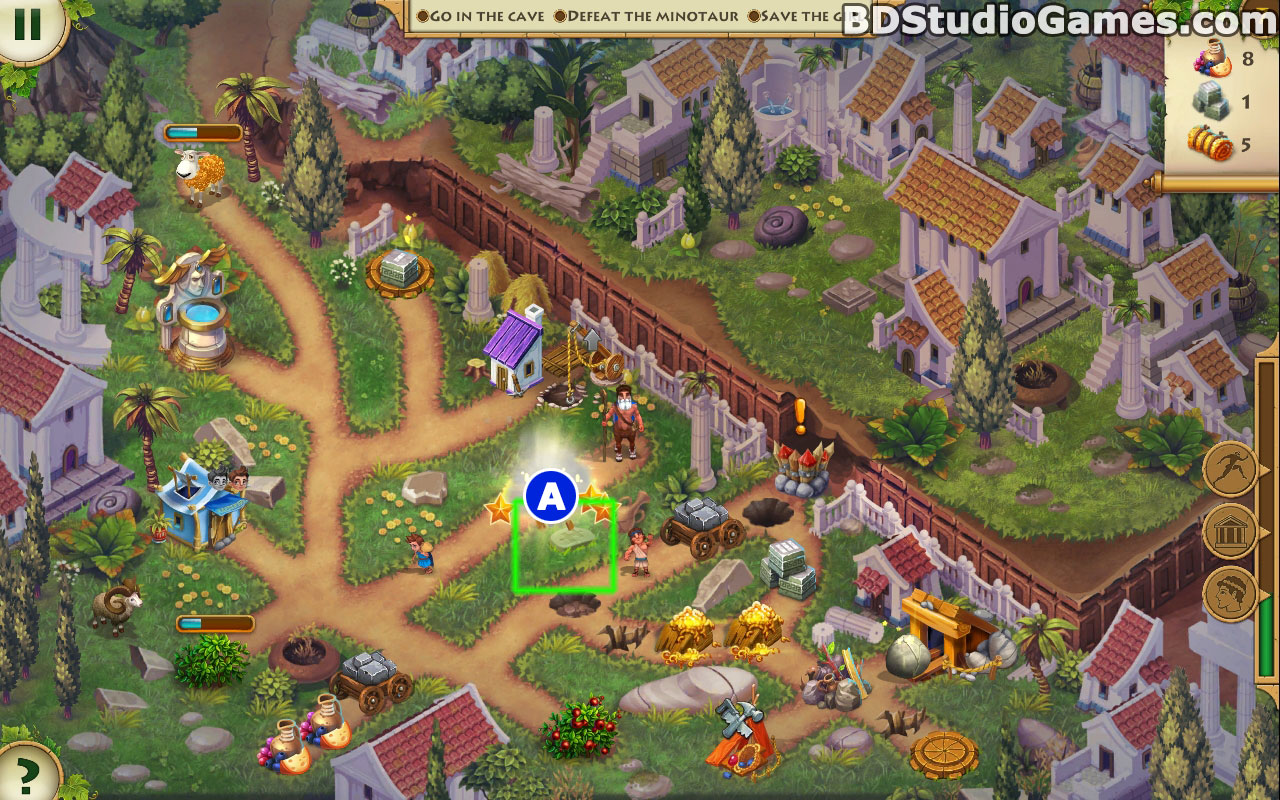 Level 8: Your task is tame the bulls, clear the path to the berry bush, to the stone mine, collect resources, the repair the kitchen, then clear the path and get ropes, tame all 3 bulls, see below screenshots for puzzle piece: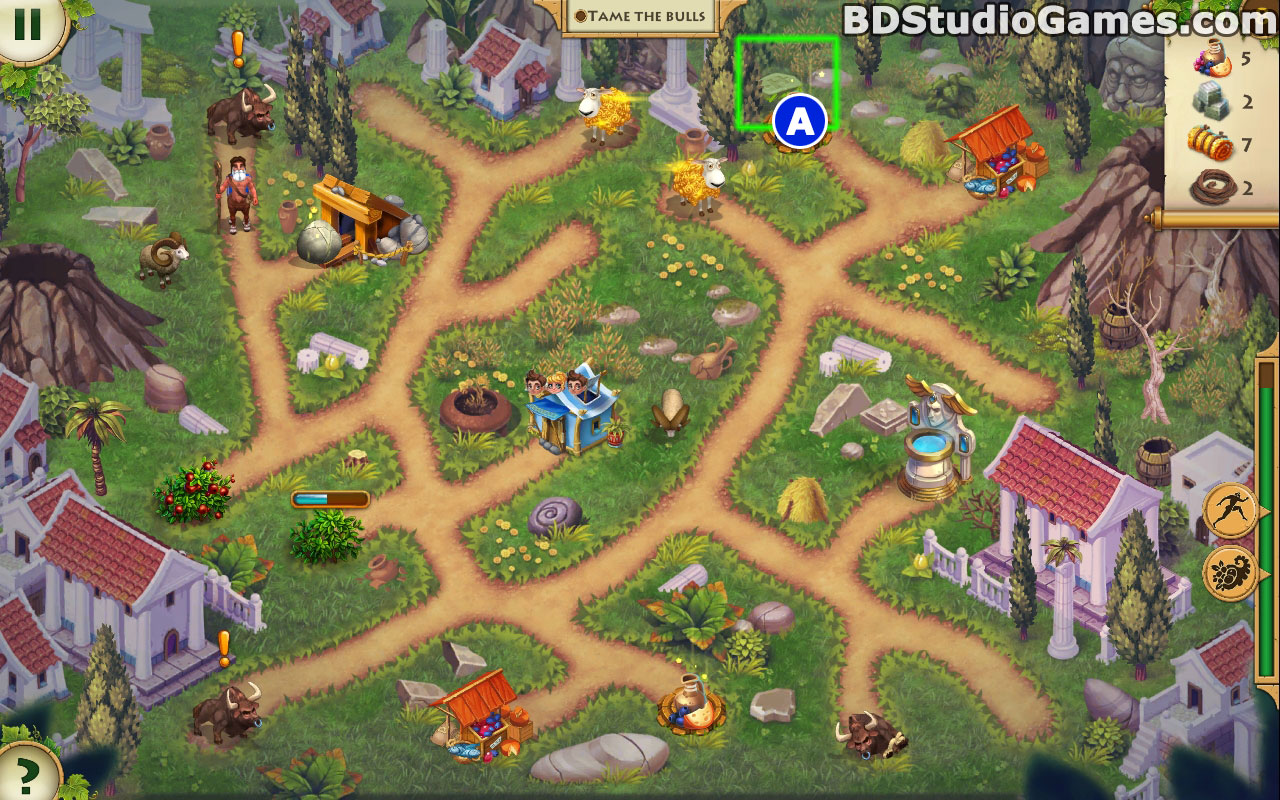 <![if gt IE 9]>
<![endif]>
<![if gt IE 9]>
<![endif]>
<![if gt IE 9]> <![endif]>