Incredible Dracula: The Ice Kingdom Walkthrough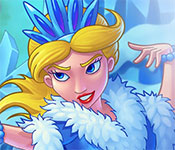 Incredible Dracula: The Ice Kingdom Walkthrough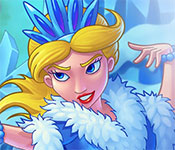 Incredible Dracula: The Ice Kingdom Walkthrough

General Tips:
This game includes 3 game modes, Casual Mode is for vampires who like to "unlive" a little. Assign more tasks while your workers are busy! Free Mode is good for cutting your fangs. This easy mode has no time limits. Normal Mode is for experienced bloodsuckers only! Make Rufus sweat!
This game has 50 levels.
Pumpkin patch provides 2 foods every turn.
Level 1 BloodDonald's provides 4 foods every turn.
Level 1 Sawmill provides 4 woods every turn.
Level 1 Pharmacy provides 4 elixirs every turn.
Level 1 Mint provides 4 golds every turn.
Level 1 Fire tower provides 4 fires every turn.
Upgrade your buildings to level 2 will provides 6 resources every turn.
Amulet Introduction:
Walker's walk 10% faster: Make all of your workers walk faster.
Achievements:
There are 33 Trophies in this game, you can get them by finish following tasks.
Let's go!:: started the game.
Clever trick:: used an active booster for the first time.
Novice gourmet:: collected 100 units of food.
Novice woodcutter:: collected 100 units of wood.
Fire bearer:: collected 100 fireballs.
Delicate taste:: collected 5,000 units of food.
Tireless woodcutter:: collected 5,000 units of wood.
Fire lord:: collected 5,000 fireballs.
Meditation master:: did nothing for 15 seconds.
Perfect foreman:: built three buildings in one minute.
Click master:: used boosters 10 times while playing a single level.
Skillful strategist:: used both active boosters while playing a single level.
Persistent collector:: collected every piece of the ice mirror.
Supernatural person:: completed every episode with a gold medal.
Excellent pathfinder:: explored three caves.
Smart businessperson:: built the first BloodDonald's.
Novice gold digger:: collect 100 units of gold.
Quick hands:: remove the first trap.
Excellent gold digger:: collected 5,000 units of gold.
Potion master:: brewed every potion.
Heartwarmer:: made 10 wool coats.
So cute:: saved the black cat.
Keeper of antiquities:: opened every ancient chest.
Dragon tamer:: protected the dragon's dwelling.
Secret paths:: built three bean bridges.
Levitation master:: used five flight potions.
Novice alchemist:: collect 100 elixirs.
Skillful alchemist:: collect 5,000 elixirs.
Silent shadow:: used an invisibility cap.
great winner:: defeated the Ice Queen.
Expert mushroom picker:: destroyed 15 poisonous mushrooms.
To pieces!:: destroyed 10 snowflakes.
Chilling horror:: banished 10 ice guards.
Detailed Levels:
Level 1: Your task is find the antifreeze, build a BloodDonald's and thaw out the car. This is the first level, very easy. See below screenshot: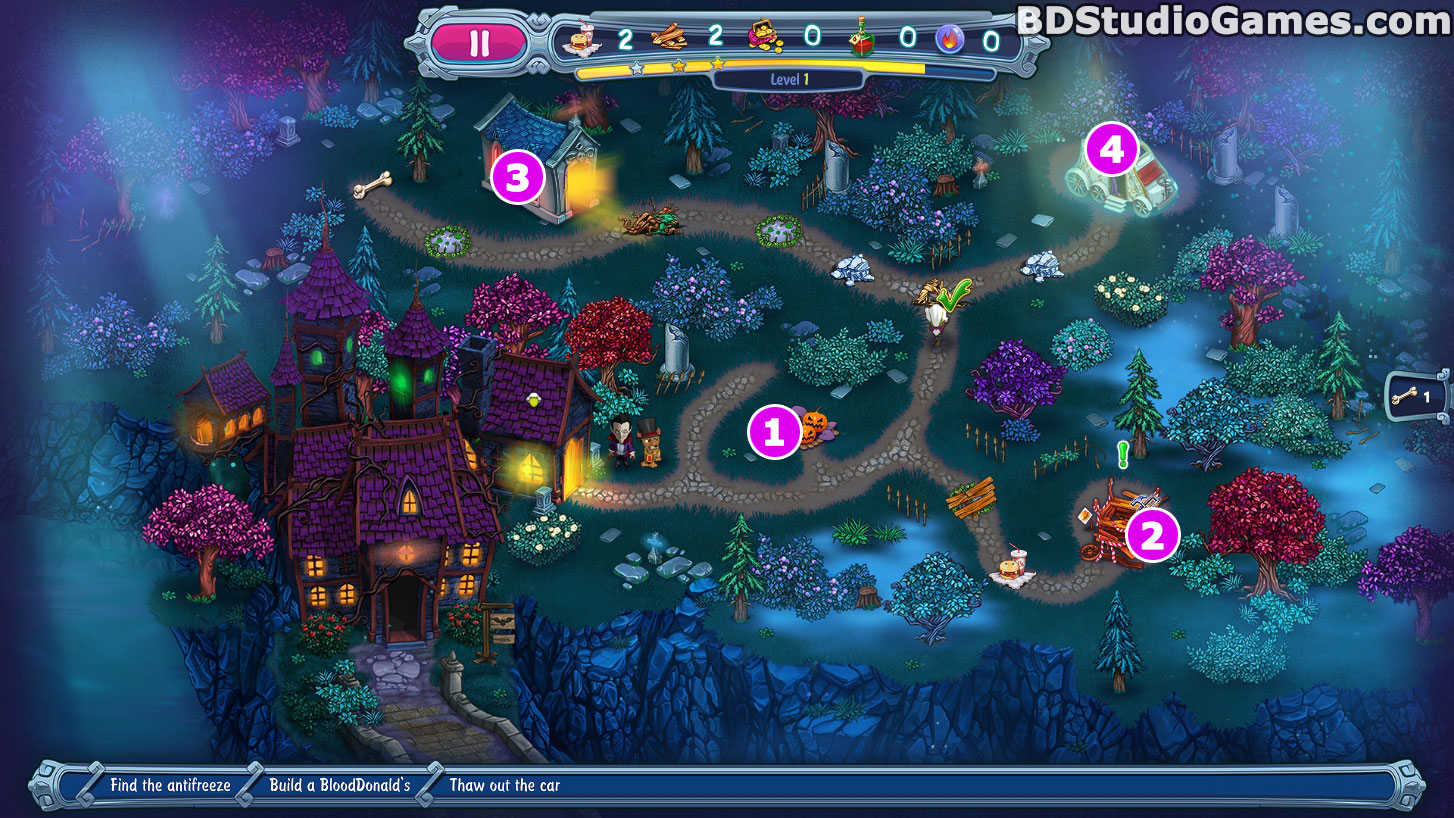 Level 2: Your task is build a sawmill and light three bonfires. See below screenshot: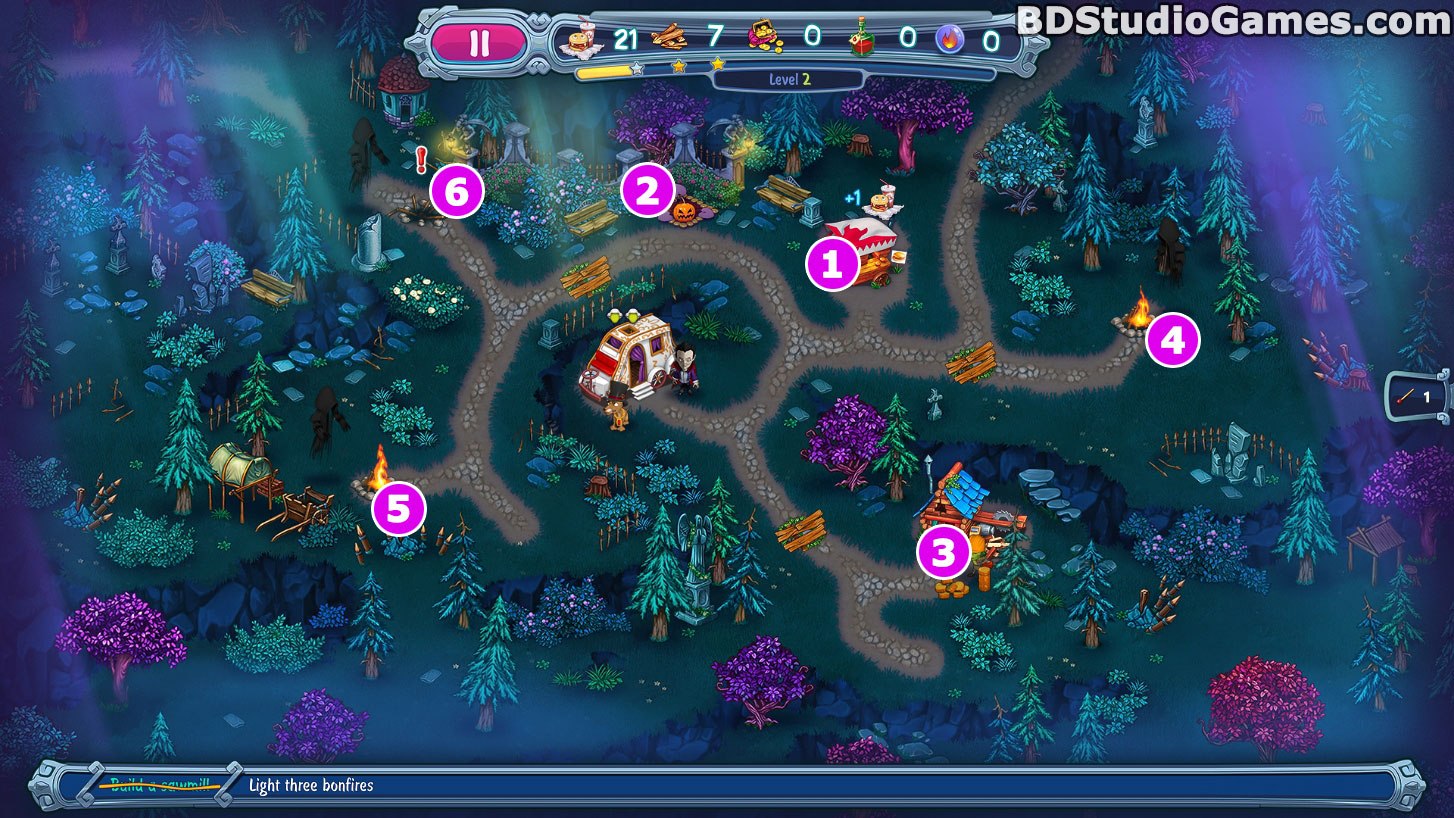 Level 3: Your task is build the lab, search the dungeon, fix the heat in the tower and repair the suspension bridge. See below screenshot: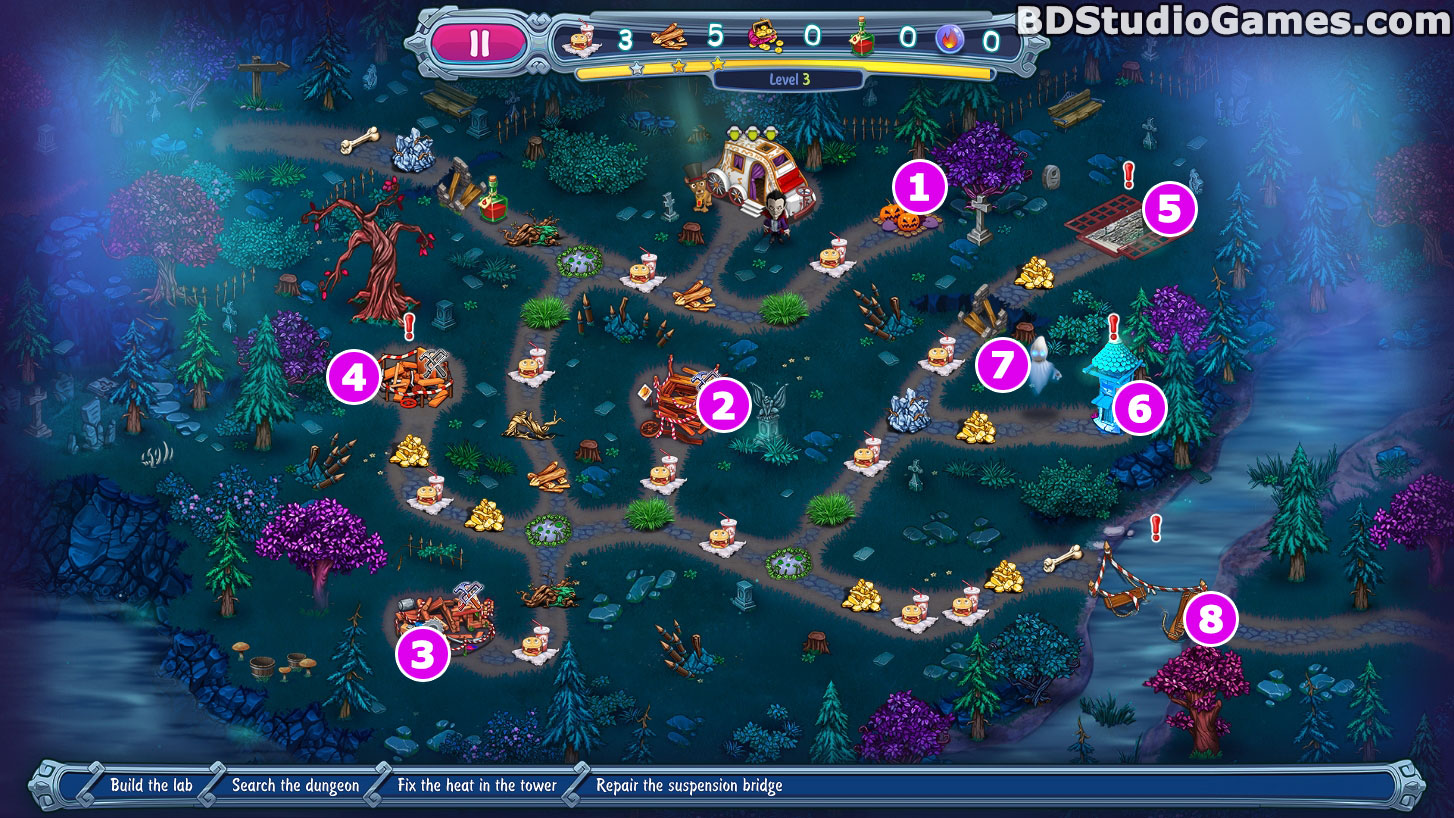 Level 4: Your task is help the mystery keeper, make the healing tea and cure the cat. See below screenshot: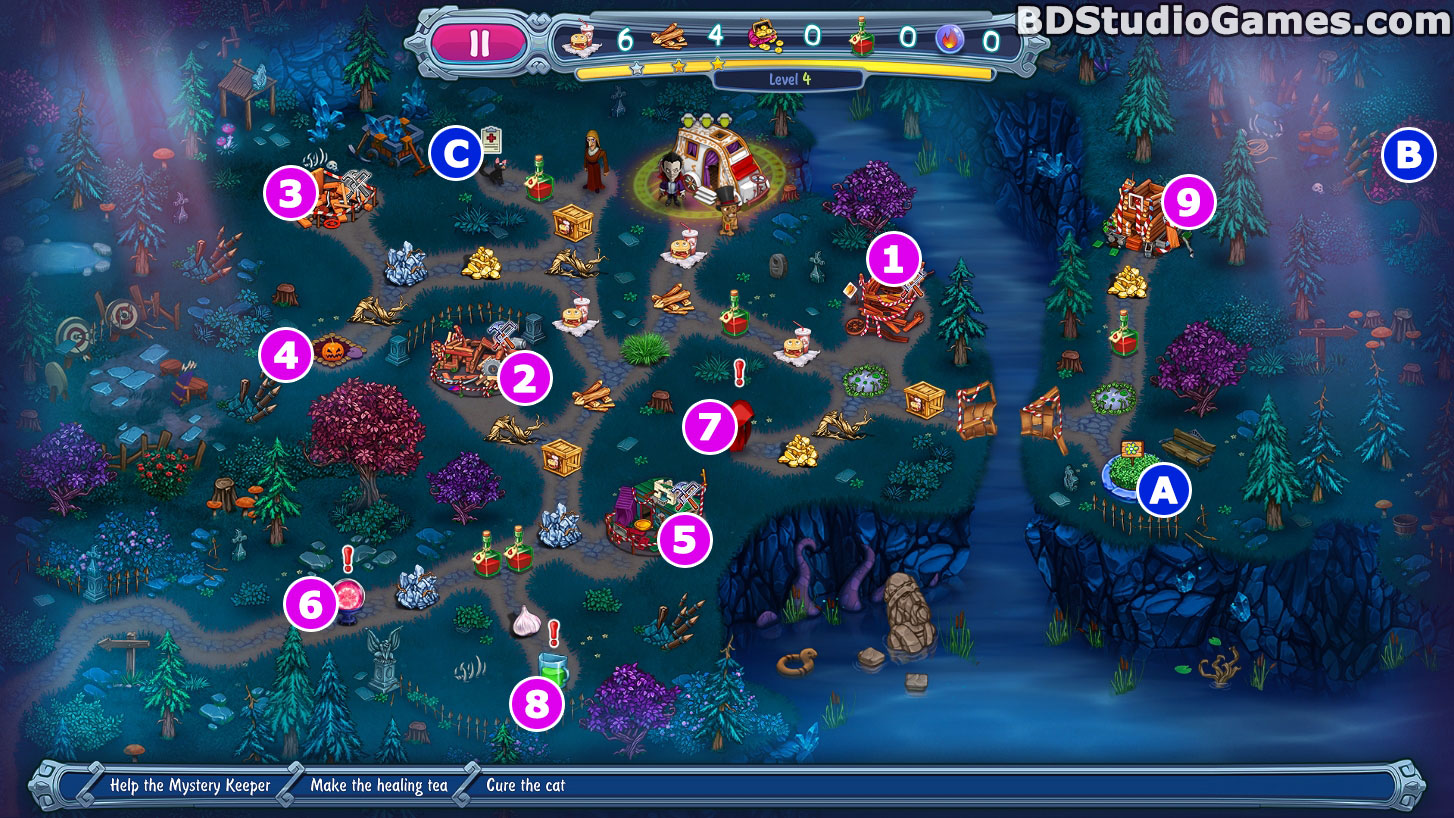 Level 5: Your task is repair the fire tower and open the gate. See below screenshot: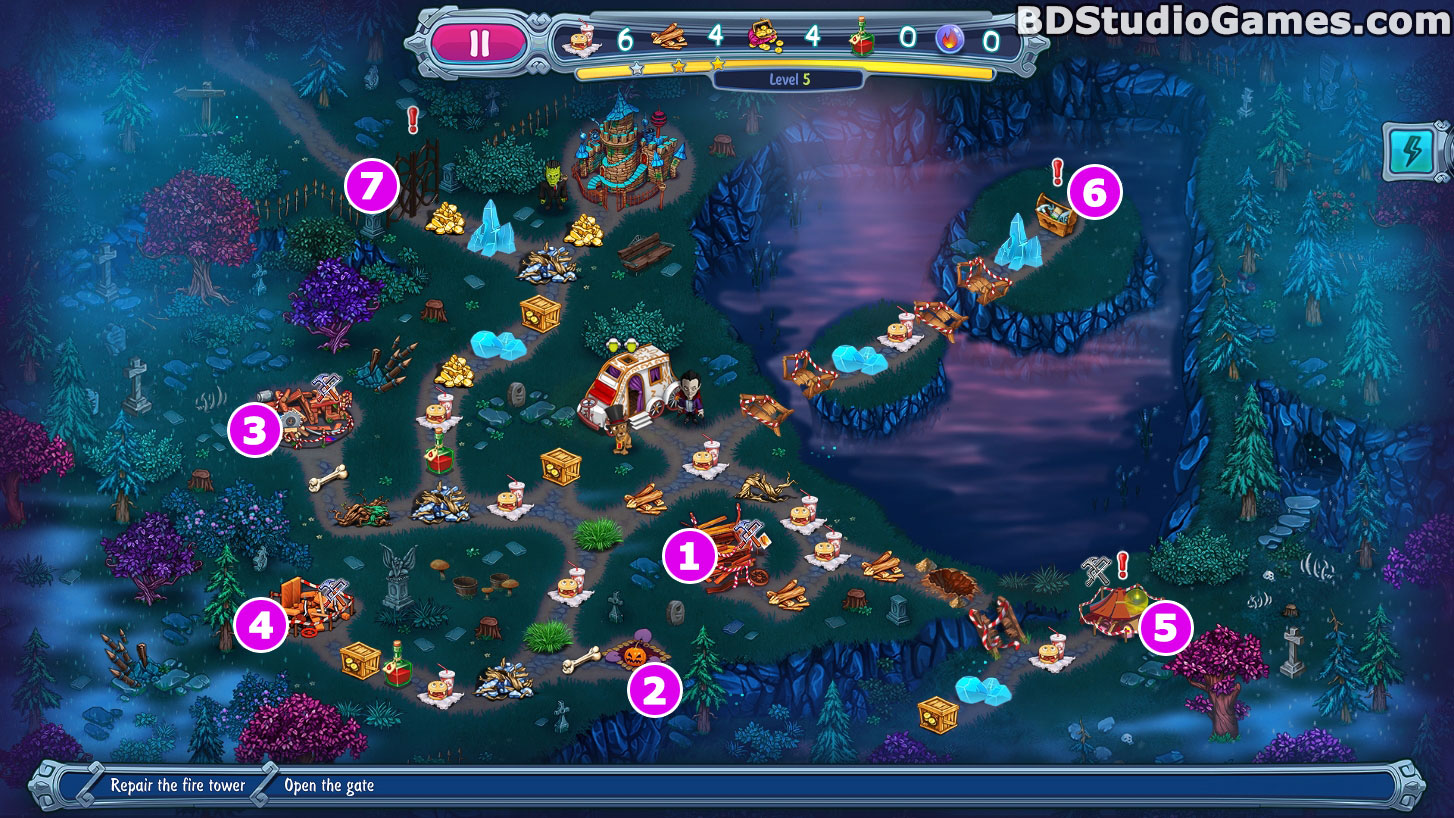 Level 6: Your task is search the cave, help the mystery keeper and activate the magic well. See below screenshot:
Level 7: Your task is cure the nanny, return the teddy bear to the princess' daughter and open the ancient chest. See below screenshot: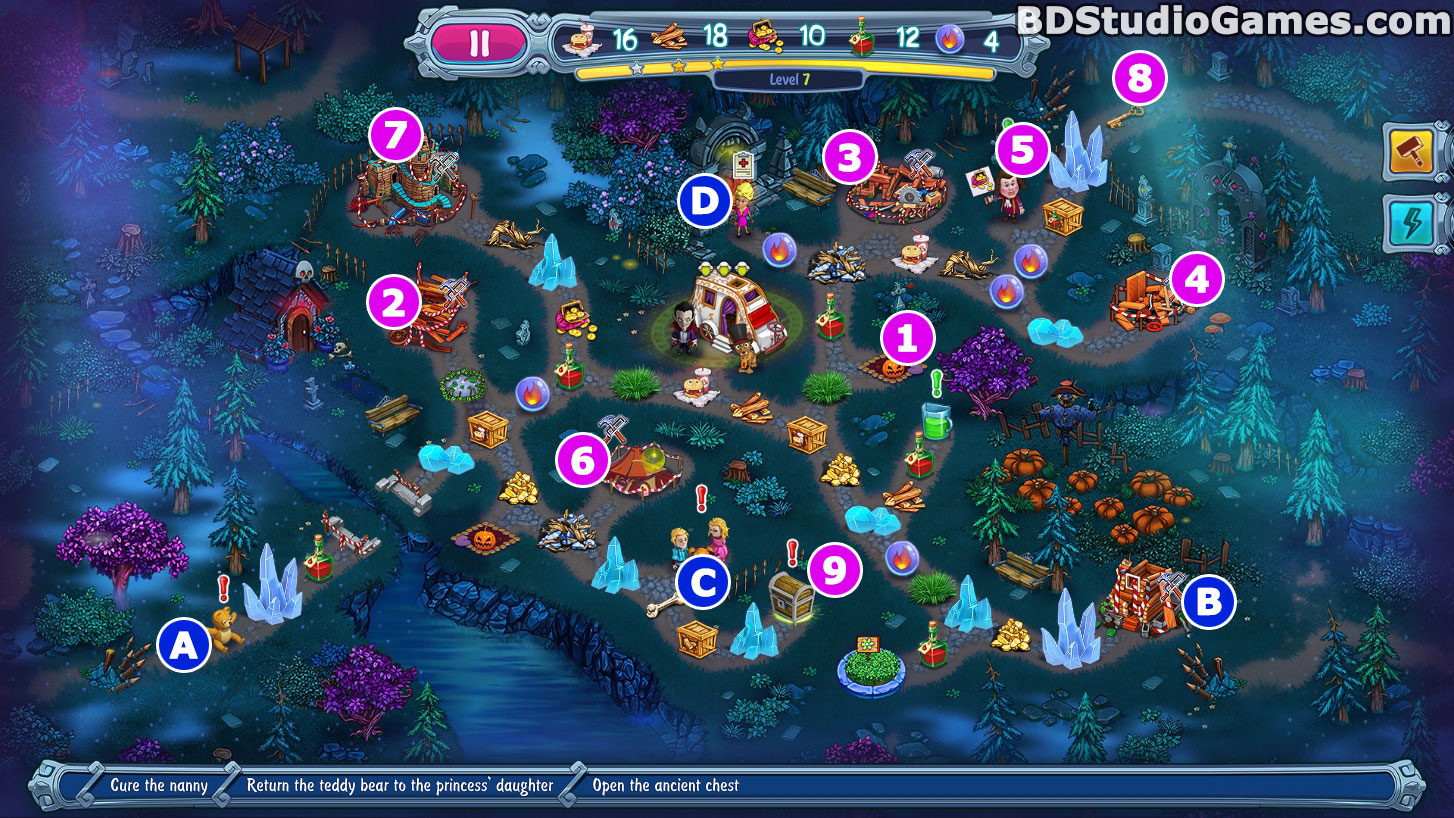 Level 8: Your task is repair the houses, repair the wells and remove the poisonous mushrooms. See below screenshot: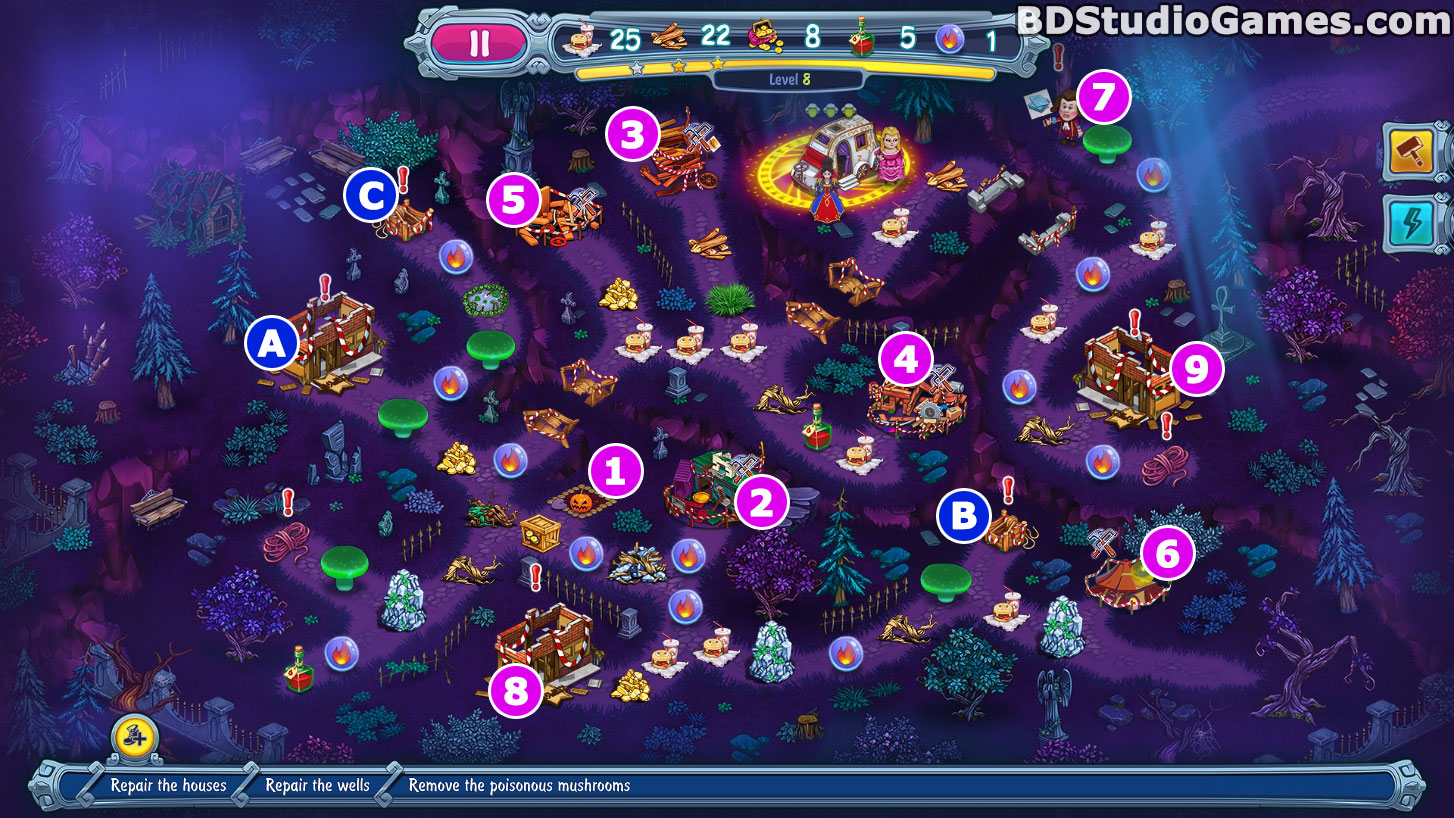 Level 9: Your task is learn how to make wool coats, repair the sheep pen and take the wool coat to the sirens. After you repair the sheep pen, you need to exchange with the farmer to get the material to craft the wool coat (B). Craft 2 wool coats and take them to the sirens (C). See below screenshot: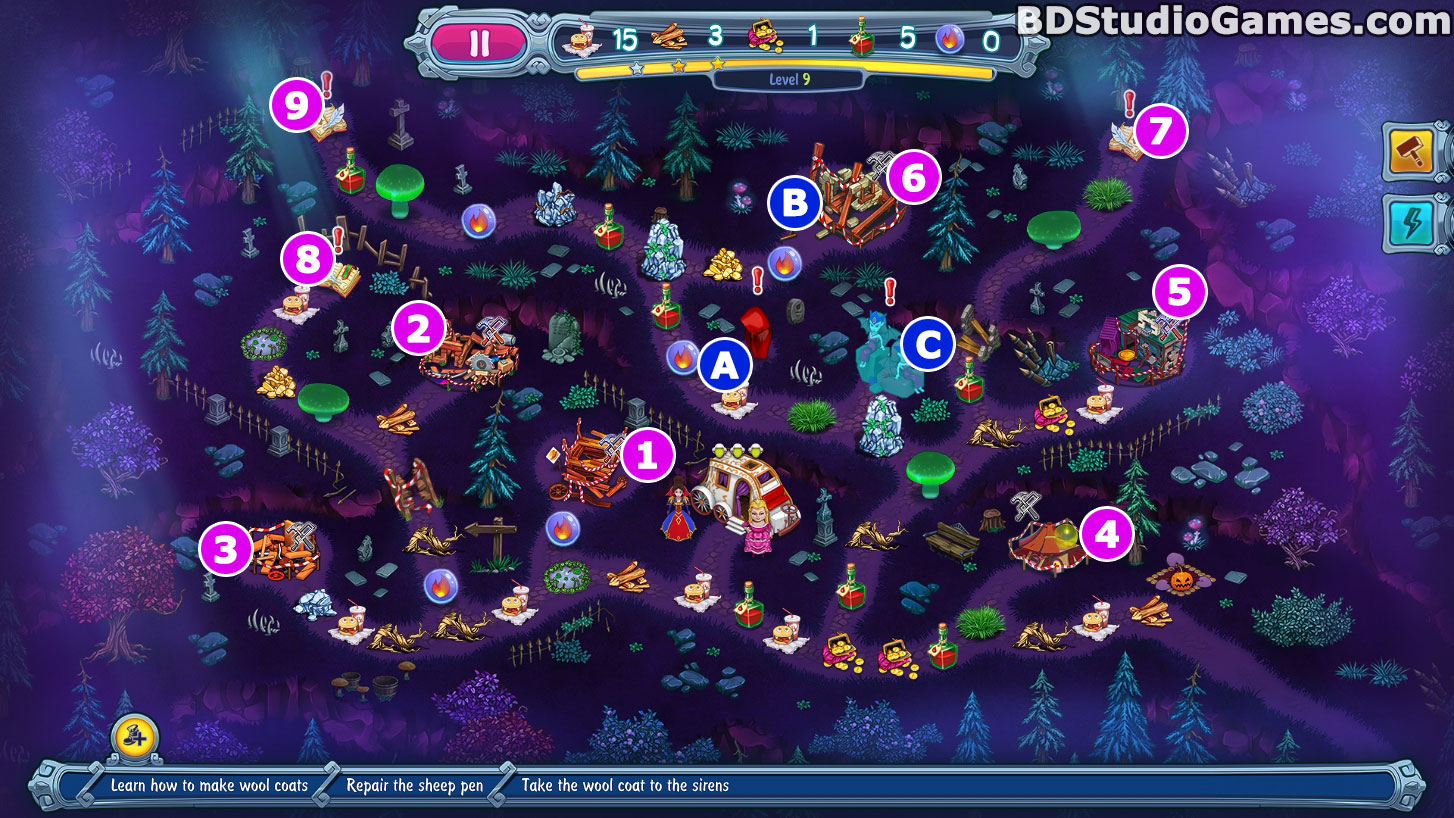 Level 10: Your task is cure the weaver, give the blanket to the chief of staff and show the pass to the guard. See below screenshot: