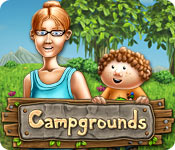 Campgrounds Review
Rating:
4.0/5

Pros: happy game, brightly music and detailed instructions
Cons: low resolution graphics, cann't skip annoying dialog
Campgrounds is a typically strategy game with smoothly mouse click play and beautiful graphics, brightly music. It is a game suited for any aged game players, you can play it with your bother, sister or your mom and daddy.
Because one big company will destroy all of the trees and plants with which you familar from your childhood, then it is your responsibility to protect this plants from being demolished, you should build your own compsite and company to rescue your home town.
Campgrounds is challenging but so much fun, there is key feature that i loved, when time runs out you do not lose the game you can keep playing until you finish the level. There are four game element you should notice, they are gold, seed, eco score and supplies.
If you are not happy with your last level performance, you can restart it right now from your levels' summy window. The game's timer does not start until you perform the first action, such as build a tent.
You need supplies to upgrade tent to a house, this will increase gold the tent made. It's important to grap the money bags as soon as possible, because new money bags will only appear if there isn't one at that building already.
Campgrounds is almost like any other "build it" game, some little flaw i should tell you, you can not skip the dialog or the instructions, it is annoying if you alreay familar with the game.
In addition to some little fails, Campgrounds is definitely enjoyable. You won't know you have been playing for hours, try it you'll probably buy it.
Read more:
review
time management
strategy game
pc
bd studio games