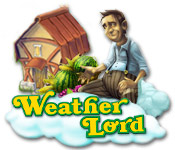 Weather Lord Review
Rating:
4.0/5

Pros: new twist on gameplay, control weather like a god
Cons: average music
Weather Lord is a unique time management game with some new twist on fun factor, do like other time management games you need to control a girl named Alice or other else, back and forth on a large mall to sell your goods, serve your customers or any other works, this time, you act as a god, you can control the weather.
In Weather Lord, your objective is to control weather such as sun, wind, rain and cloud, then make your crops grow, you harvest grapes, corn, you can sell all of this crops to earn money. Money is important in the game, you need money to buy sun, cloud, wind and etc.
There is a big different from other time management game, you can combine two basic weather to a new one, for example, two basic clouds conbined creates rain, one rain and one wind conbined creates thundercloud, other conbination need your own explore.
The game has a great graphics, a average but relaxing music, at least 40 levels. All tasks have been explained clearly, you can easily complete them with a happy mood. I give this game a 4.0/5 score in spite of i am not a time management fan.
All in word, Weather Lord is a solid and innovative time management game, i highly recommend it, download now from our download link and try, i promise you will like it.
Read more:
Weather Lord
time management
Alawar
Lord
bd studio games