Meadow Story Walkthroughs, Guides and Tips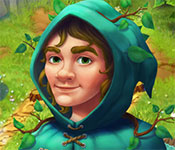 Meadow Story Walkthroughs, Guides and Tips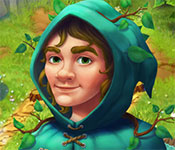 Meadow Story Walkthroughs, Guides and Tips

General Tips:
This game includes 3 game modes, Relaxed mode: play for fun, time si irrelevant. Normal mode: there's enough time, but don't waste it carelessly. Professional mode: for experienced and self-confident players, go for it.
Improve buildings to earn more resources.
Click the basement of a house to build a house, the house can produce golds.
You can get the wood from the road or chop the tree.
Send a worker to berry bush to collect foods.
Collect all resources till they're exhausted and get extra points.
The resources panel is located in the top of the screen, all resources in your possession are displayed here.
The time given to complete level objectives is limited, try to complete the tasks as soon as possible to earn the reward!
Sometimes a seasonably constructed building wins more time than resources harvesting.
The town hall can be improved, it increases the number of tax collectors.
The field produces food, but you need to sow and water it first.
A cobbler can provide the halflings with strong boots which allow them to run faster.
You can make a break any time, just press the Pause button.
A well is a source of water, you can get enough waters from a well.
Build a tavern can increase the people's morale.
Try to earn all stars for level completion, you earn extra score for each star.
<![if gt IE 9]>
<![endif]>
Detailed Levels:
Level 1: Your task is build 2 houses and collect 50 golds. See below screenshots:
Level 2: Your task is build 4 houses and collect 120 golds. See below screenshots: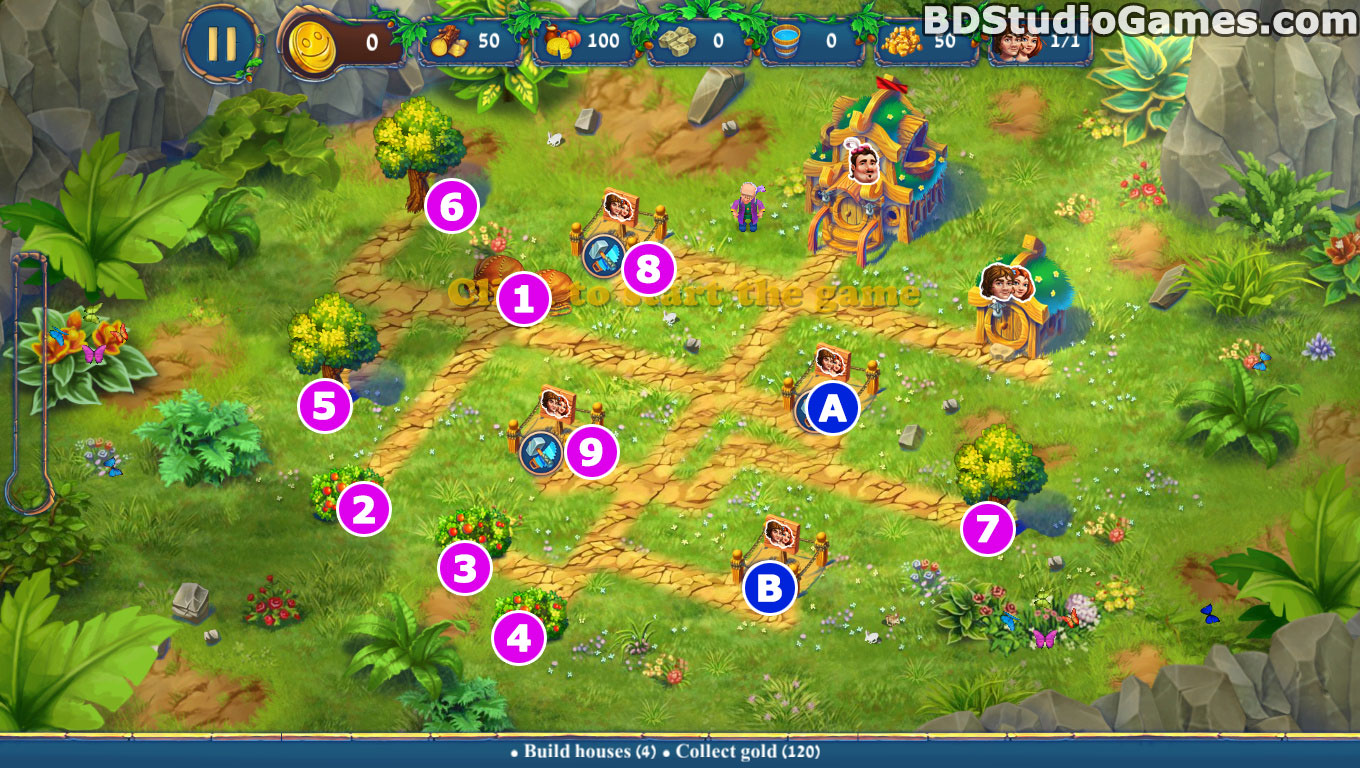 <![if gt IE 9]>
<![endif]>
Level 3: Your task is upgrade town hall, hire cobbler, build 3 houses and harvest 200 foods. See below screenshots:
Level 4: Your task is build 3 houses, build tavern, achieve 50 happiness and collect 250 foods. See below screenshots: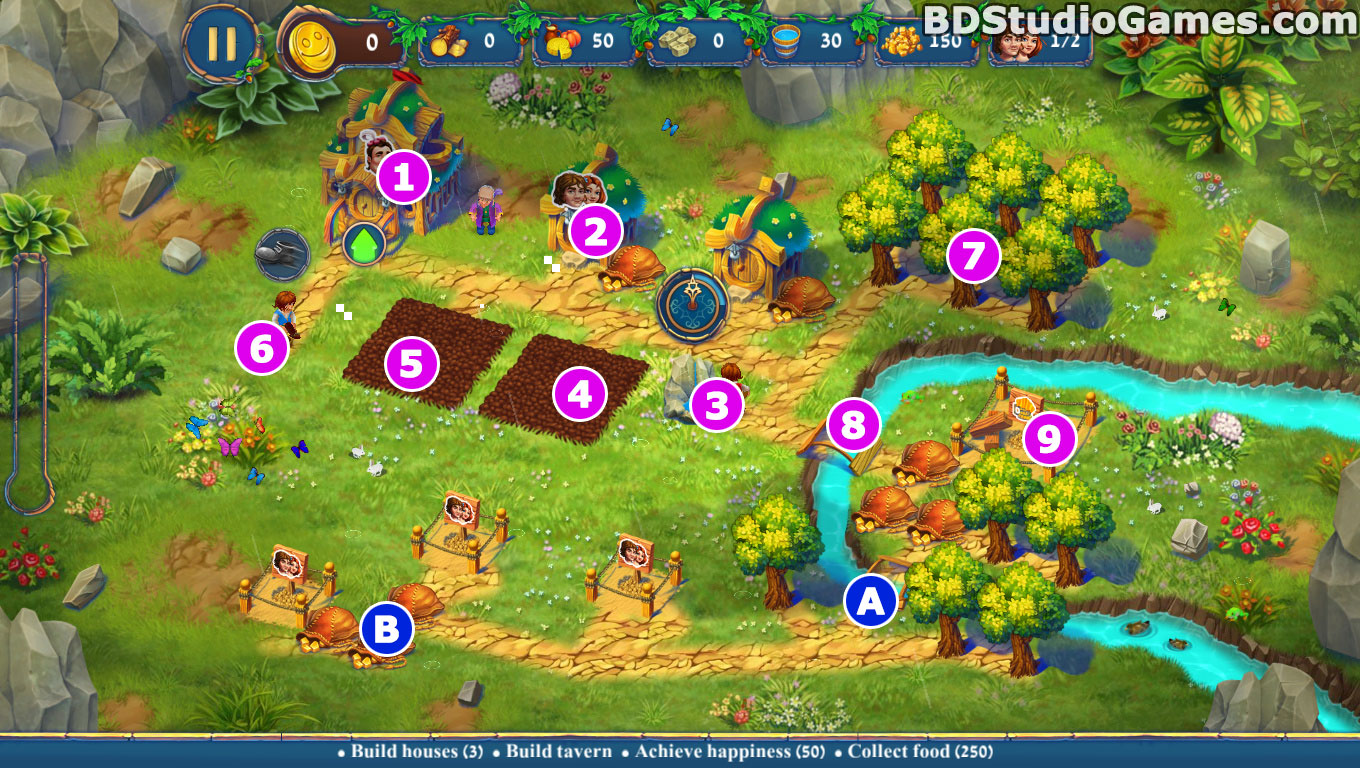 <![if gt IE 9]>
<![endif]>
Level 5: Your task is build 4 houses, upgrade 6 houses and achieve 100 happiness. See below screenshots: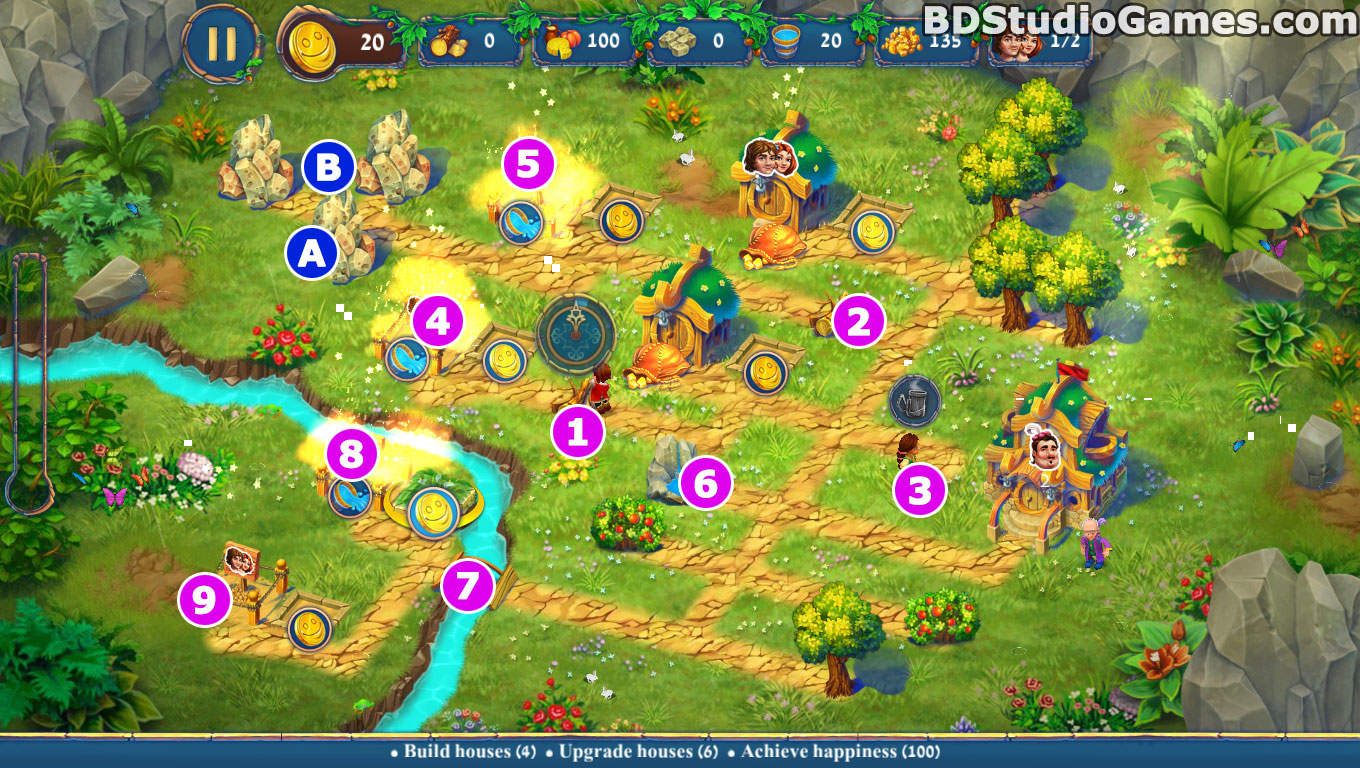 Level 6: Your task is build barrack, upgrade 6 houses and build 6 flowerbeds. See below screenshots: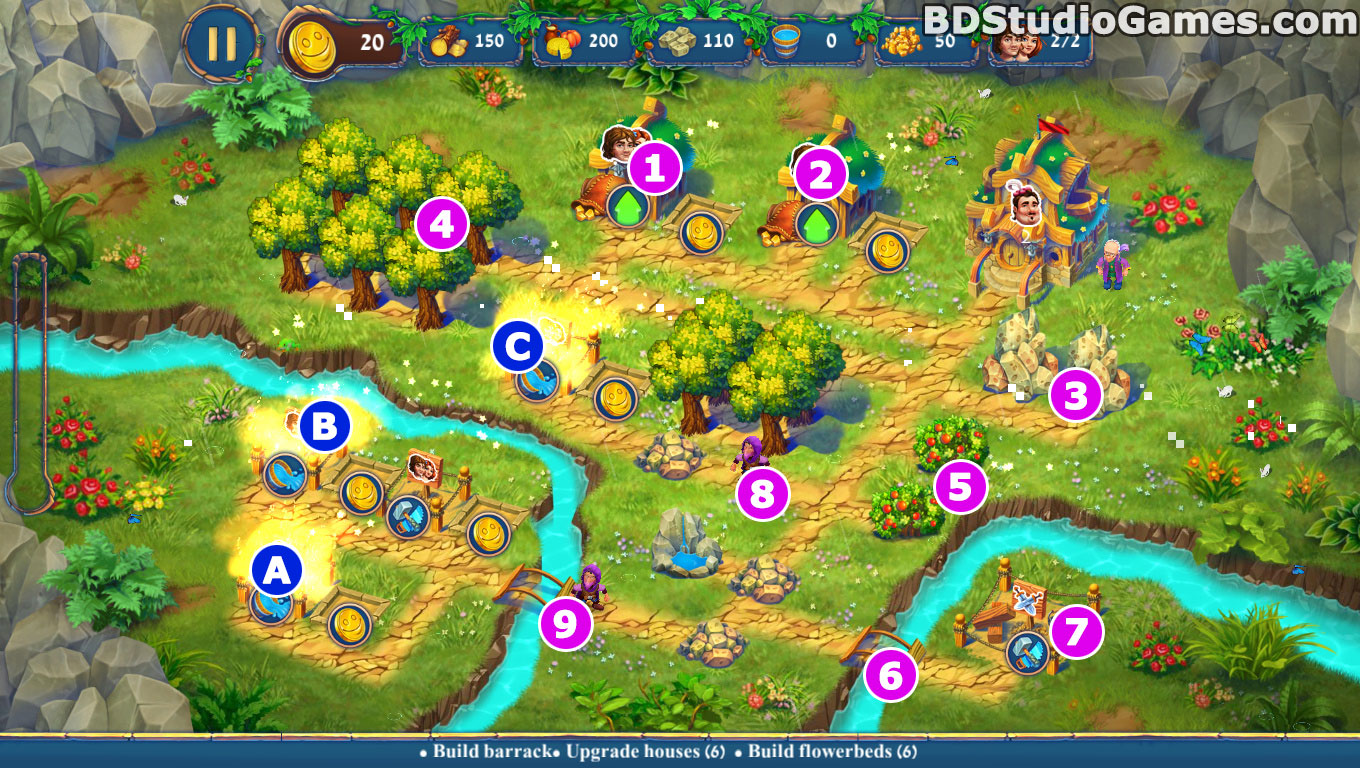 <![if gt IE 9]>
<![endif]>
Level 7: Your task is upgrade 4 houses, build 2 big houses and achieve 380 happiness. See below screenshots: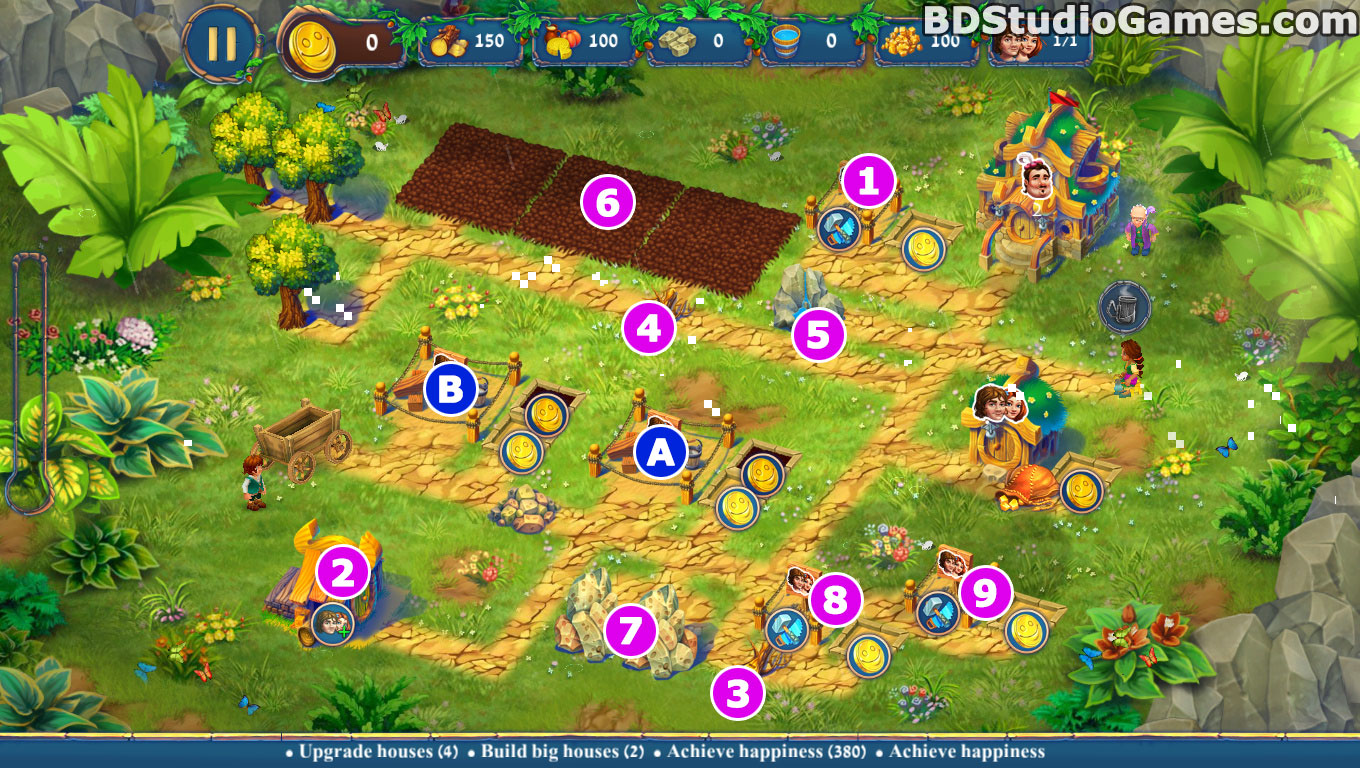 Level 8: Your task is upgrade barrack, upgrade 3 houses, build 2 big houses, achieve 230 happiness and give papers to actor. See below screenshots: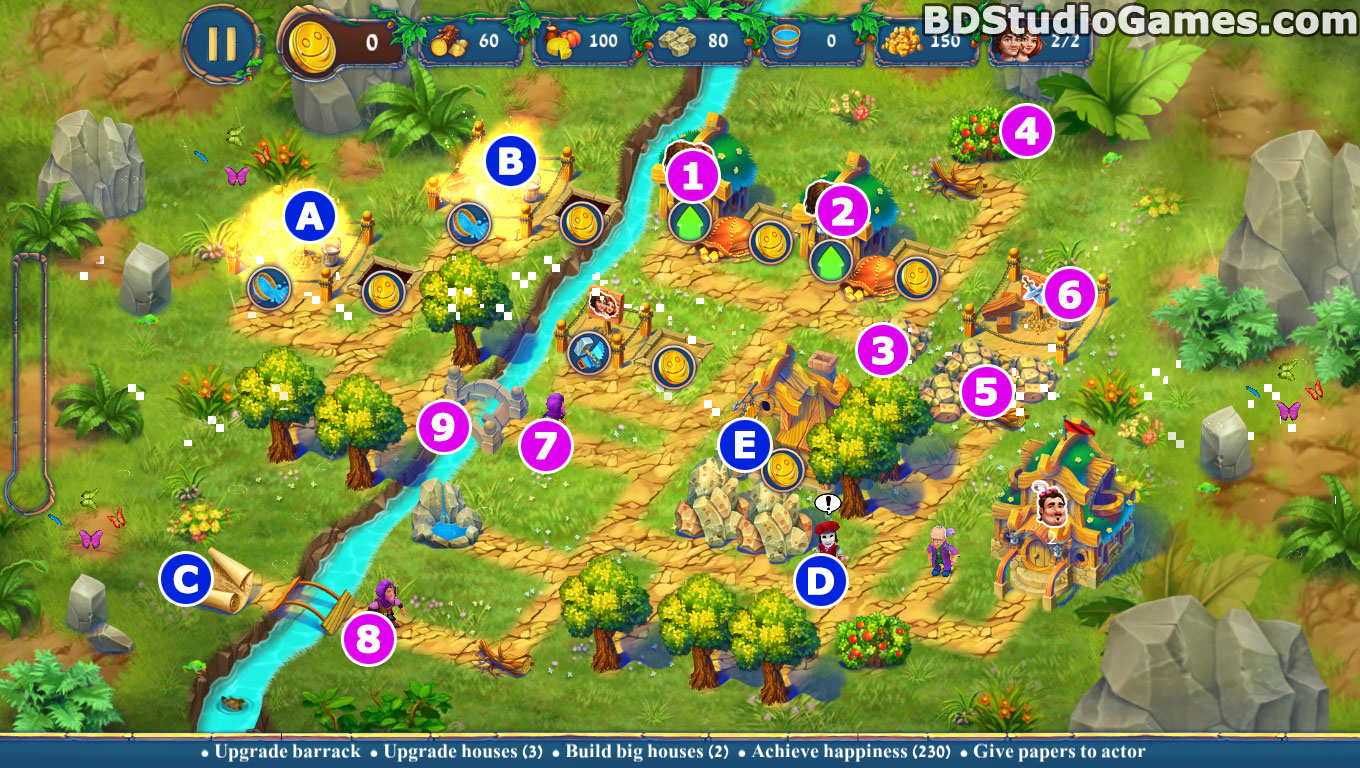 <![if gt IE 9]>
<![endif]>
Level 9: Your task is upgrade 4 houses, build 2 big houses, build theater and achieve 200 happiness. See below screenshots: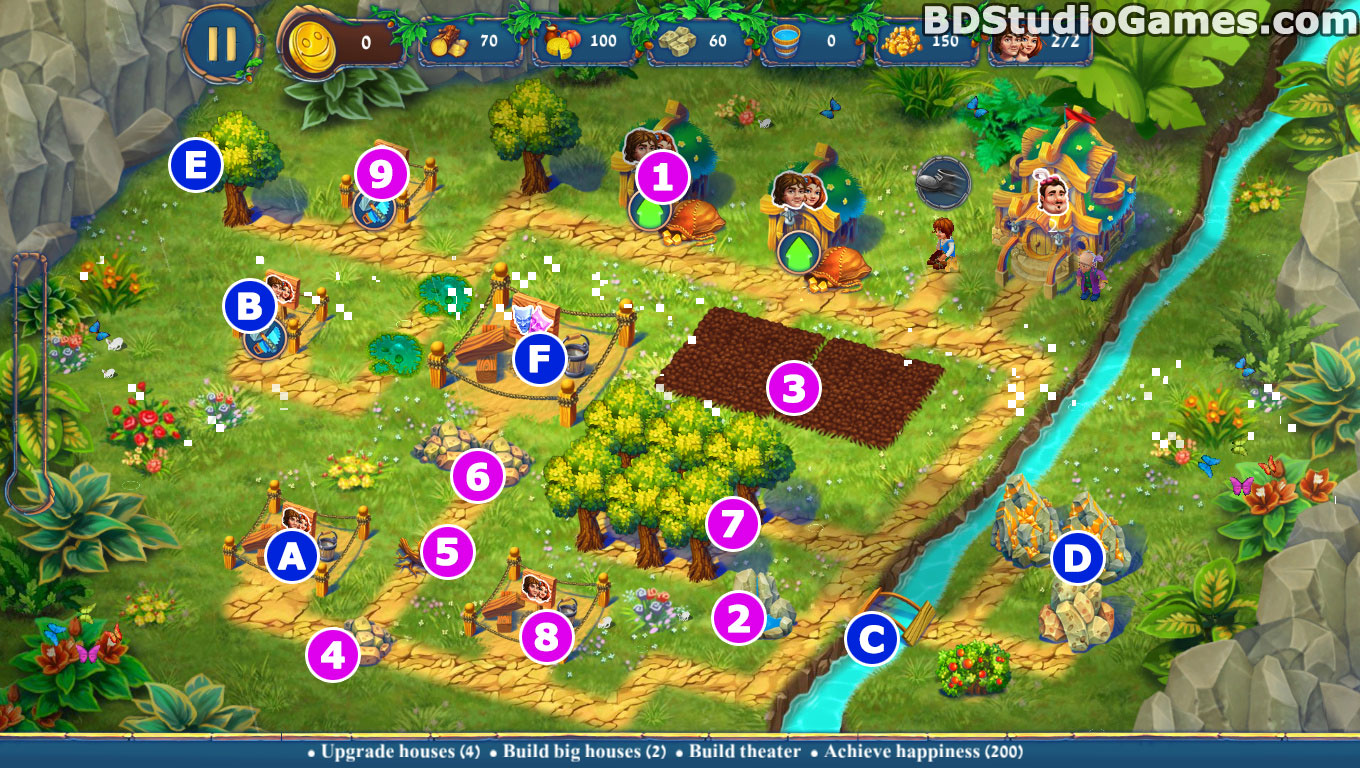 Level 10: Your task is upgrade 4 houses, build 3 rafts and collect 1500 golds. See below screenshots: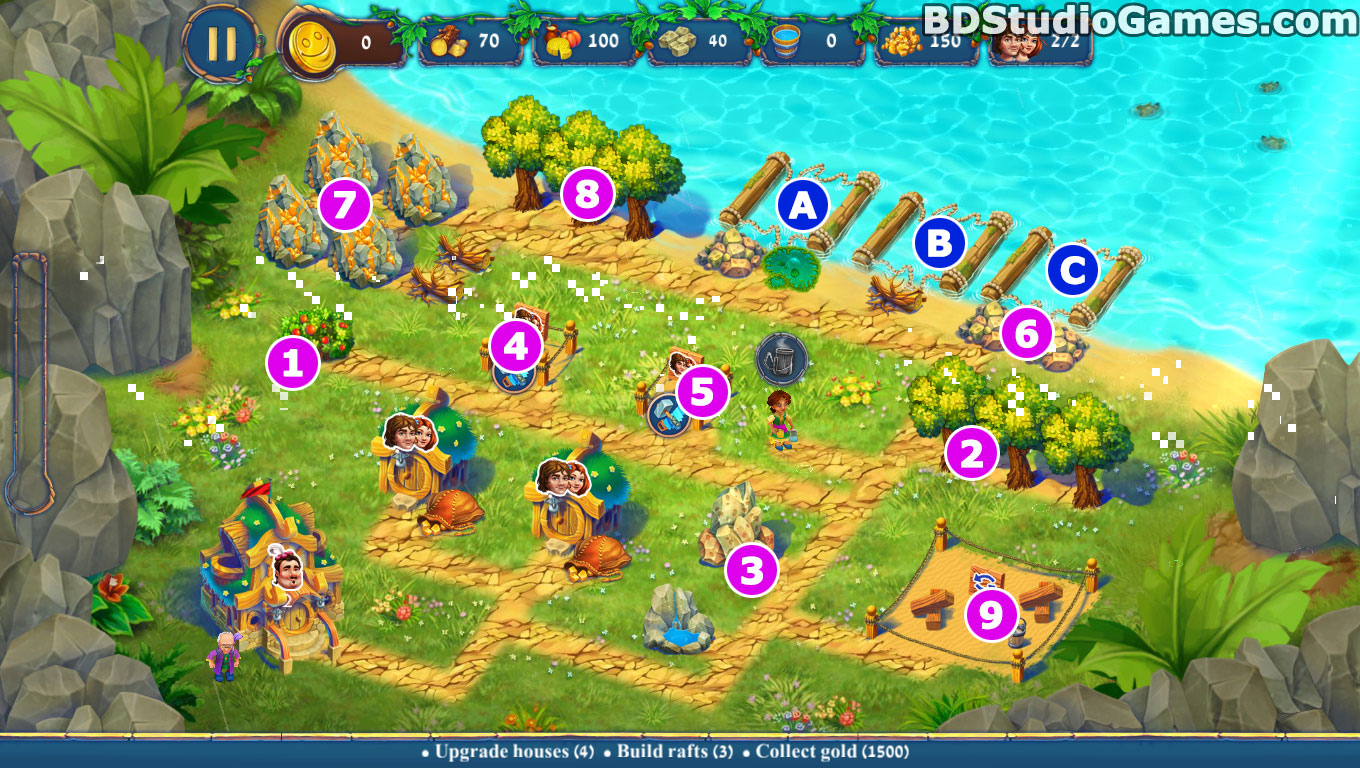 <![if gt IE 9]>
<![endif]>
<![if gt IE 9]>
<![endif]>
<![if gt IE 9]> <![endif]>