The Love Boat: Second Chances Walkthrough, Guides and Tips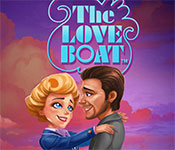 The Love Boat: Second Chances Walkthrough, Guides and Tips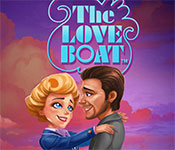 The Love Boat: Second Chances Walkthrough, Guides and Tips

There are many screenshots in this walkthrough, you can choose to download the full walkthrough now.
General Tips:
Assigning Passengers: This game is all about helping passengers get what they need quickly. Passengers will tell you which station they require. Click on the passenger, and then on the station to send them there.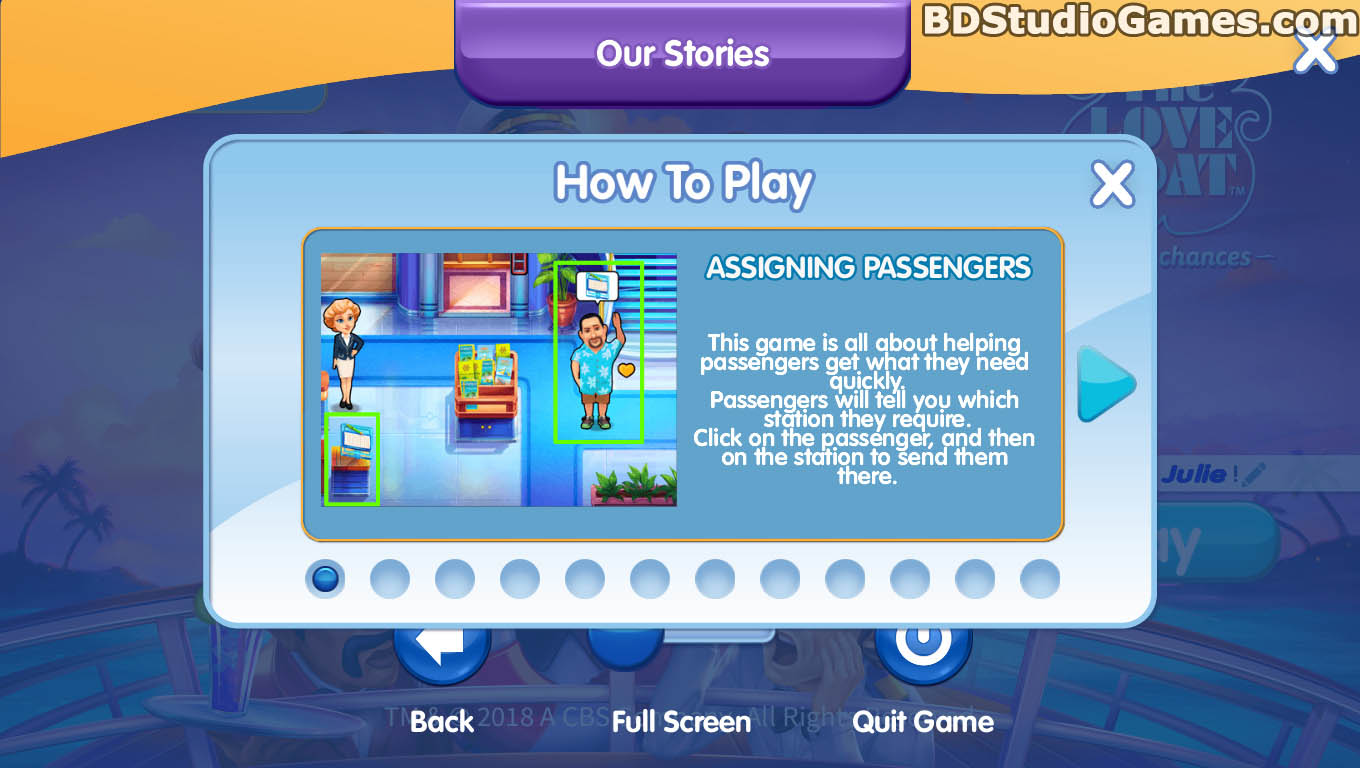 Services: After the passengers reach the station, you can begin helping them. Regular services are recognizable by a dissipating blue meter. Then can be instant, but may also require an item in order to be completed. Some passengers require multiple services without moving to another station. It can be more effective to do these in a row.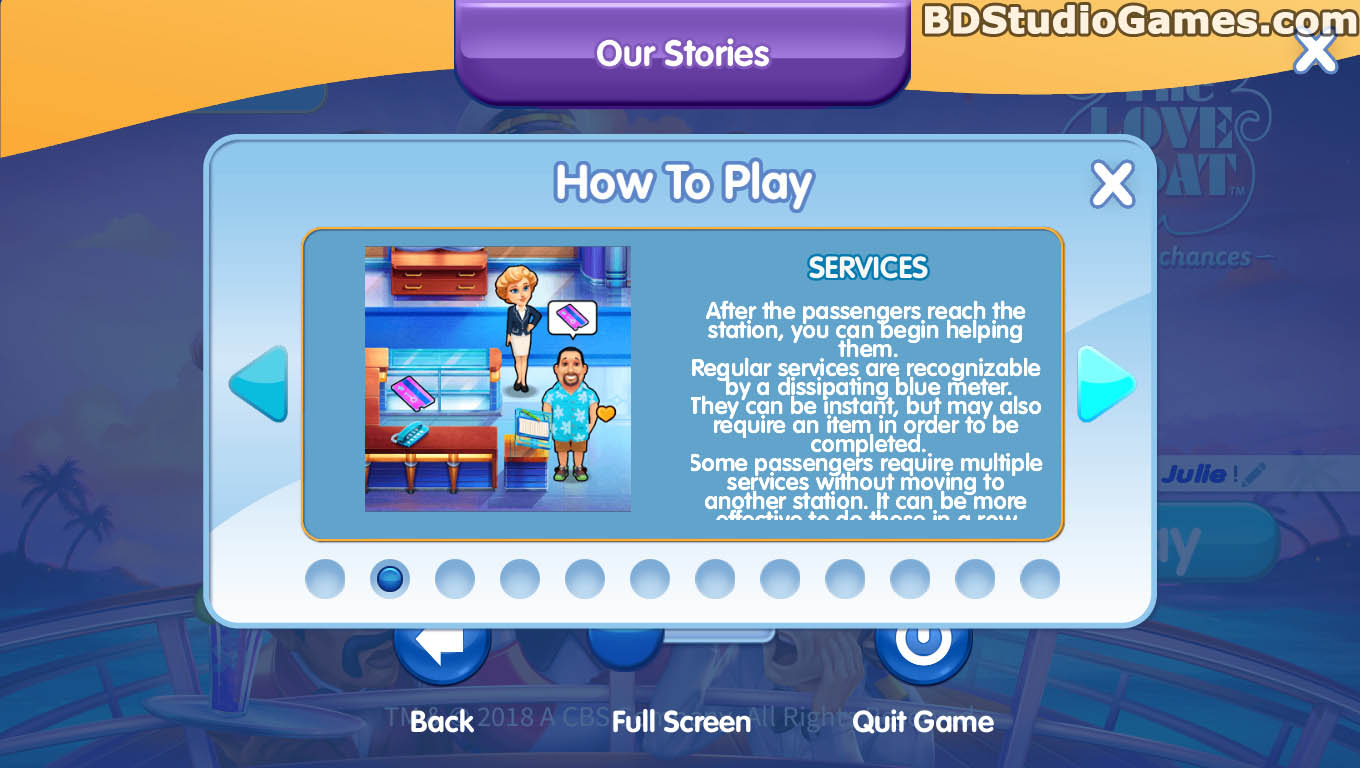 <![if gt IE 9]>
<![endif]>
Items: You can pick up an item by clicking on it. Some items have to be combined in order to make the final item. Others will run out and will have to be restocked. The restock area is usually somewhere else in the location.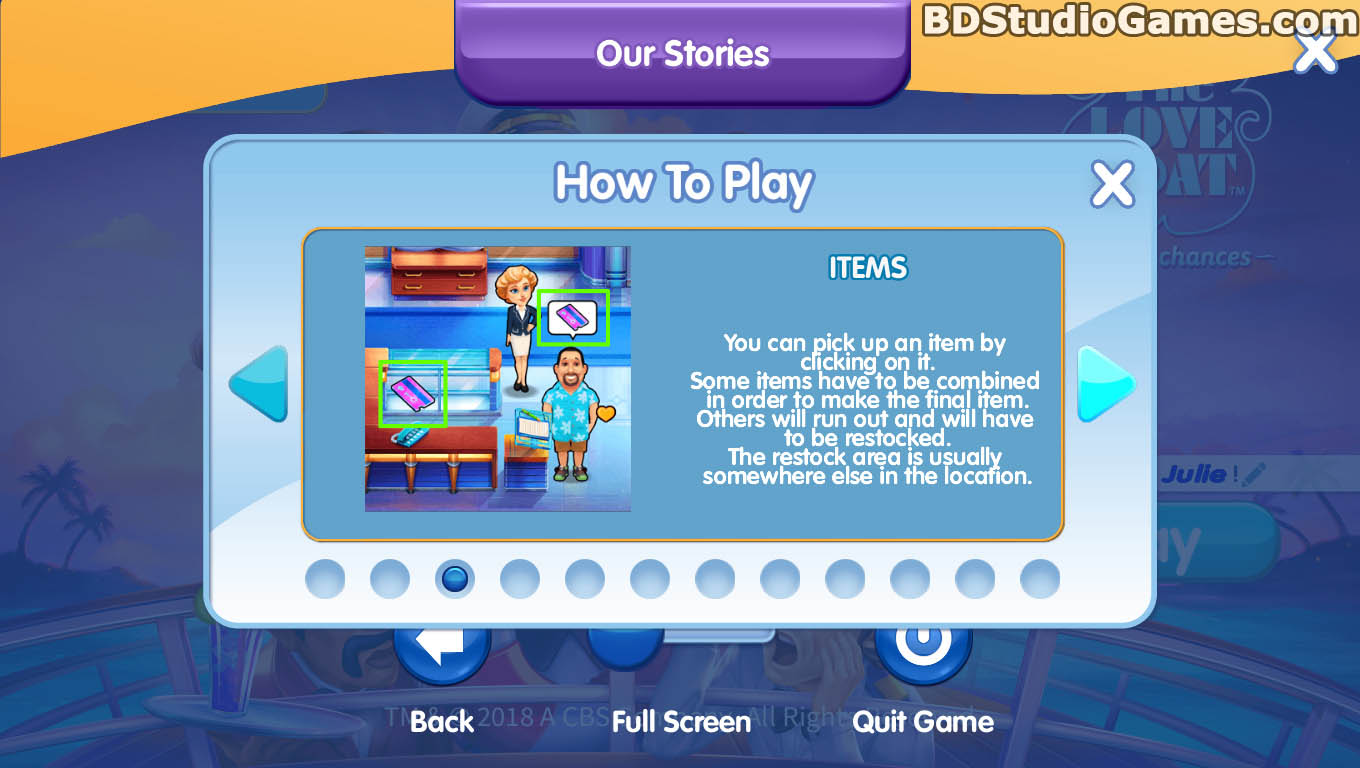 MiniGames: Minigame services can be recognized by a dissipating blue meter. Sometimes you'll need to play a minigame in order to help the passenger.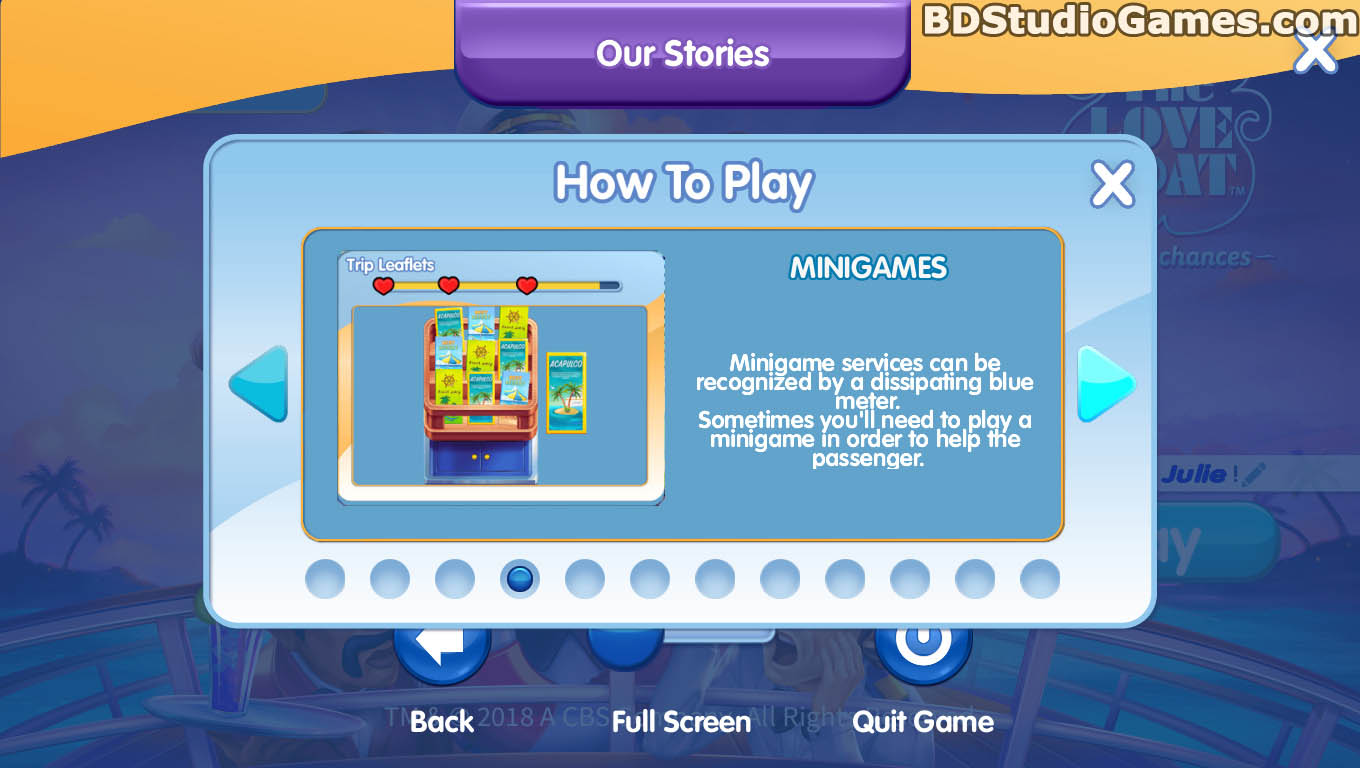 <![if gt IE 9]>
<![endif]>
Checking Out: After a passenger has been serviced, they'll either need another service, or walk to the checkout dest or elevator. Check out the patients by clicking the computer or elevator button. You'll earn more points by checking patients out quickly, or for checking out multiple passengers in a row.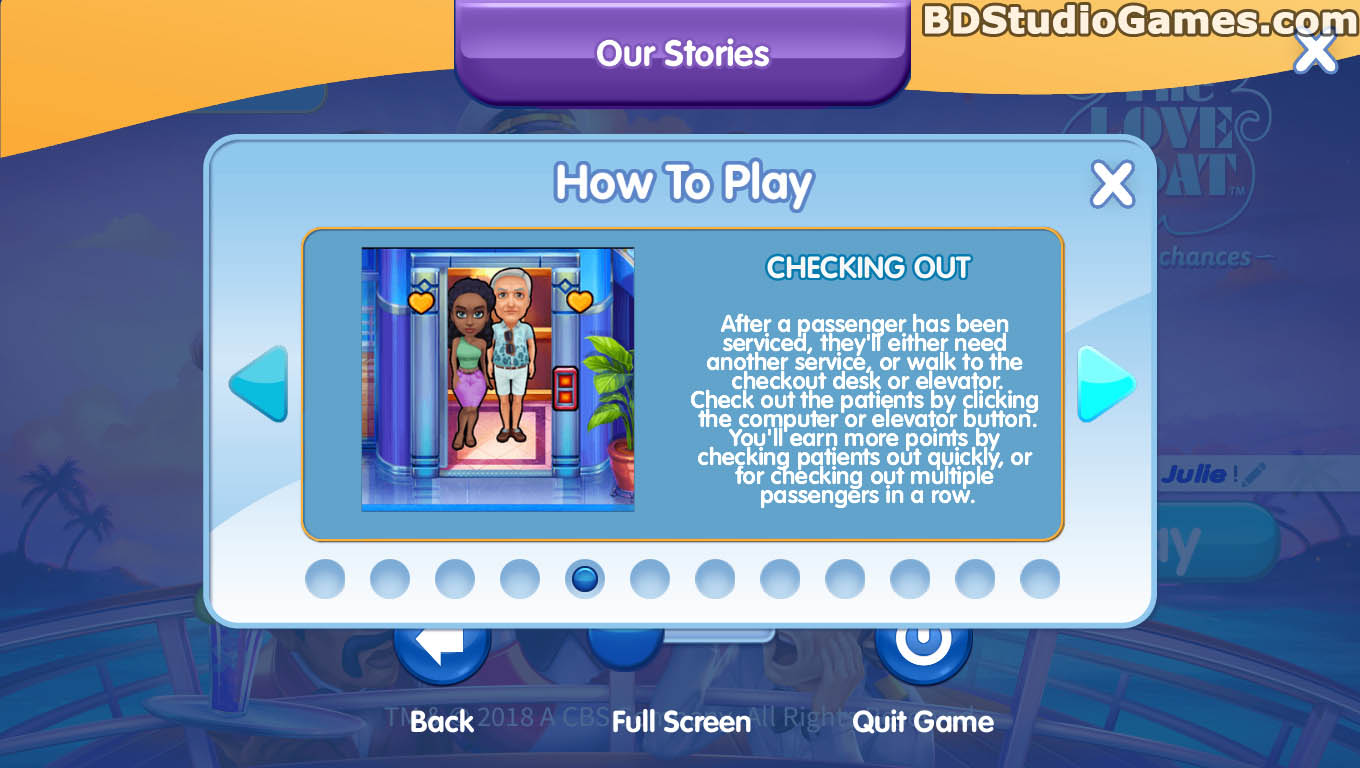 Next Passenger Button: If you enjoy working under pressure, you'll want to use the Next Passenger button. With every click of this button, the next passenger will appear immediately. This can increase you score, but take care not to invite them all at once, because if they have to wait in line too much, they'll lose patience...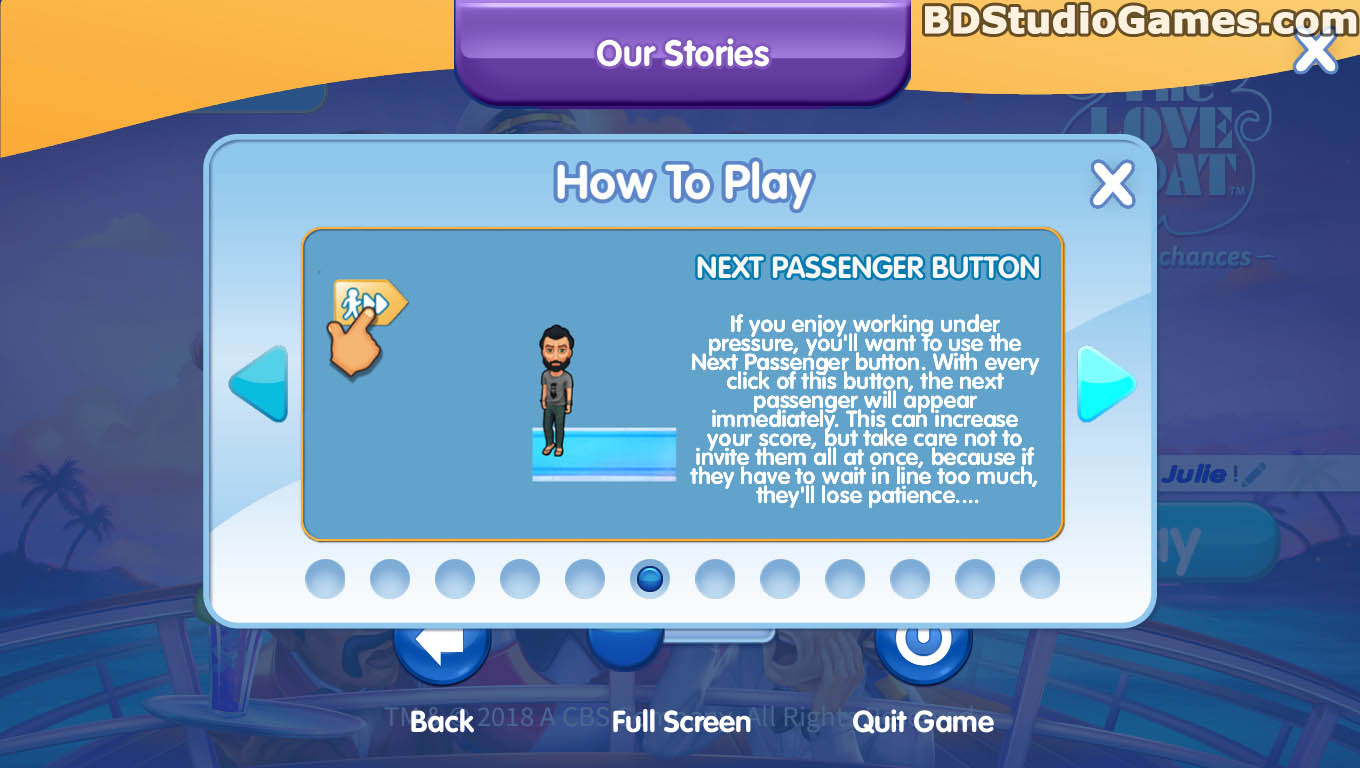 <![if gt IE 9]>
<![endif]>
Golden Hearts: If you perform all the services on a passenger quickly enough, their heart will turn golden, and the passenger will no longer lose patience. These Golden Heart passengers will also give you extra score at the checkout or elevator.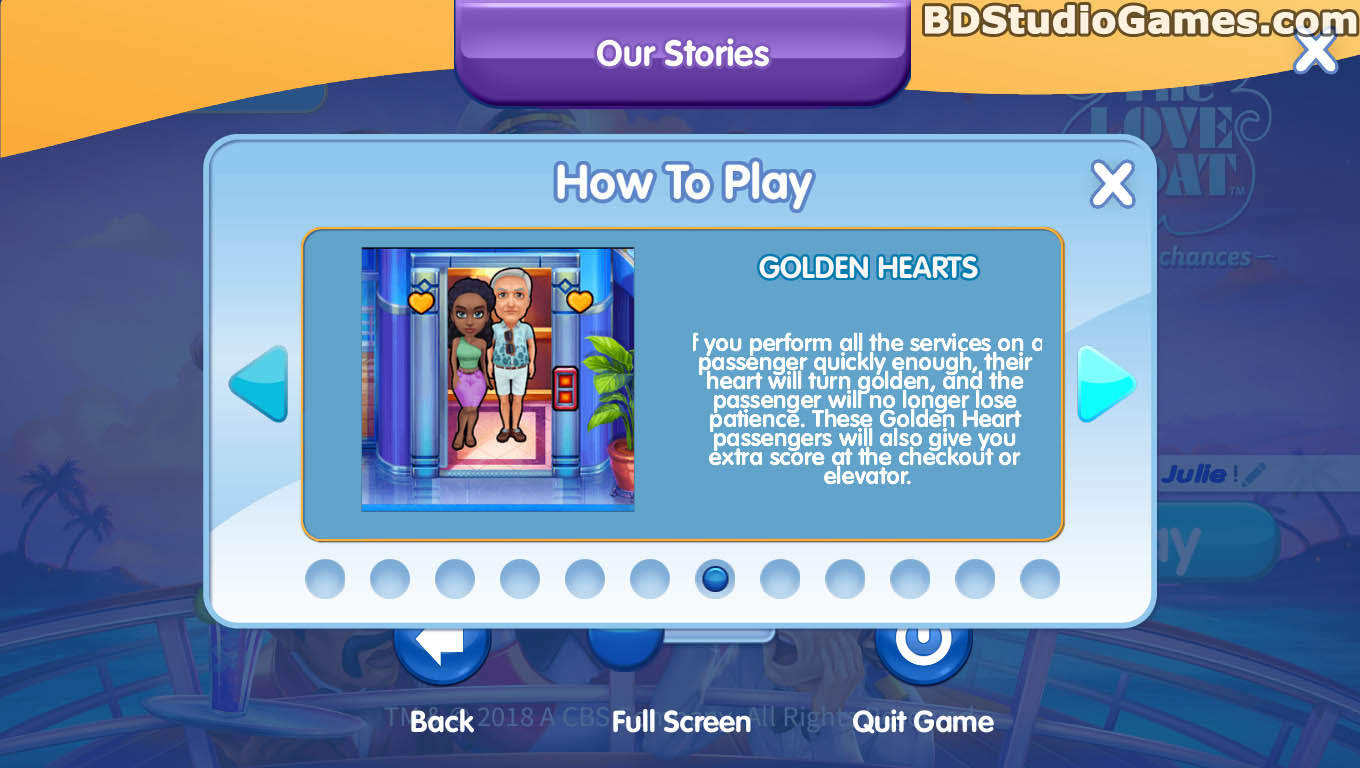 Quick Bonuses: Assigning passengers quickly will add a bonus to you score.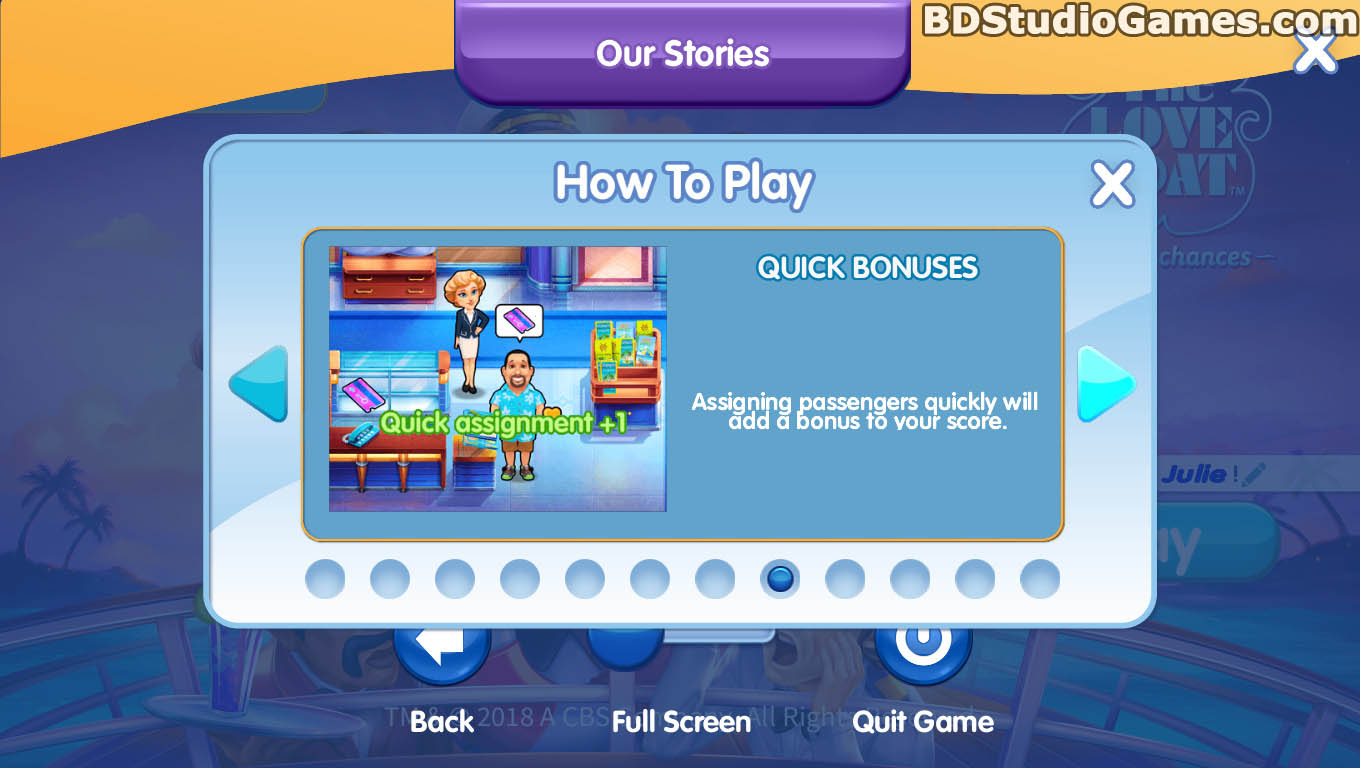 <![if gt IE 9]>
<![endif]>
End of Shift: At the end of each shift of a standard level, there are three stars you can achieve, each with their own score target attached to them. Earning at least one star allows you to play the next level. Earning three stars unlocks the challenge level oysters, allowing you to earn more diamonds.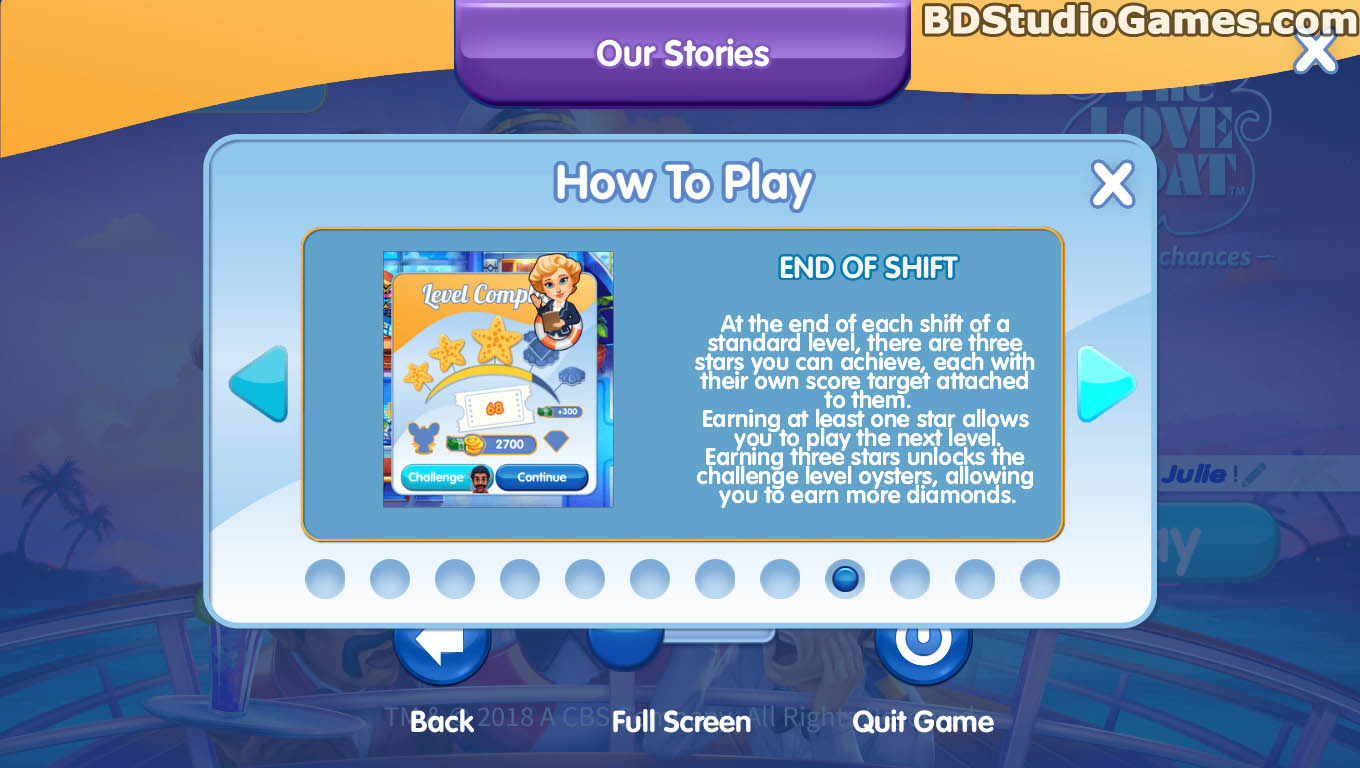 Objectives: Every level has an objective to fulfill in additin to keeping your passengers happy. Seeing to the needs of one particular passenger, or cleaning up messes will earn you diamonds.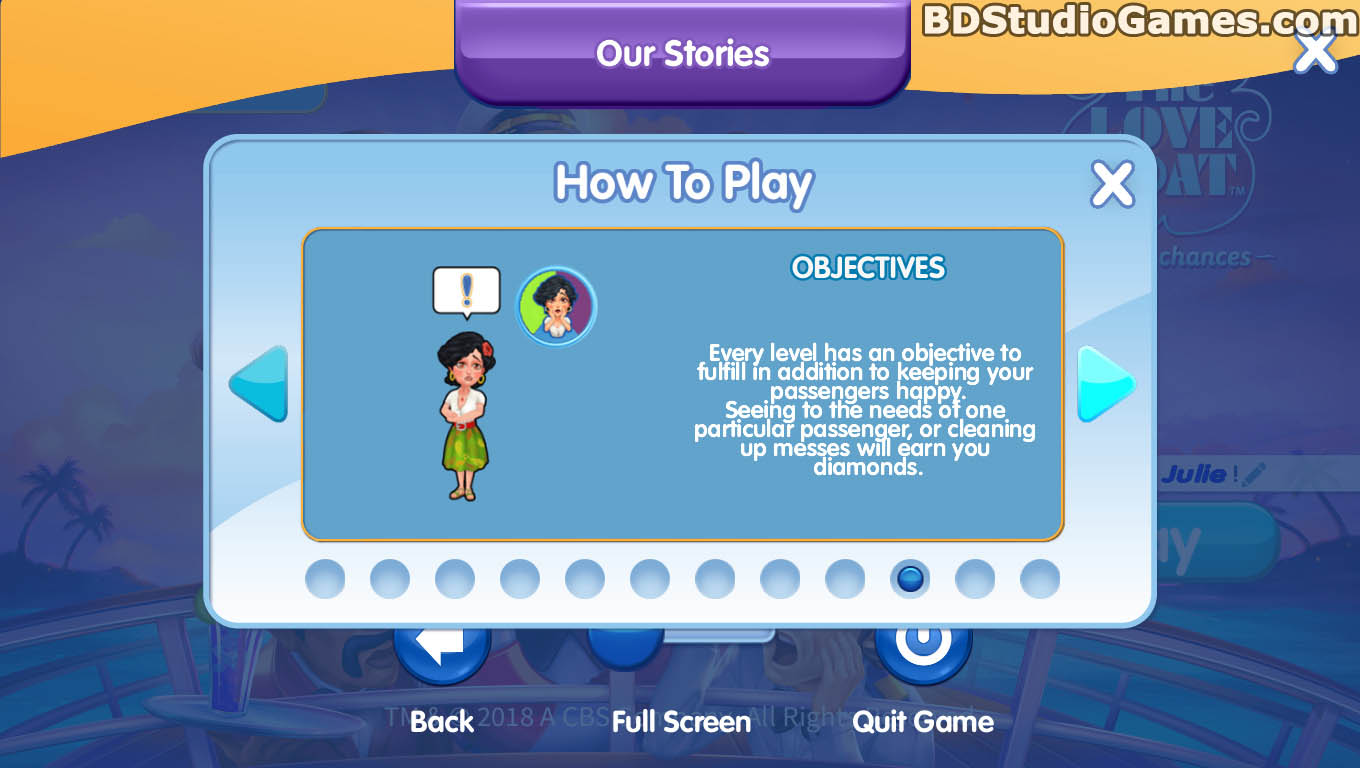 <![if gt IE 9]>
<![endif]>
Diamonds: Each level Objective yo complete earns you bonus diamonds. Replay completed 3 star levels to win challenge levels with even more diamonds on offer. Spend diamonds on your crew to upgrade their special abilities.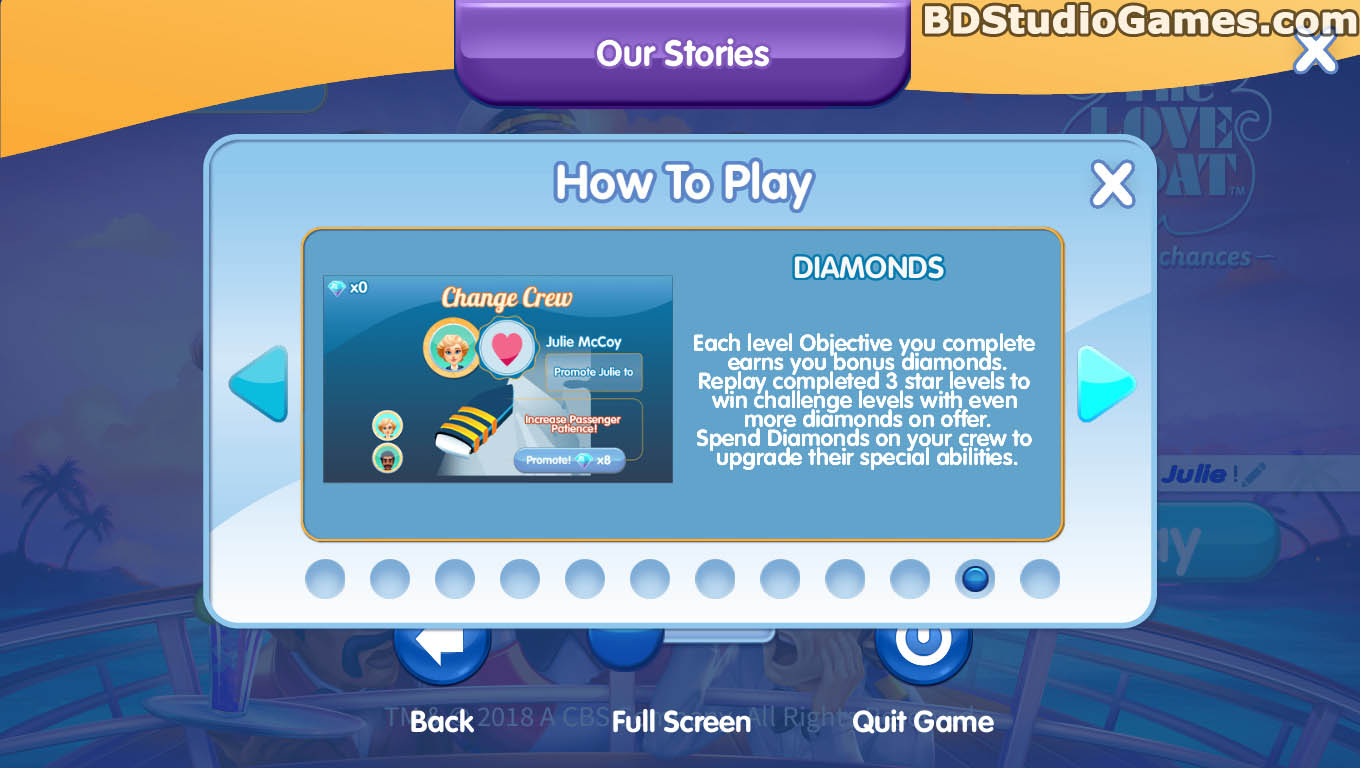 Shops: Each star completed earns you more cash. Spend your cash on shop items to help you earn points faster, restock items more quickly and reduce the time it takes to pick up and deliver items.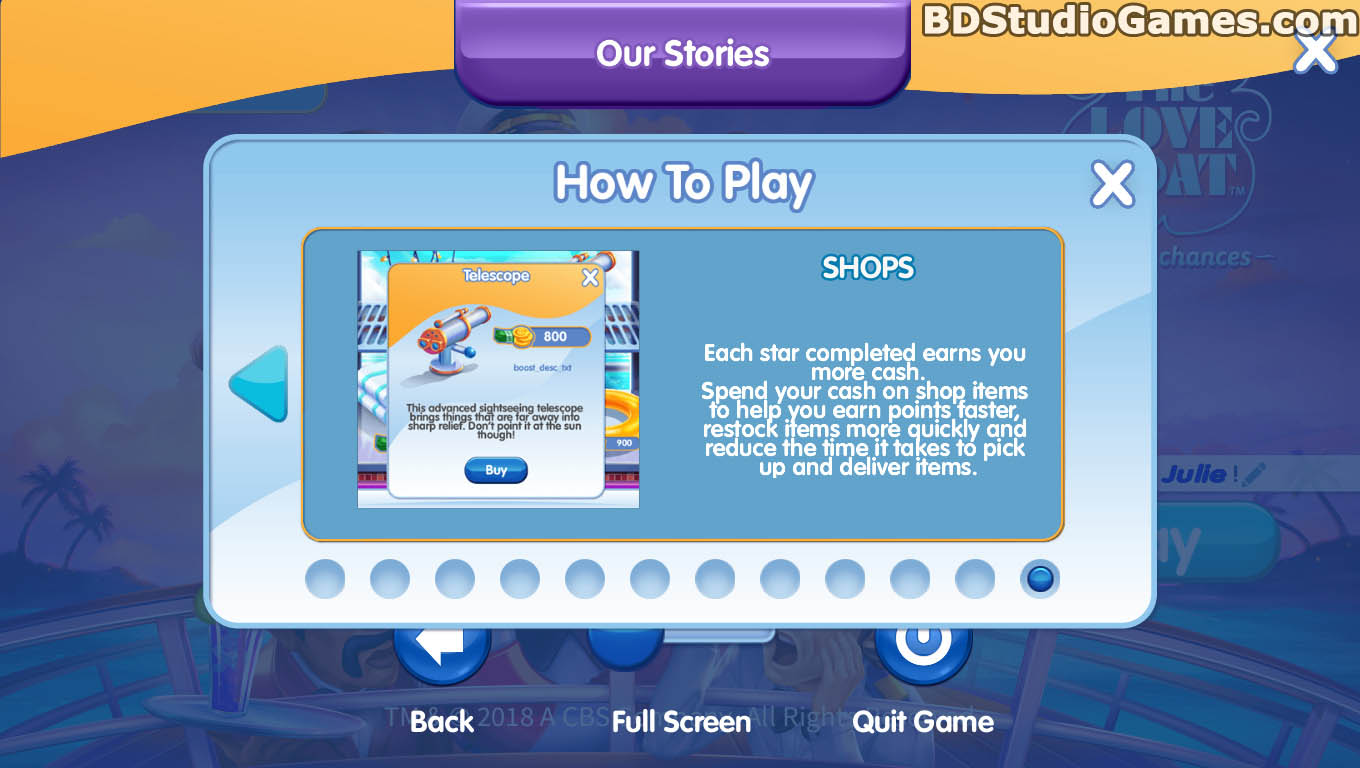 <![if gt IE 9]>
<![endif]>
The Love Boat: Second Chances Walkthrough, Guides and Tips: click to start The Love Boat: Second Chances Walkthrough, Guides and Tips Download.
Receive Emails When The Love Boat Series Has New Game Released
Sign-up to get informed when the The Love Boat series has new game released with BD Studio Games' FREE bi-weekly newsletter.
<![if gt IE 9]>
<![endif]>
<![if gt IE 9]>
<![endif]>
<![if gt IE 9]> <![endif]>