Amber's Airline: High Hopes Walkthrough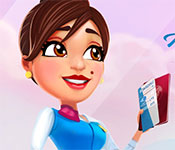 Amber's Airline: High Hopes Walkthrough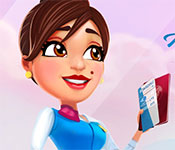 Amber's Airline: High Hopes Walkthrough

General Tips and Tricks:
Amber's Airline is a game about looking after your passengers, as quickly and efficiently as possible.
When they first arrive, each passenger will tell you which station they want to go to. Simply click the passenger, and then the relevant station in order to send them there. Assigning passengers quickly will also earn you a Quick Assign bonus, bagging you extra points.
When they reach the relevant station, the passenger's needs will change, and it's up to you to serve them! Some services are almost instant, requiring only a little help from Amber. These services can be recognized by the Amber icon that appears in the balloon. Others services may require specific items, which you'll need to find in the level iteself first.
You can click an item to pick it up. Sometimes, some items will need to be combined, in order to create a single final item. Others will need to be restocked by clicking the corresponding stock pile in the level.
By serving passengers quickly, you'll earn a Quick Service bonus, giving the passenger an additional heart.
Meeting all of a passenger's demands as quickly as possible will turn their hearts golden. This means they'll no longer lose hearts while waiting in the checkout line.
Checking out: Once a passenger has been served, if there's nothing else they need, they'll head over to the checkout line. Here, you simply need to click the cash register to let the passengers pay. Yo can also earn extra points by having several passengers pay in a row.
Minigames: You can identify minigames easily, as they appear as a blue icon above the passenger's head. In these fast paced challenges, you'll need to rely on your reflexes to earn as many hearts as possible!
Simple games: You can identify simple games by the purple icon that appear above the passenger's head. These games usually consist of only a handful of moves. If completed quickly, each simple game will earn you additional points.
Result: At the end of each level, you'll be awarded a number of stars depending on how many points you earned. Earning even a single star is enough to unlock the next level.
Shop: At the beginning of each level, you can spend some of the money you've earned to improve each station, or buy new items for the area. Every upgrade you purchase adds a special bonus affect.
Diamonds and stars: The stars and diamonds you earn at the end of each level allow you to unlock decorations for Amber's diary.
Switch: If two passengers ask for each other's station at the same time, simply click one customer, and then the other, to make them switch places.
<![if gt IE 9]>
<![endif]>
Chapter 1 Upgrade Items:
Comfortable Chair: Whilst sitting on this comfortable seat, passengers will lose hearts more slowly.
Information Panel: Thanks to the new clear signage, passengers will move faster.
High Tech Terminal: Thanks to this brand new equipment, passengers can print their tickets faster.
Flower Box: These flowers will motivate Amber, helping her move faster!
World Globe: This hypnotizing globe makes passengers more patient at the checkout desk.
"Dixom" Reception Desk: This beautiful new desk makes passengers more patient.
Chapter 2 Upgrade Items:
Digital Platform: This new technology provides clearer informatin, letting you deal with passengers faster.
Metallic Frame: This new frame draws attention to the instructions, making passengers move faster.
"Melm" Table Top: This table top's rounded aesthetic makes passengers more patient.
Security Camera: With this new security camera keeping watch, Amber feels safer, and will move faster.
Recycling Bin: This new recycling system helps sort products faster.
Stop Sign: Thanks to this sign, passengers understand they'll have to wait, making them more patient!
High Tech Scanner: This cutting edge scanner is more efficient, and scans passengers more quickly.
Chapter 3 Upgrade Items:
"Trava" Hanging Chair: The feeling of lightness calms the passengers, and makes them feel more patient.
Ceiling Lamp: This invigorating lighting will motivate your passengers to finish their drinks faster.
Flight Information Monitor: With up-to-date information on their flight, passengers feel in less of a hurry.
"Lauvek" Armchair: Equipped with a soft and smooth lining, passengers feel happier and are more patient in this new chair.
Detailed Levels:
Level 1: Follow the tutorials you have learned before to finished this level, notice, you need to print a green plane icon on passenger's ticket before send it to them, use the green machine to do this, it's on table.
Level 2: Buy the flower box in the shop before you start this level, this can help Amber move fast. Notice: some passengers need survey, just click the surveys and take one to the passenger. The mouse will be appeared in a random position. See below screenshots for details: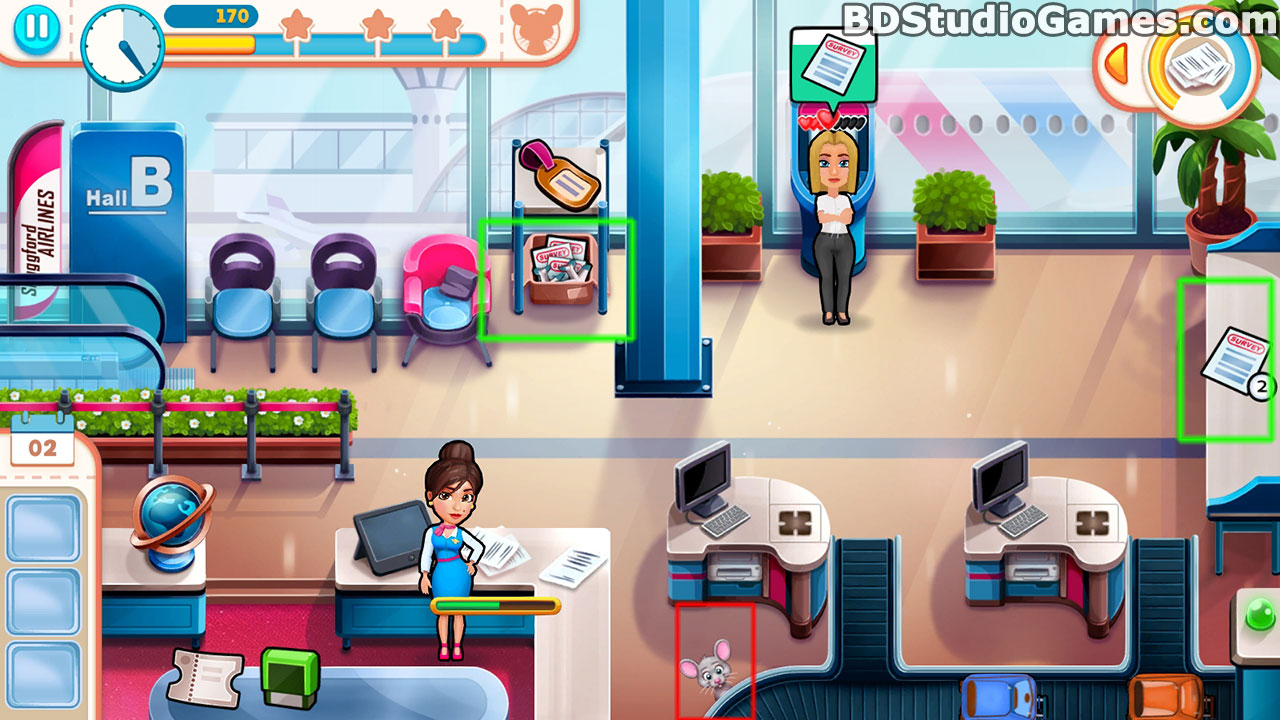 Bonus Level: Just find as many mouses as you can, then you will earn 3 diamonds, these diamonds can buy decorations for Amber's diary.
Level 3: In this level, there is a new item need you take to passengers, a plane keychain, you need to click the survey forms icon if there are not enough survey form or keychains.
Level 4: The mouse is appeared in a random position. How to play the minigame: first click the handle of the luggage, then rotate the luggage to fit the shape. Reply the David's text need more time, so you should do this in a spare time.
<![if gt IE 9]>
<![endif]>
Level 5: This level has a new minigame, you should first check the passenger's country and his destination, then select the corrent item in the machine.
Level 6: This level is not difficult, just play it in a regular method.
Level 7: There are some notices, please see below screenshots: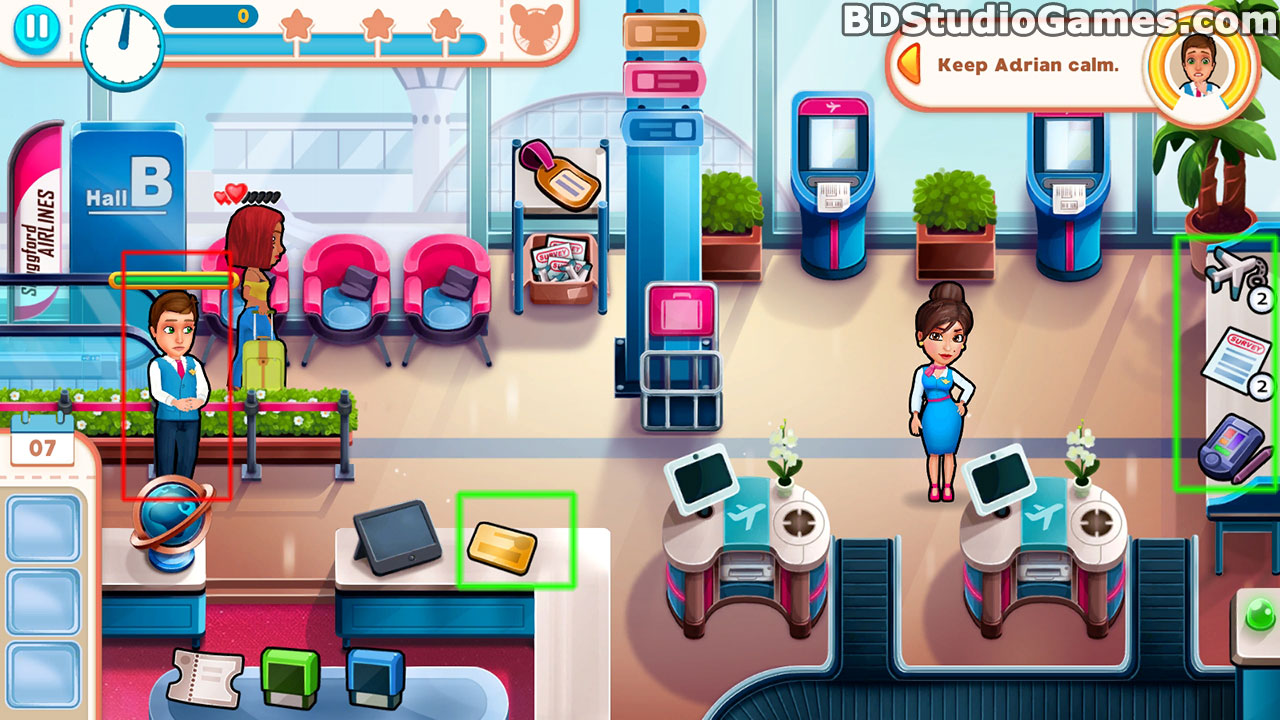 Level 8: Your task is find the lost survey and find the mouse.
Level 9: Your task is pick the swimsuit up from the elise and find the mouse.
Bonus Level: Your task is check in as many passengers as you can.
Level 10: Your task is Amber is stressed. Make sure she has plenty of time to stay still, so she can relax, Find the mouse.
New Minigame Available: Basket packing - fill the basket with the passenger's belongings, before sending it to be scanned.
Level 11: Your task is clean up what pamela left behind and find the mouse.
Level 12: Your task is ask elise some revealing questions and find the mouse.
New Minigame Available: X-ray, use the scanner to check for dangerous objects in the suicases.
Level 13: Your task is walk at least 300 meters and find the mouse.
Level 14: Your task is stop elise's kids messing around and find the mouse. If you have already earn some coins, then upgrade your items as soon as possible, this can help you become more efficient.
New Minigame Available: Body check, search the passengers to make sure they aren't carring any forbidden objects before they boards.
Bonus Level: Let's Repair It - the X-Ray computer is malfunctioning...
Level 15: Your task is install the second platform and find the mouse.
Level 16: Your task is complete 10 services in under a minute and find the mouse.
Minigame Mayhem: score big by completing as many minigames as possible!
Level 17: Your task is earn 12 hearts in the X-ray minigame and find the mouse.
Level 18: Your task is try to find out what's inside Clark's baggage and find the mouse.
Stock Restrictions: someone took your baskets! Hank will stop by with extras as and when he can!
Level 19: Your task is refill 10 baskets and find the mouse. Notice some important places, see below screenshots: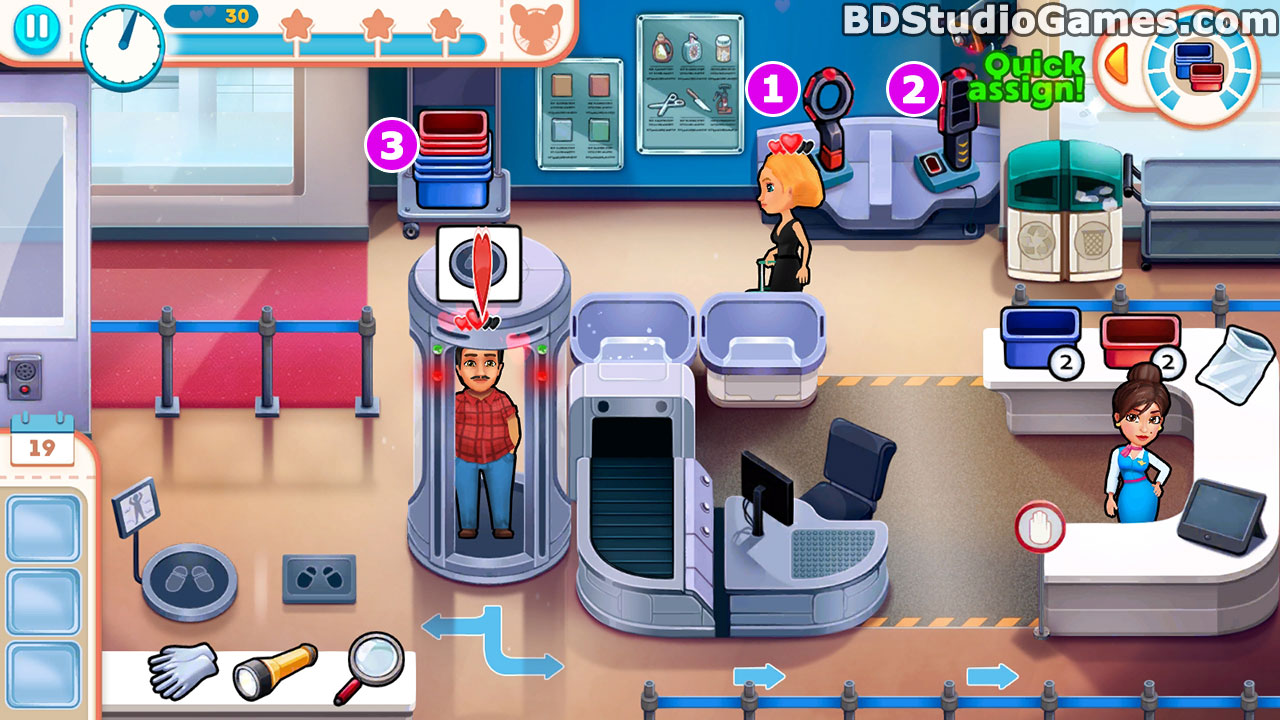 Adrian, Help Me: play as Adrian in the security check area!
Level 20: Your task is find a place to buy food for Amber's fish and find the mouse.
New Minigame: Adjustable armchair, adjust the seats as the passengers request.
Level 21: Your task is receive new decorations for the lounge and find the mouse.
Receive Emails When Amber's Airline Series Has New Game Released
Sign-up to get informed when the Amber's Airline series has new game released with BD Studio Games' FREE bi-weekly newsletter.
<![if gt IE 9]>
<![endif]>
<![if gt IE 9]>
<![endif]>
<![if gt IE 9]> <![endif]>